Two Wheels Better
Moderator
Lately I've been on a later model K trajectory, so it's with pleasure I can announce that I've returned firmly to the fold. This arvo I checked out and bought a clean 1985 K100 from its aging original owner. The bike has an honest 20,202 miles on the odometre. Suffice to say I'm glad to have a classic K in the garage to fiddle with once again, my own classic being far, far away from me currently.
It started immediately on its new Westco AGM battery, has year old Pirelli Sport Demon tyres, but needs all the fluids flushed - it has a binding rear master cylinder and the front brake fluid reservoir was filled with brown stuff resembling treacle.
The Corbin seat has a split in it at the side and will be either re-skinned or replaced. I let it idle until the fan cycled three times. The engine oil is fairly clean, the fork boots are perishing, the rear main seal and water pump showed no sign of leakage as told by the weep holes..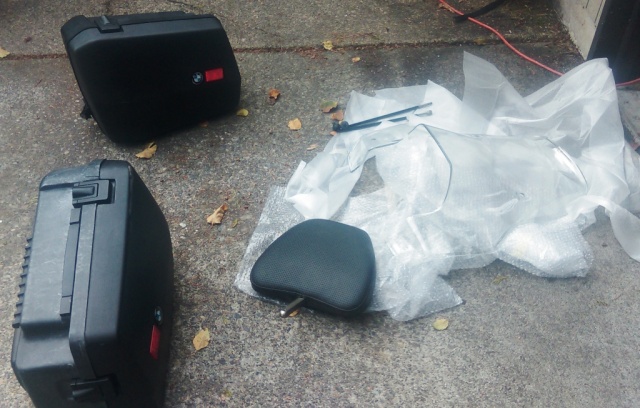 The bike has Type III pannier locks with a 'brand new' BMW touring 'screen (they had recently ordered it through the workshop which is how I learnt about the bike and their desire to sell it), and a Corbin backrest.
It came with a new weather-proof cover, has all of the original paperwork and owner's manual. He paid $6647 for it new in May of 1985. Included was a receipt for a BMW helmet for $189.95! What a difference thirty years can make.
I am NOT going to strip it to the bones and spray it matte black, nope, nuh, no way. It's gunna get lovingly returned to the road as it is in as clean a condition as it could be for a thirty year old motorbike which was owned by one person.


Last edited by Two Wheels Better on Sun Mar 20, 2016 10:14 pm; edited 2 times in total
__________________________________________________
1977 R75/7-R100 grey, '87 K100RS red, '93 K11-K12 aka 'Big Block' black, '96 K1100RS black, '98 K1200RS red, '09 K1300GT red, & 2013 R1200RT-Polizia black & white.