88
Life time member
From the Moto Medics Journal:
Another case of K Pox has been detected in Ireland, where fears over safety of an owner rose with the appearance of a red blob in the man cave cortex.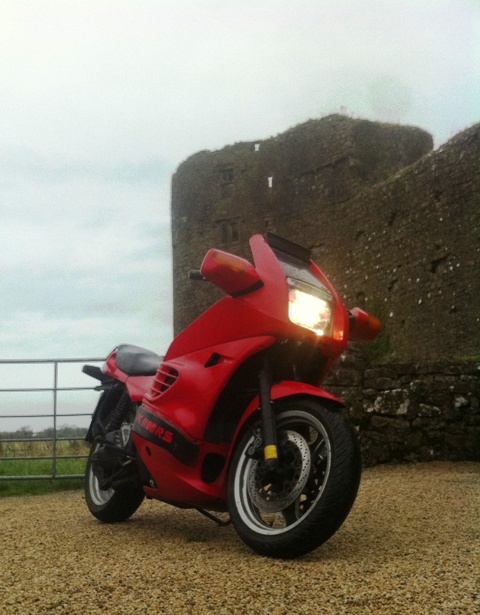 A K pox vaccine has reportedly led to bikers being immunised. 
Moto GPs reported the cases to the Health Authority and WHO, which is now carrying out tests to determine the nature of the outbreak.
The authority has a 91.4% immunisation rate compared to the Government's recommended 95% but also stated that 98.97% or these statistics were 100% unreliable in empirical studies which had not yet been conducted. 
The latest Irish case comes just 6 days after Christmas and it is reported that the payment of a Christmas bonus had a direct impact on the case. Further concerns were later raised when it was discovered the victim was self employed and had awarded himself the bonus thereby confirming this as a spontaneous outbreak. 
And last week three cases of K-Pox were discovered in Queensland, NSW and a further one in Spain, where the immunisation rates are now below 75%. 
Results of tests of another 25 suspected cases were expected later today. 
Despite fears that the triple cylinder vaccine is linked to further spread of the K pox and in particular and new strain labelled Café pox, the Government maintains the vaccine is safe however failures in it have seen victims left with GS syndrome. 
Mr. C. Frog, director of public health for the K100-Forum.com Health Authority, told this reporter: "What these suspected cases show us is that the risk is still there. People have been affected by what they have read in the media and in particular seen on Google images."
"The message is that K-Pox vaccine is safe, which is backed by Moto GP practitioners but not being accepted by some spouses."
"We need to get over a positive message to Spouses that the risk K-Pox spreading to R's and Honda's can be avoided."
A Forum Health Authority spokeswoman stressed the importance of grown up children having the K-Pox jab.
She told PA News: "The forum moderators recognise the natural desire of people to do the best for their spouses and also recognises the anxieties that many riders face." "Based on all the scientific evidence available our advice remains that there's no link between K Pox and lesser model diseases." 
The previous victim of the worst Irish case, a Mr R. Fad from Dublin, would make no comment but in a prepared statement said "I had my eye on that one". He has not appeared in person which is believed linked to the availability of Brownie points.


Last edited by 88KE on Fri Jan 01, 2016 7:14 pm; edited 1 time in total (Reason for editing : typo)
__________________________________________________

88....May contain nuts!

"The world is a book and those who do not travel read only one page." - St. Augustine from 1600 years ago & still true!
Bike: K100LT 1988. 0172363. AKA the Bullion Brick! Mods: k1100 screen and stands.
K1: 1990. 6374189. Custom Stealth Black paint.