88
Life time member
Some of you may have deduced that I finally got my hands on a k1100rs (Long time dream). As usual I wasn't planning a purchase when this one popped up on the local classified ads it was too cheap and looked too good to ignore....and then there was that christmas bonus to be considered. 
This was it as advertised.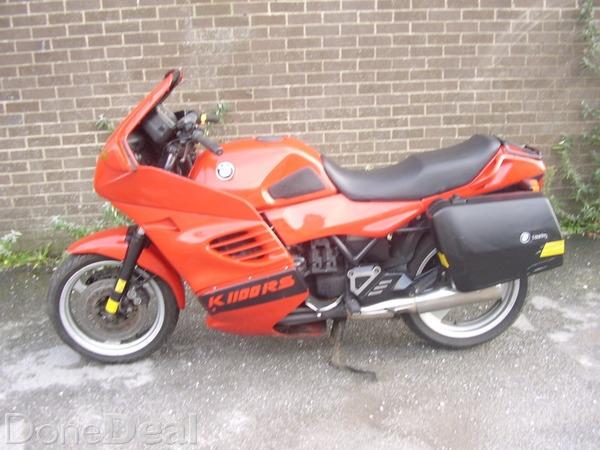 It was 3 1/2 hrs from me in Cork so my good friend Olaf was dispatched to suss it out and reports came back the the bike had "issues" but all normal K stuff and was cosmetically very clean. (Note use of past tense!). It was also said to have a buckled front wheel. The bike was being discussed at the Irish Eccentrics Christmas get together when Corkboy said he had a spare 3 spoke wheel and we could trade something or other for it. Well that tipped the scales on the economics and the vendor was contacted and a deal arranged by phone.
I borrowed a trailer and collected it on 30/12/95, a great way to Tee up the new year! After unloading it at home it started on the button but a loose ignition made for an aborted test ride. 
A few days later I jammed the ignition and drove it to Galway for a spin. (1hr 20 mins each way at a mix of Motorway and country roads) it ran ok. A bit rough like a bad HT lead or Plug. MPG seemed a bit poor but the power was noticeably better on the 16v to the old 8vLT.
So the list is:
Tyres (and front wheel),
Battery,
Big Service and Spline Lube
Fork Seals
Front disks
Rear shock 
LED DRL's
and get ABS working again.
He has been named Rudolf Von Schmurf ! (Don' ask

 ... but in my defence there may have been alcohol involved

 )


Last edited by 88 on Fri Jun 09, 2017 7:21 pm; edited 4 times in total (Reason for editing : add text)