Crazy Frog
admin
As you may know, Cryptolocker is a virus also called ransomware.
What its doing, is encrypting all your data(including pictures, music and movies) and you cannot access them anymore unless you pay a ransom in bitcoins.
NO antivirus software can detect it as the core of this virus may have up to 10 different versions per hour.
Today Malwarebytes release the first software capable of limiting the damages.
I say limit, because what this software is doing is monitoring the processes on your computer, and if something try to encrypt files, the process will be shut down.
This is a Beta version, but certainly a big improvement over NO protection.
I installed it on few computers and it doesn't seem to have any undesirable effects.
You can download your free copy
Here
I ENCOURAGE EVERYBODY TO GET THIS PROTECTION.
(If you have a network and have access to other computers, the virus will infect them too.)
__________________________________________________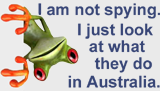 1986 k75, 1985 K100rt, 1985 K100rt/EML sidecar.