KiwiK100
Gold member

I started this project 12 months ago with the intention of posting my progress as it happened but one thing lead to another and you know how it goes, it's now finished, so time to recap my adventure of my first restoration and share the pics along the way. 
Many thanks to all that have helped with advice as it was needed. The bike came to me in kind following the death of its owner to the dreaded big C. He had owned it for 24 years having bought it in Scotland while living there before shipping it home to New Zealand. It was in excellent mechanical condition with new clutch, viton output seal, all the splines lubed and a sweet runner. Aesthetically it was pretty good by any standard, but I'm a fussy OTT OCD kind of bloke that likes things looking brand new, or better if I can achieve it. 
A short in the brake light circuit lead me on a hunt and a member here pin pointed the cause immediately - pinched harness at the top rear shock mount. While pulling the back apart in the hunt I discovered plenty of typical rust on the rear seat frame and I couldn't have that at all. There was only one way to fix it properly - off with the fame and send it to be stripped and powder coated, and so my first restoration project began.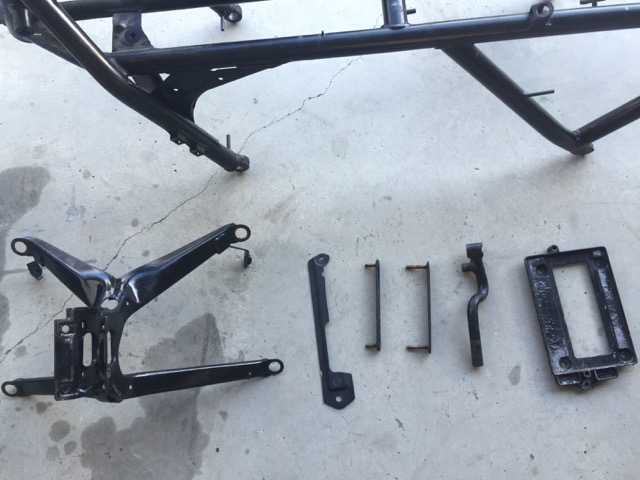 Before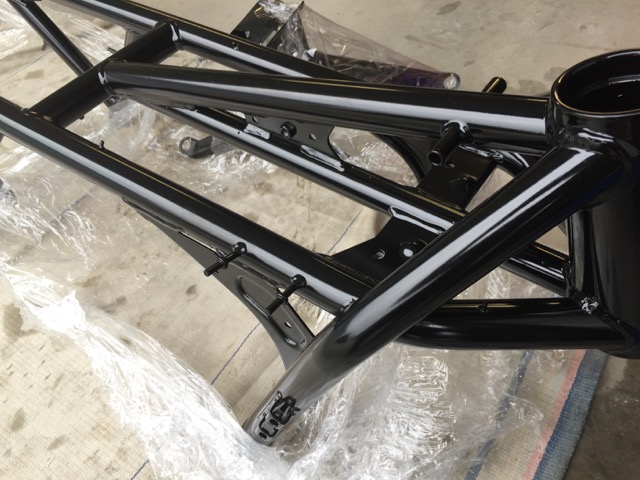 And just back from the powder coater 
With the frame and associated bits and bobs off to be stripped and powder coated I could get into the rest of the bike.
I used hammerite paint, smooth silver and gloss black. Every screw, washer, nut and bolt was replaced with stainless unless it was hidden far from view.
Brake lines were probably ok but too old now and not really to be trusted so HEL brake lines in Australia (UK company) have an awesome site where you build your own on line and submit. You can choose color finish, banjo angles etc, etc, and very reasonably priced. I will definitely use them again. The original owner (I'm the third) had bodgeed up some aftermarket braided front lines and had married them to the front calipers that defied logic and I am amazed they never failed in the 25 years they were there.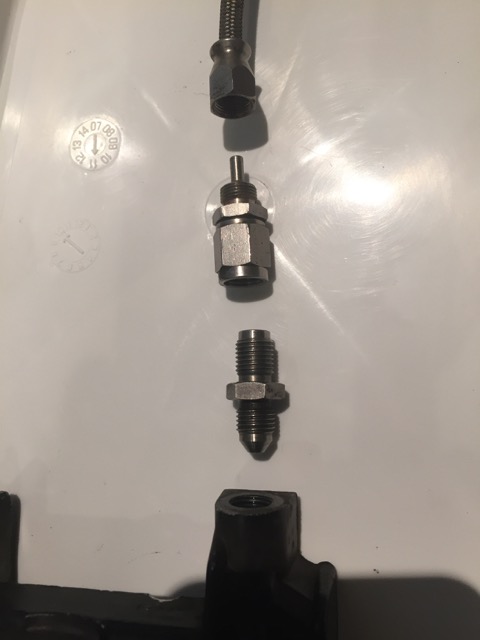 The mixture of metric and BSF that held the brake lines to the callipers!
He drilled the front guard on both sides to allow the brake lines to exit the caliper straight out rather than using a banjo and directing them up the fork leg and through the designed space in the front guard. This was all attended to and the front guard repaired, six layers of paint and all the skin on my fingertips was removed and new paint applied.
Master cylinders were stripped, cleaned and checked before reassembly. A coat of paint freshened up the rear MC while the front one got a thorough clean. All three calipers received new seal kits.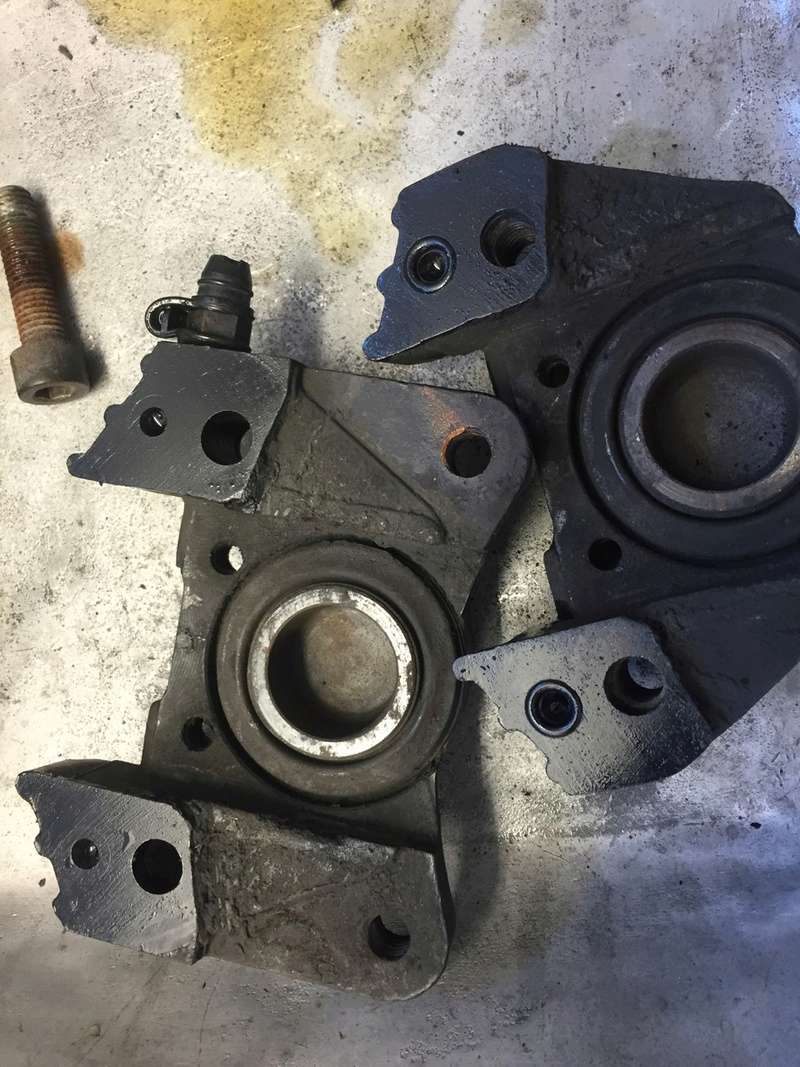 Calipers were split and cleaned with new seal kits
Wheels in the "Style" design are black with polished highlights however running old school tyres with black rims looks awful so I set about to strip the paint off and polish the rim before masking and repainting the wheels.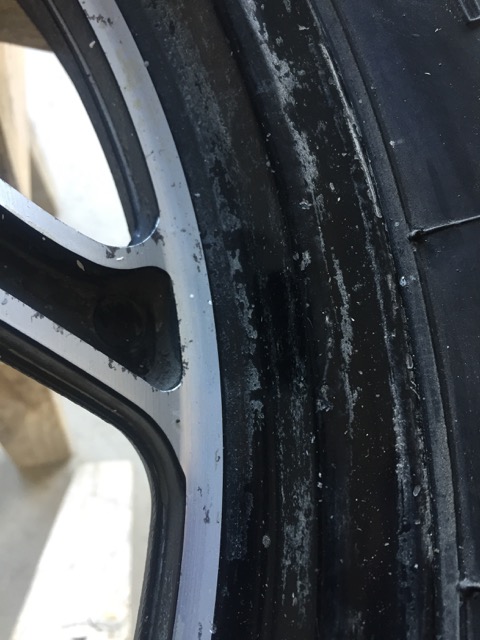 Rear wheel was very untidy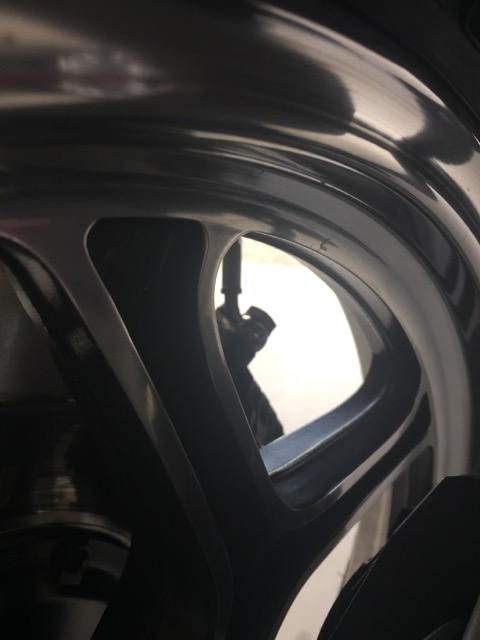 Front wheel polished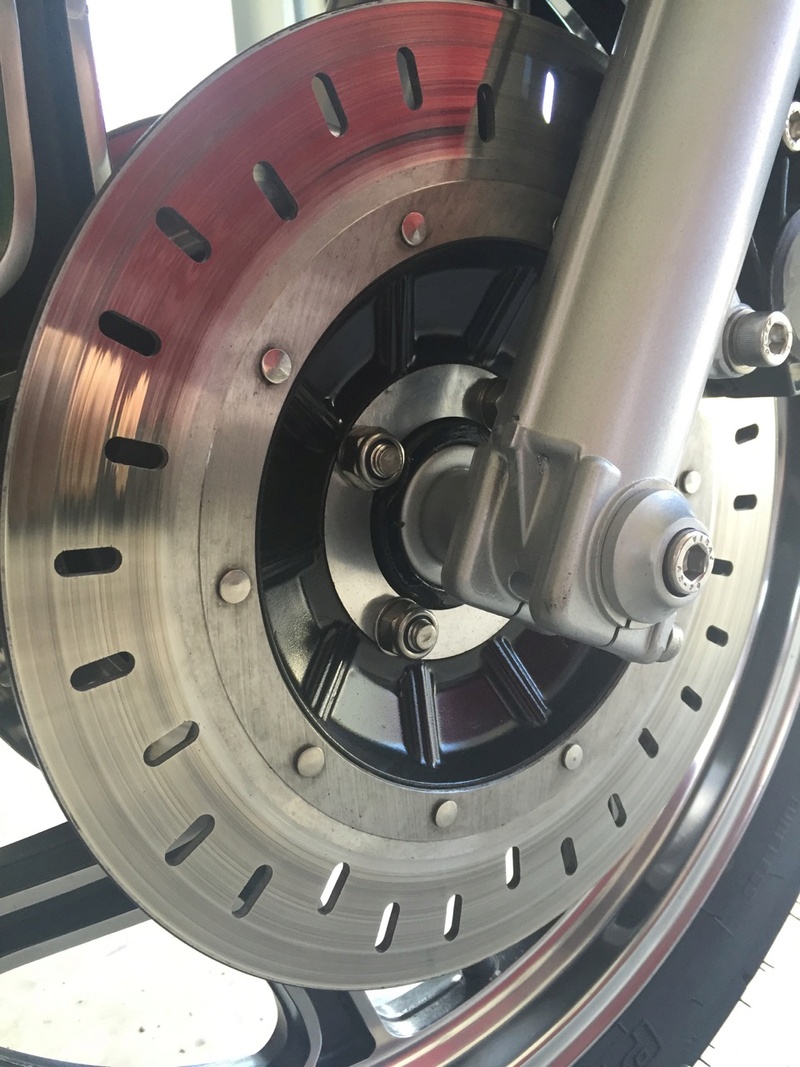 Discs and callipers all finished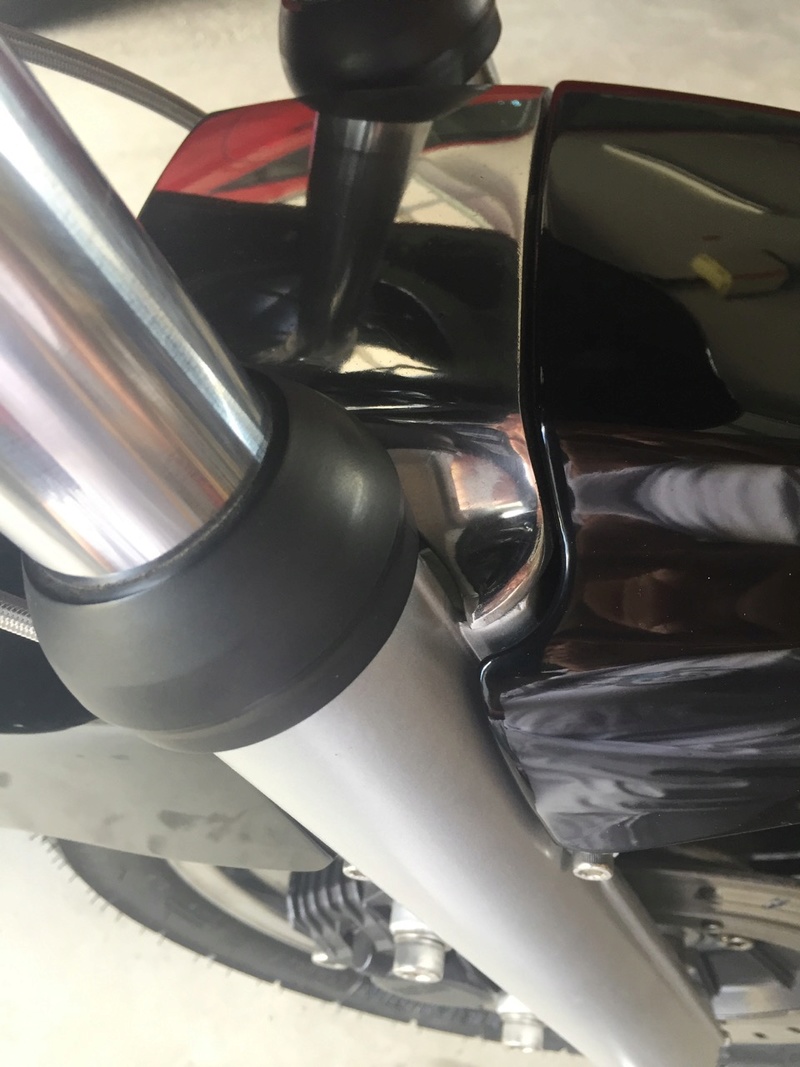 Wheel bearings were cleaned, checked and repacked, and new fork seals went in.
Top and bottom yolk were polished and new steering head bearings fitted up.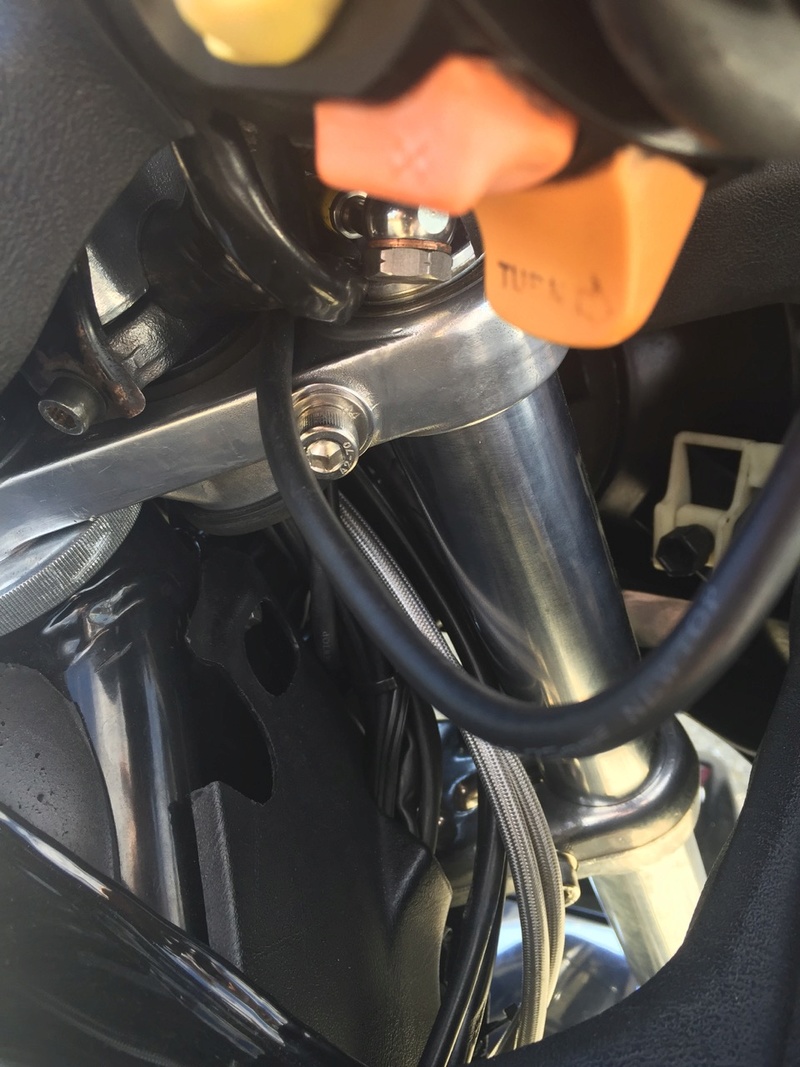 Top and bottom yolk got the polishing treatment
On the frame, one side of the steering stop was missing its factory lug and was replaced with a short cutoff dome screw that was just sitting there. Guess it worked but if it happened to fall out mid corner…
Front forks house Race Teck springs so the forks were stripped, cleaned, checked and reassembled, with the legs getting a coat of smooth silver. 
This is a departure from oem, and to be fair, I had no idea it was a "Style" model until I removed the shitty old aftermarket seat cover to discover the oem grey cover underneath. I asked his partner for some old photos and sure enough there was the Style logo on the fairing.
Instrument cluster was stripped, cleaned and the support base painted. All displays worked mechanically perfectly with no speedo issues and all gear positions showing their correct numbers.
The fuel pump was removed for inspection along with the mounting platform that's known to disintegrate. A new filter was installed along with new in tank hoses.
Fuel rail lines were replaced and the air box to crankcase return hose was perished so that was replaced. Throttle bodies were removed and cleaned, manifold O-rings were replaced along with new breather caps that were on their last legs.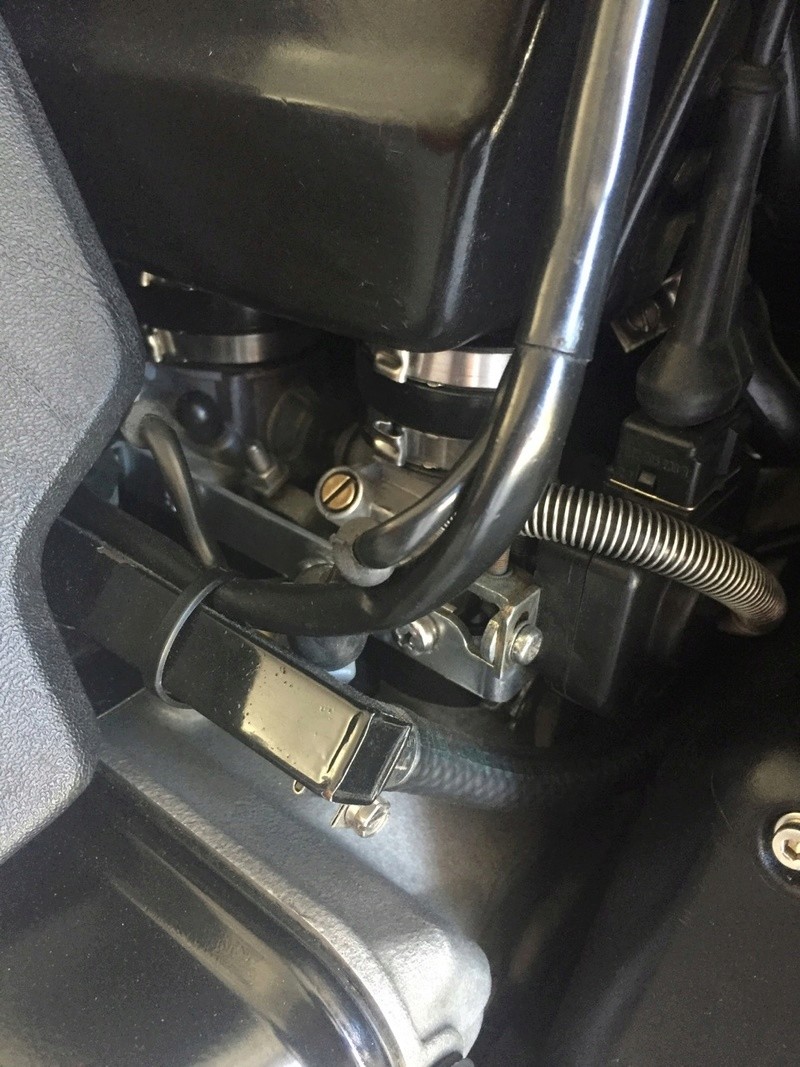 Finally some fresh plugs, oil and filter, and a new Motobatt battery was 
added. These batteries are bright yellow, so the battery was wrapped in black adhesive vinyl to suit all the black in the area and make it disappear.  
Radiator was removed, cleaned and painted as was the stone guard. All the radiator hoses were cleaned and thoroughly inspected before being set aside for reassembly. Thermostat was removed and inspected.
Starter motor was removed, stripped and cleaned with the armature getting the usual extra attention. Brushes were still fine so they went back in. End cap received the polishing treatment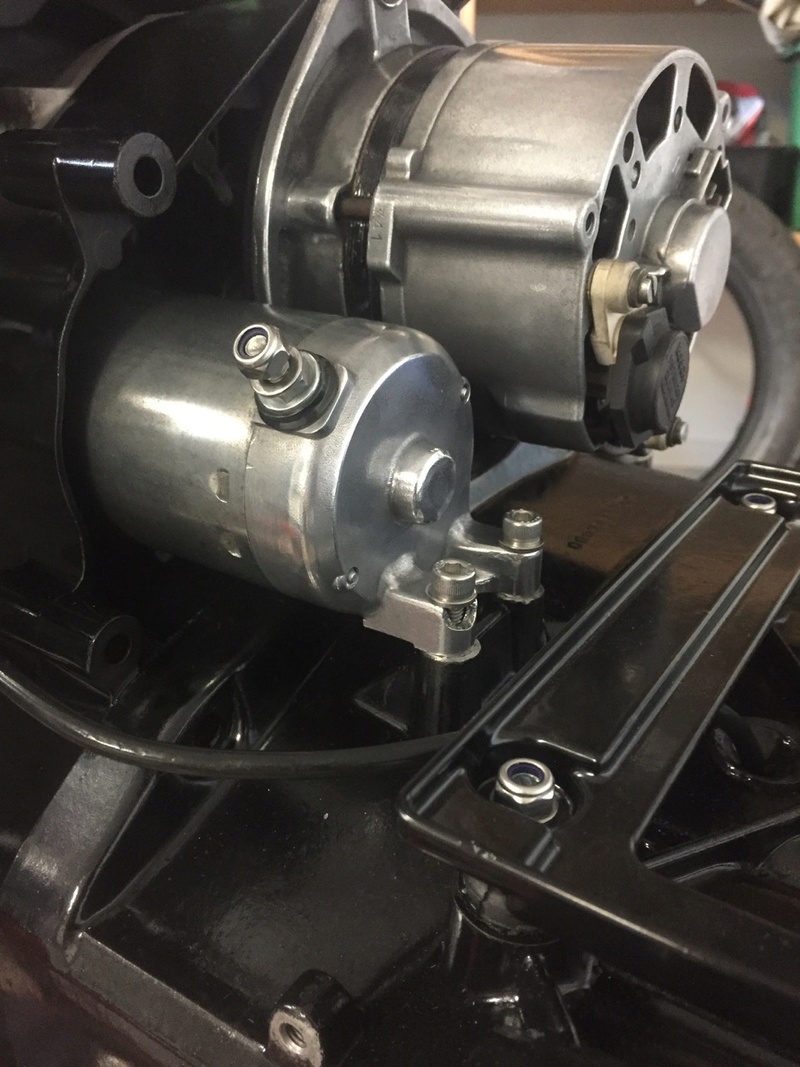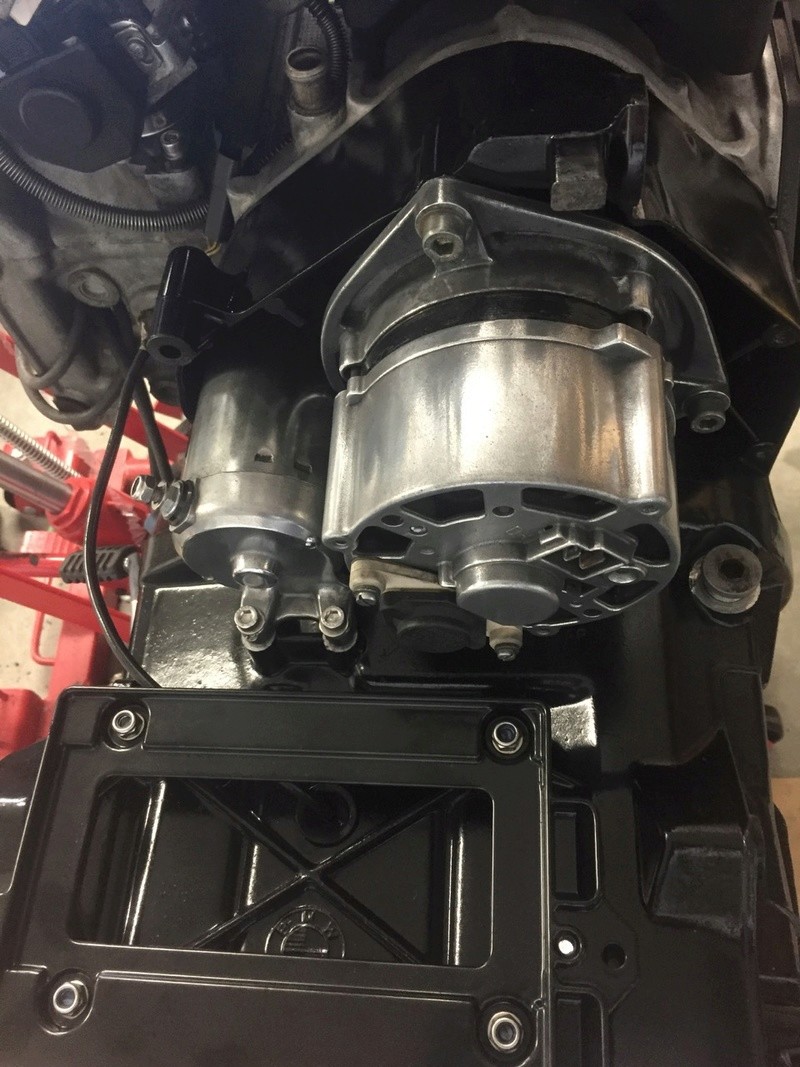 Alternator was removed and as I pulled it out the monkey nuts fell out in a bunch of disintegrated bits so a new set went in. The alternator/rectifier were checked, cleaned and polished before being reinstalled
Every loom/harness connector was separated, cleaned with contact cleaner and checked.
Swing arm and final drive received the smooth silver treatment to break up the black. Rear shock is an Ohlins unit fitted by the previous owner.
The exhaust needed some work as the shield was missing and the shield attachment lugs were in a terrible state having been re welded in place as they had started to fall apart. The offending areas were cut out and new stainless welded in before the whole system was given a hell of a polish.
The engine covers had suffered over the years with the odd spill or three and had also been badly repainted, so all the old paint came off, highlights were polished before being masked off and the covers painted.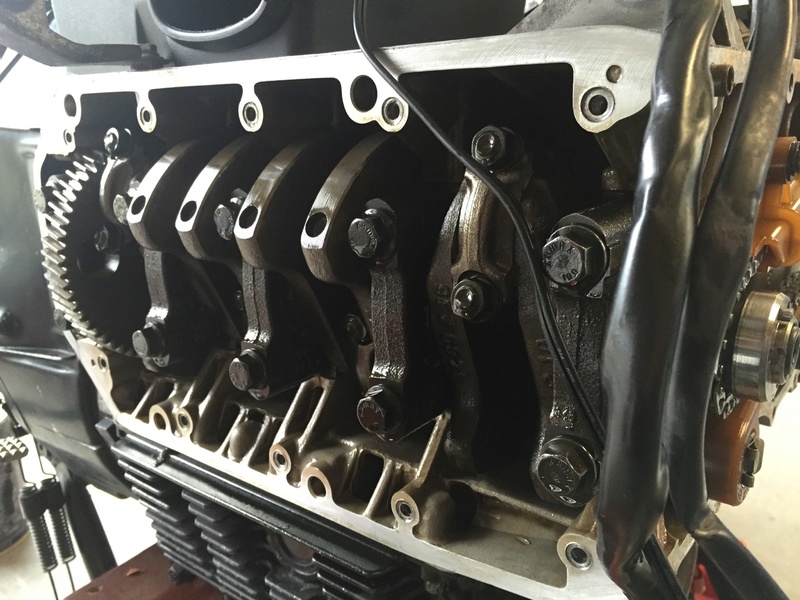 All the covers off for internal inspection, shim check and new rails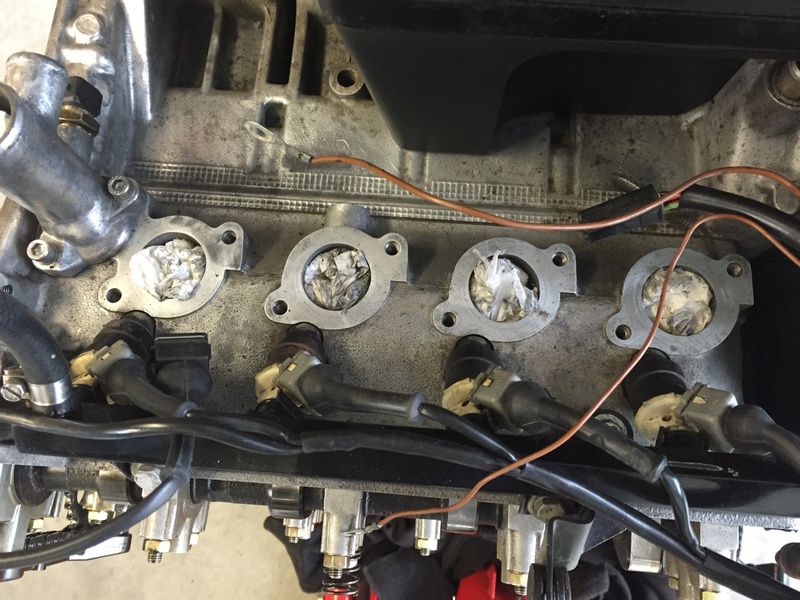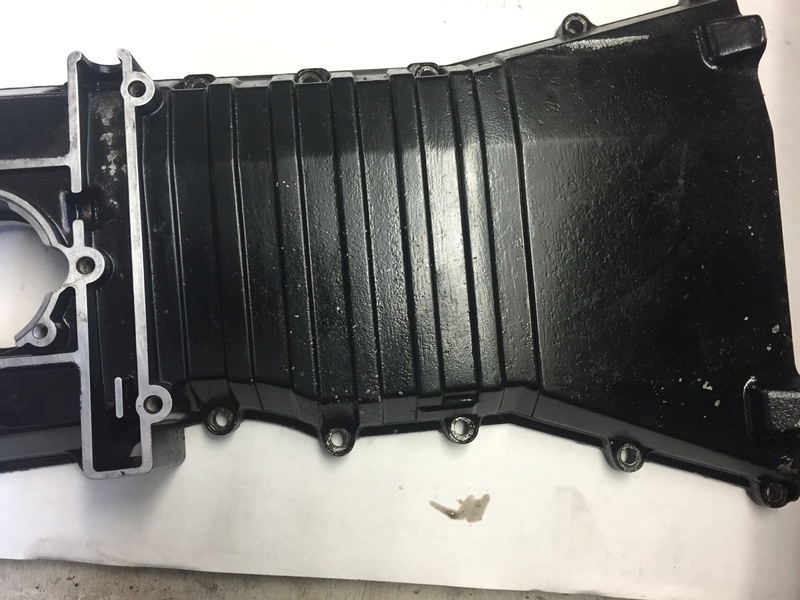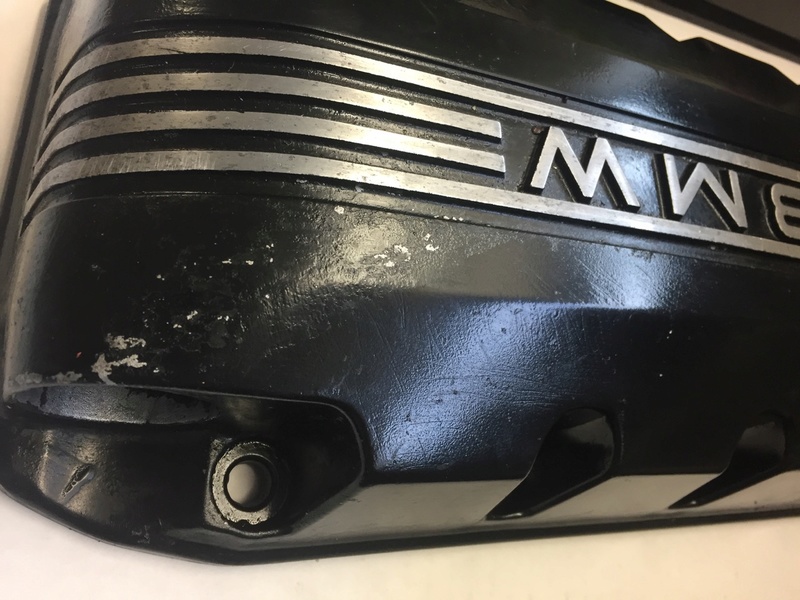 All the engine covers showing their 29 years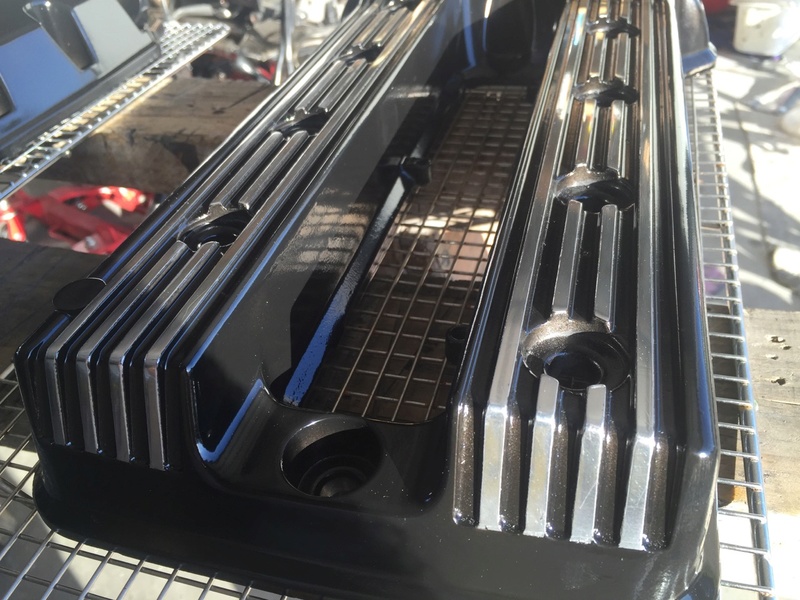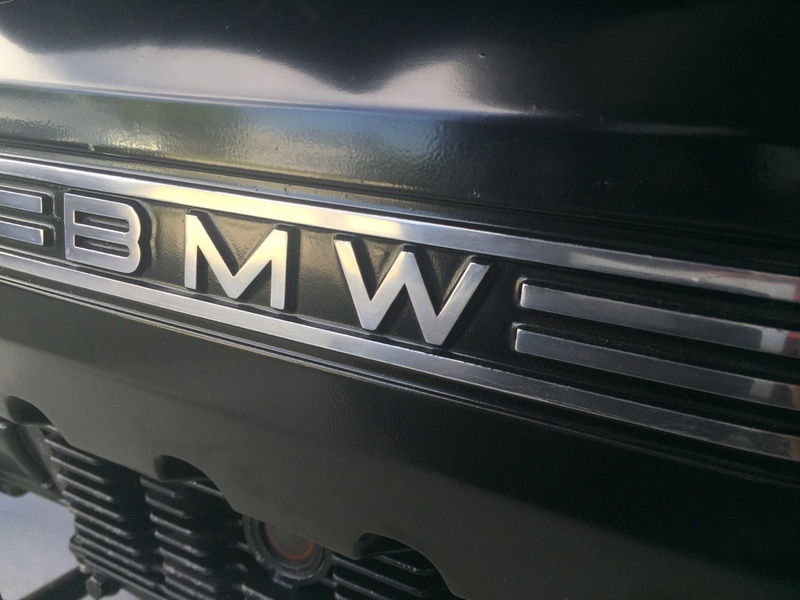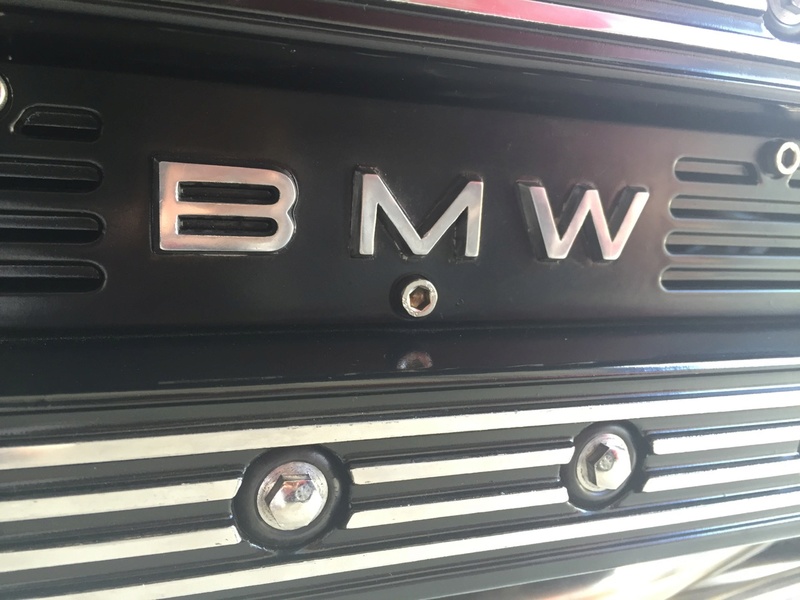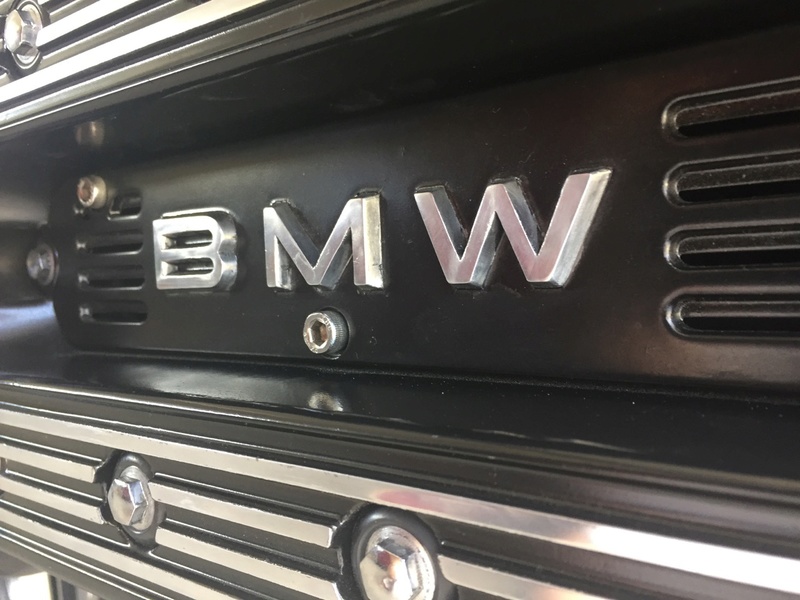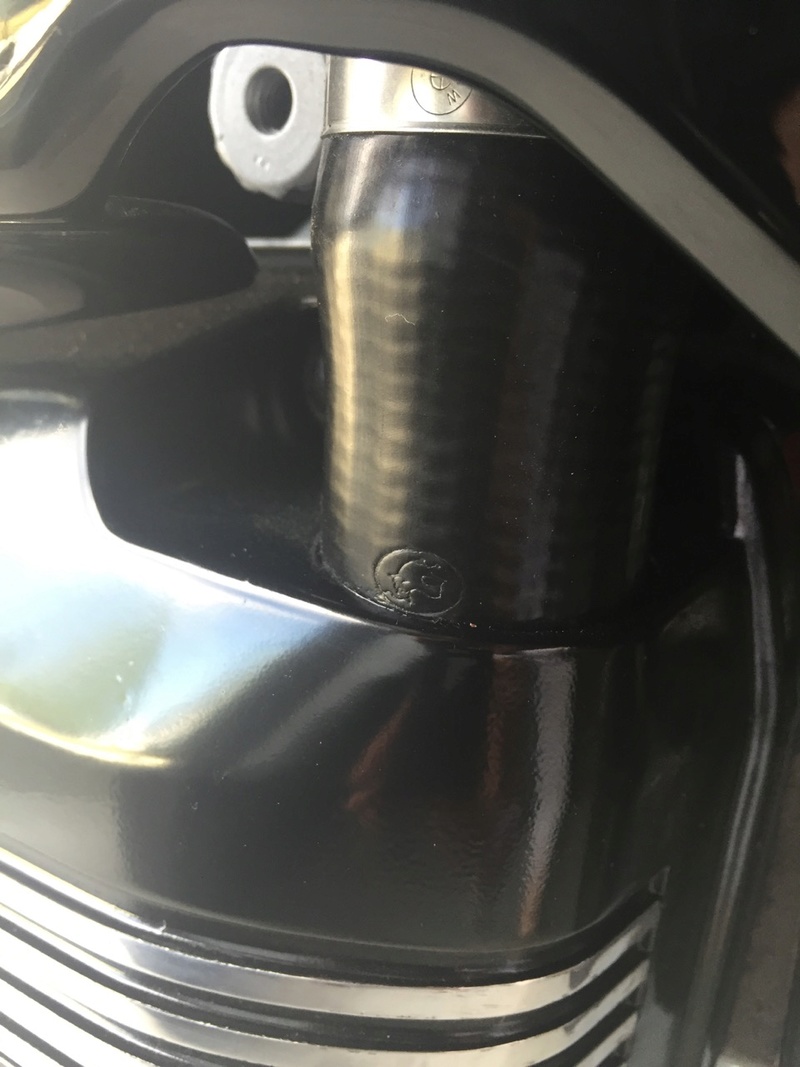 New Pirelli sport demons were fitted and the seat cover replaced in as close as I could find, factory grey.
The painted bodywork, with the exception of the font guard was left alone. Any stone chips were touched up and then everything was given a deep clean and polish.
Final drive and swing arm were cleaned up and painted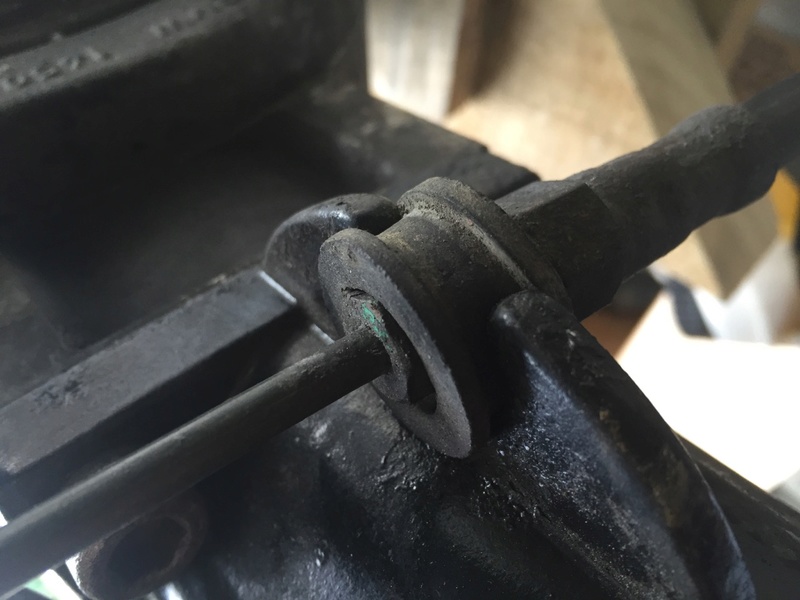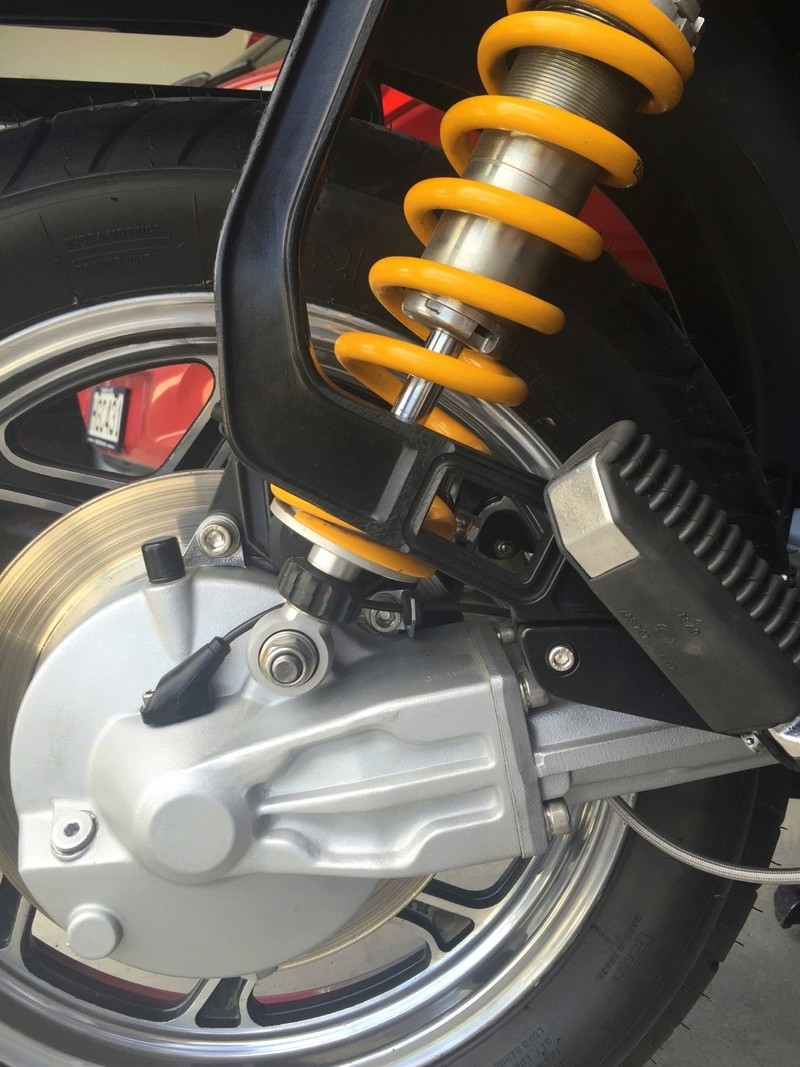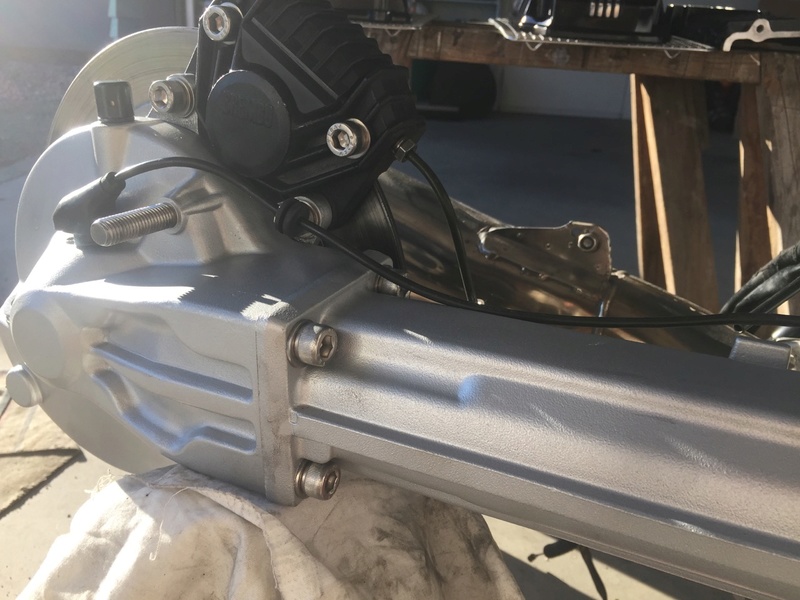 Everything was polished and/or painted...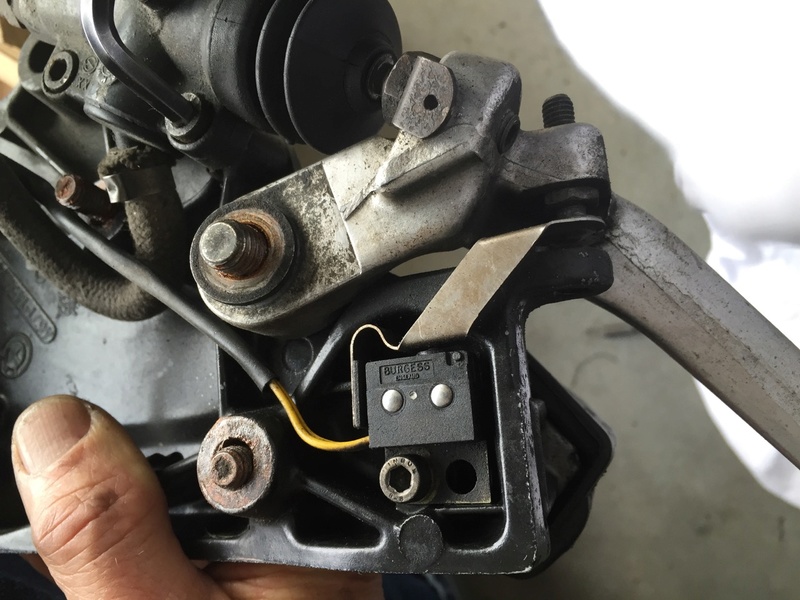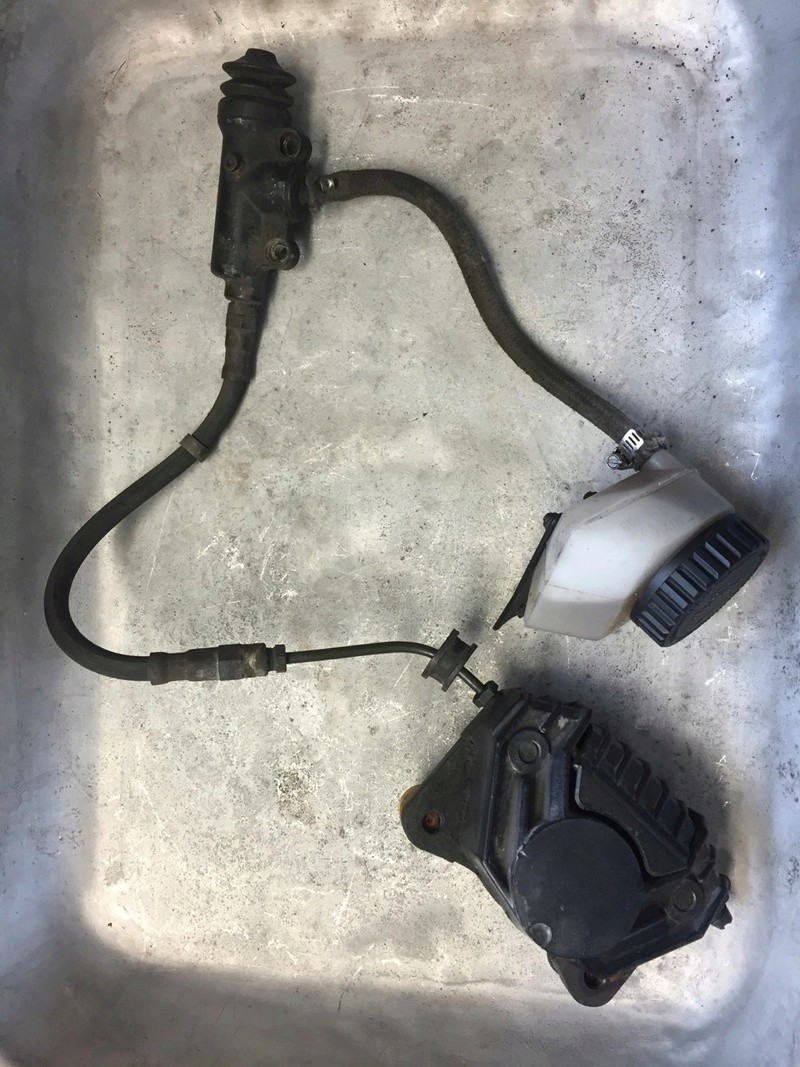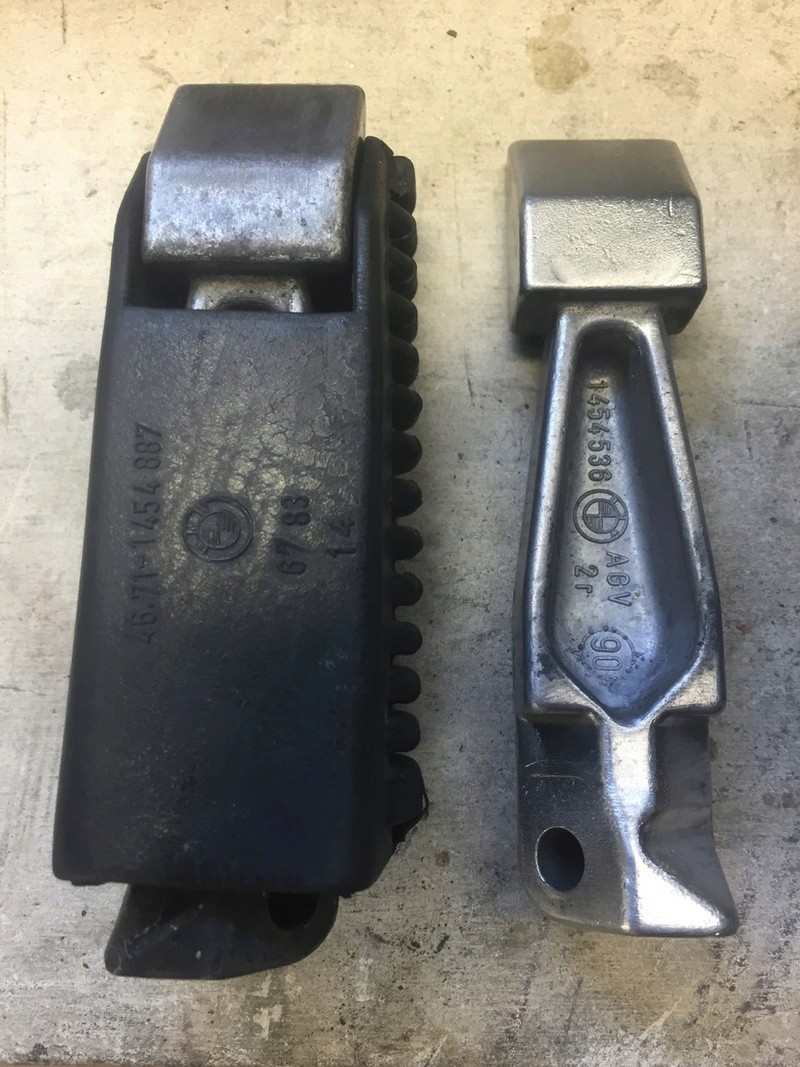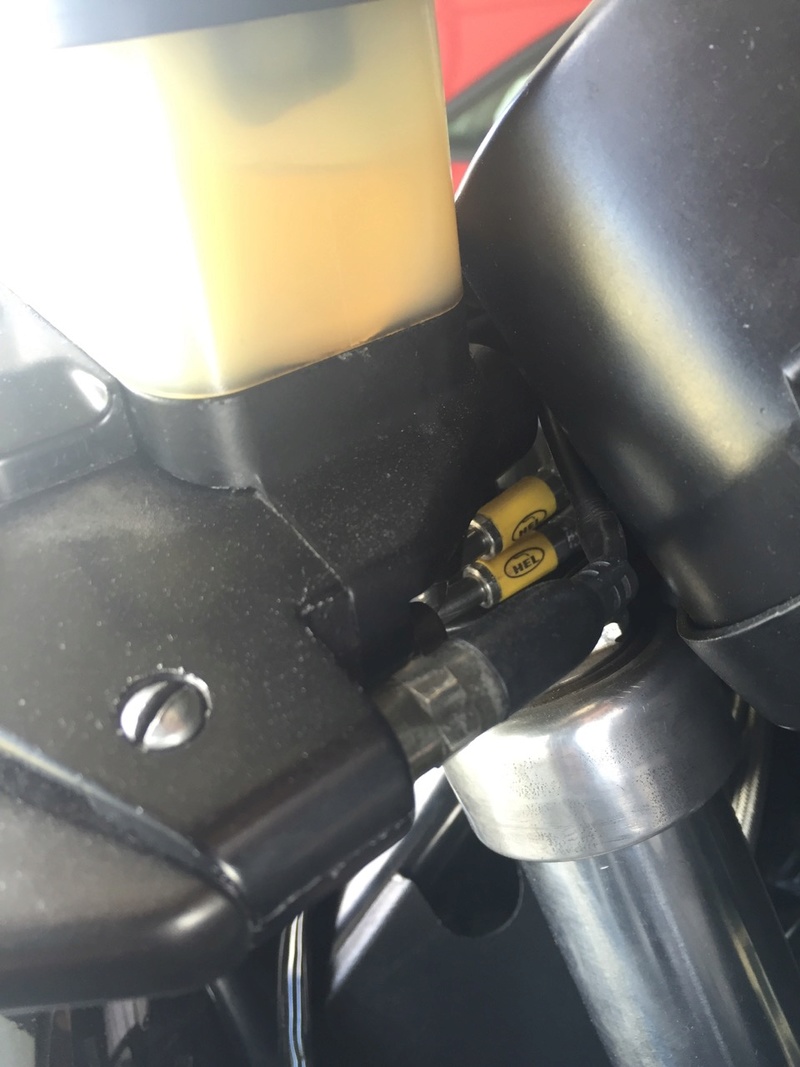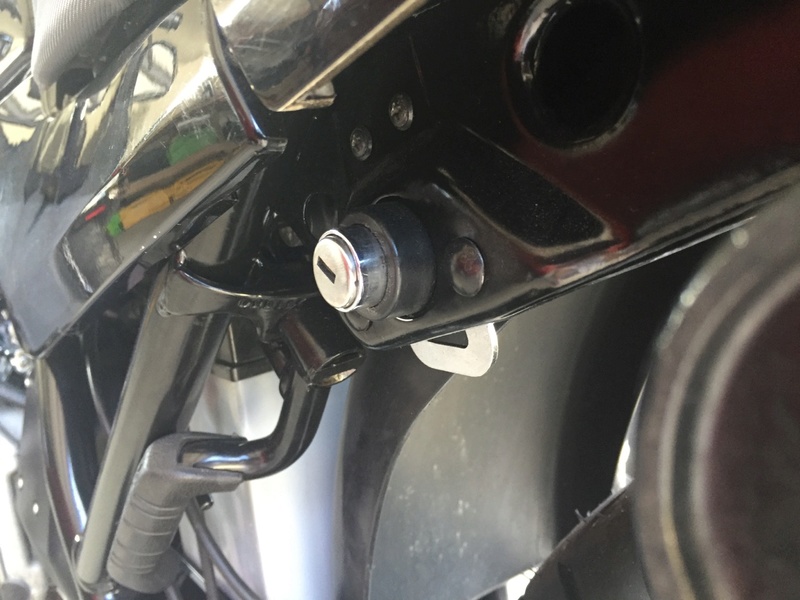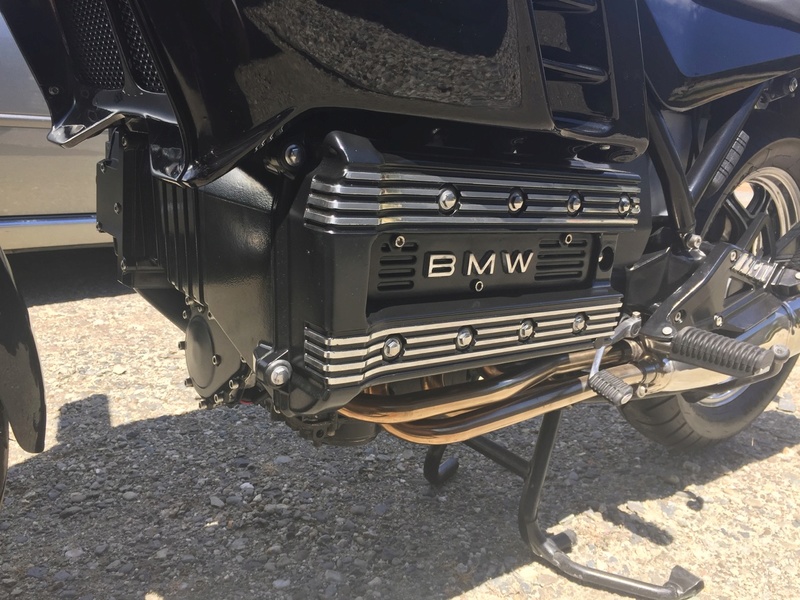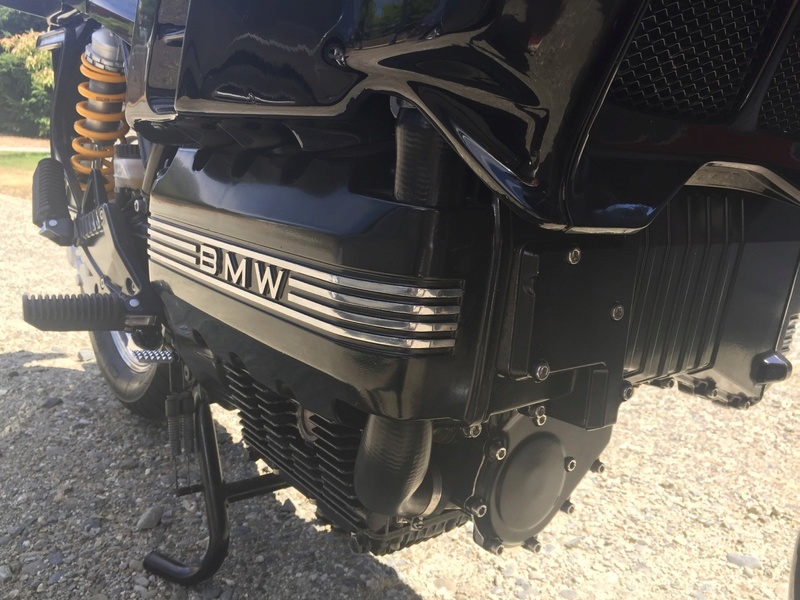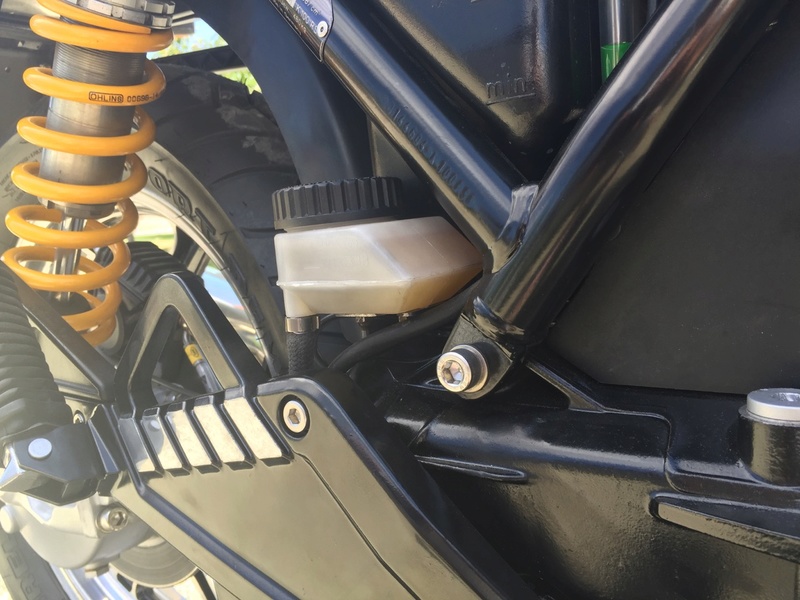 Internally, the valves clearances were checked and all found to be in spec. New cam chain slide rail and tensioner lining we fitted although there was not a lot of wear.
There was a pesky wee oil leek when I bought it coming from the hall sensor cover and this was traced to the crank seal that had been damaged during a previous install, so a new Teflon seal went in along with a new gasket.
Last to be finished is the RS Style decals that are work in progress and I will post when they have been fitted. I am quietly looking for a belly pan too, as I really like the look.
Total spend on the restoration including tyres (NZD 475.00) was NZD 2150.00 give or take a wee bit. Hours spent was never written down as it doesn't matter, but it was plenty, believe me. Any time spent in the man shed is time better utilized than sitting in front of the stupid telly. So for a little over two grand all up, I have a pristine rare K100RS Style that will stay in the garage for a long time.
Now, what's next? Got my eye on a '91 K1…