Born Again Eccentric
Life time member
Well that was an eventful day!
Having ridden in to work in the worst weather of the winter so far (windy, heavy rain and sleet with temperature sitting at just 1 deg C) I finished work early as per a normal Friday and rode home in beautiful sunshine. About 2 miles from home, I was low on gas, so deviated towards the local supermarket petrol station to fill Gretel up ready for whatever the weekend offered.
Approaching a mini roundabout, where I was going straight across, I noted two cars stopped waiting to enter from the junction on my right - they were yielding to cars going straight over in the opposite direction to me, just as they are required to. There was also a silver car approaching the roundabout from the road to my left, but as he was required to yield to me, that was not a concern. Wrong! As I accelerated back up to 30mph, out came the silver car and right into my path, without him even pausing at all. Polish driver in Polish car...but at least he had valid insurance and a driving licence.
The rest, as they say is history, I slammed into the side of him at 27mph...and stopped very quickly. Through the bike screen I went and I bounced of his side panels before ending up sitting in the road next to poor old Gretel. Straight away I knew that I had busted my left wrist. Bugger!
Ambulance car and police were soon on the scene thanks to a helpful passerby. Details taken and exchanged and road cleared. 
Gretel is destroyed - front fairing and headlight smashed, front fender snapped at back where it was pushed into the engine block, puddle of oil on the road and my K100LT with a much shorter wheelbase due to the forks bent backwards. Back end of the bike is OK though!! I noted with grim satisfaction that, when they tried to move the silver car (peugeot 307), it was also f*@ked - front door bashed in, steering broken and side air bags deployed. Wished i'd had the benefit of an airbag though!
One ambulance ride to hospital later, and x-rays showed that I'd broken both wrists in the impact. Left hand worst by far. Double bugger - how quick do arm bones heal? Might get in the way of coming to the eccentrics Christmas brunch too...
After several hours hanging about, eventually discharged, but got to go back tomorrow to get a plate screwed into my left wrist - thank goodness its not my throttle and Guinness drinking hand!
Got home about 8pm and then had to walk down to the bike to await the recovery truck.
Still it could have been worse.
Enjoy the video - pity about heading straight into the sun though...
Few pics too - it's great what you can do while waiting on the emergency services to arrive, even with two broken wings!!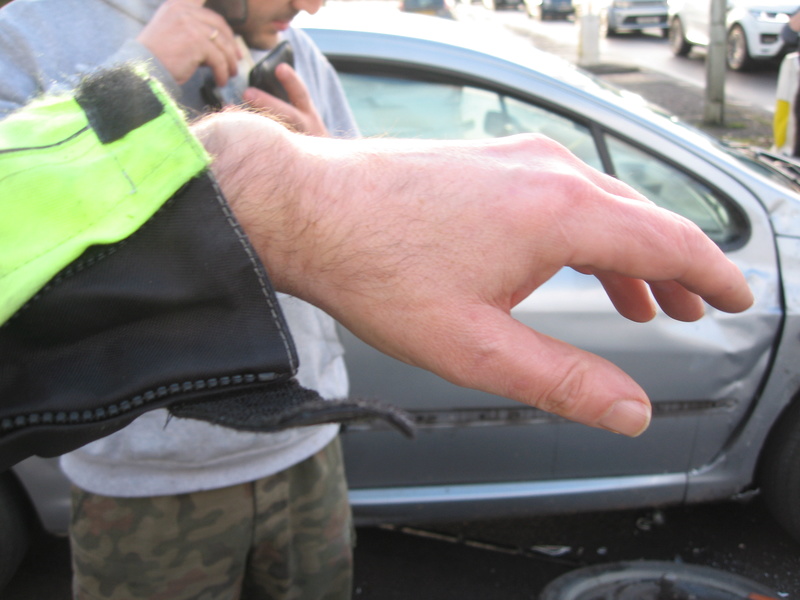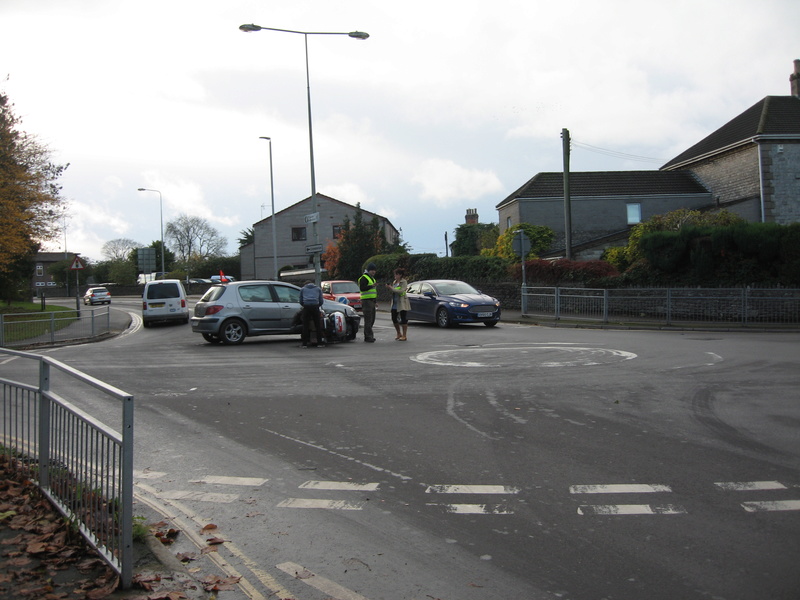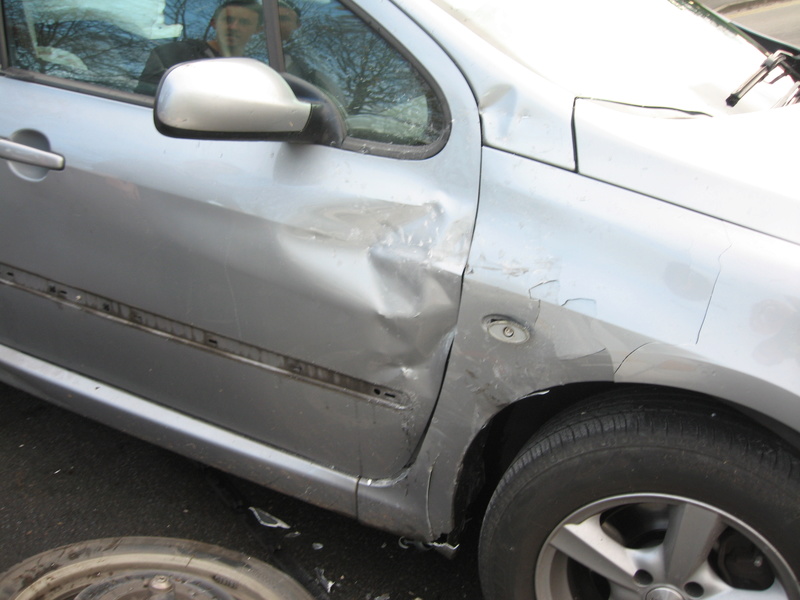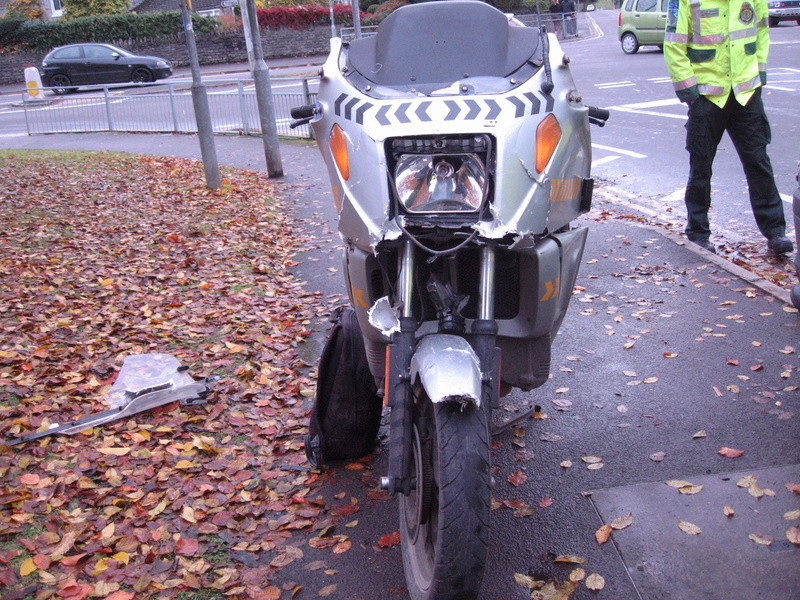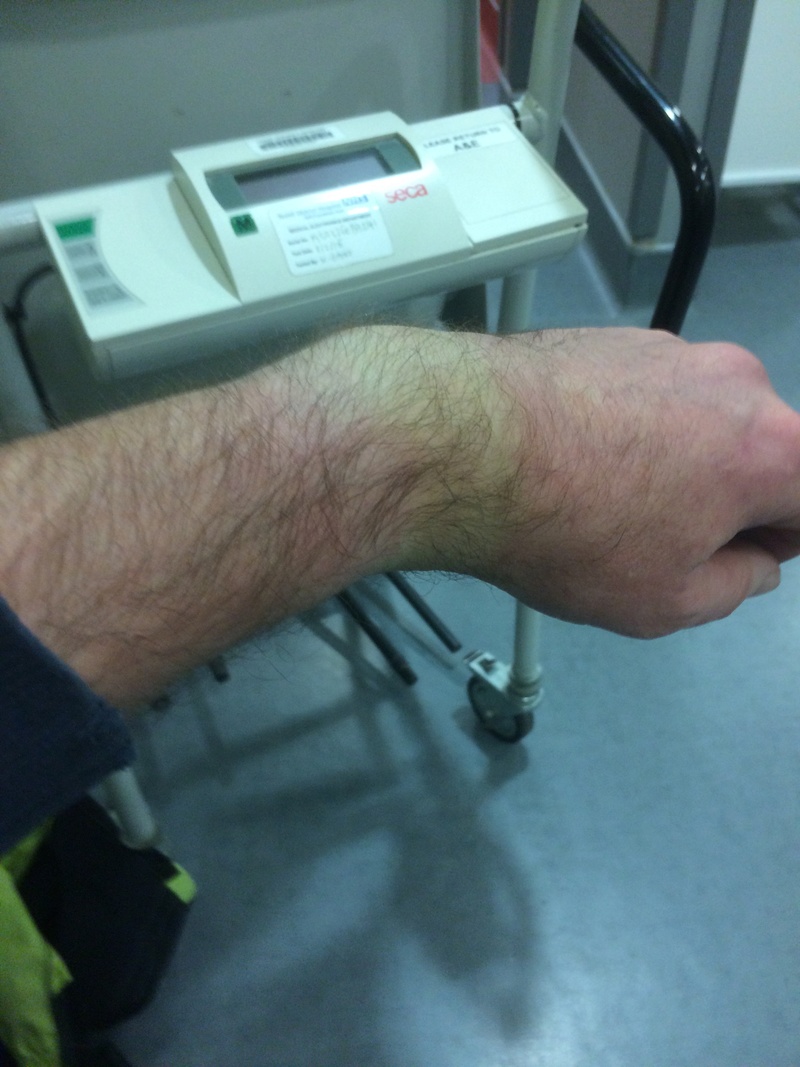 Down but not out....
Ride safe y'all and leave the cars alone!
__________________________________________________

                              Paul  
"Heidi" K100LT 1991 (Grey) (VIN 0190172 Engine No. 104EB 2590 2213) - 5th owner. January 2014 (34,000 - 61,000 miles and counting....)
"Gretel" K100LT 1989 (
Silver
Grey) (VIN 0177324 Engine No. 104EA 2789 2211) - 4th+ owner. September 2015 (58,500miles and counting....). Cat C Insurance write-off rebuild Feb 17
"Donor" K100LT 1990 (Red)  (VIN 0178091 Engine No. 4489 2024) - 6th & final owner (crash write-off now donor bike).   June 2012 (73,000 miles) to November 2013 (89,500 miles)