nods
Silver member

I've been wanting to get this post going for a while but had to wait until I got a centre stand fitted so I could take some photos of the right side of the bike!  I can of course now start tinkering and taking bits and pieces off the bike too which is what I really want to get started on.
I'm certainly not looking to build a cafe racer, and I don't really care for any of the "themes" of custom bikes.  I simply want to make it my own, gaining inspiration from the incredibly talented builders out there in the world whose bikes appear on the internet.  I see a bike and think "I like those handle bars", or "that rear is amazing" (I promise I was still looking at bikes when I said that! 

 )
I want a bike that I can take my wife on joy rides, so the seat needs to fit two and I need pillion pegs.  I'm looking at Brat style flat seats and have no idea how to go about creating one of those so that will be part of the learning curve.  I want it naked and minimalist - the reason I fell in love with the K100 was my mate sending me links to photos of custom builds and the big brick engine just looks fantastic when everything else is stripped back and it becomes the centre piece of the bike.  I want my bike to be all black.  I think she used to be blue like the tank, as the remaining plastic bits seem to have been painted green.
I'll update this thread as I go along, however it will be slow progress as time and money trickle-feed my addiction and allow me to work on the bike.  I'll be sure to be asking lots of questions - in fact I have one now about the exhaust.  But first photos, then I'll ask away in the next post.  Just having this bike in my garage is good for me and I'm already very fond of her without even hearing her fire up.  Getting into the garage for an hour here and an hour there will be my therapy to balance out my life.  Having said that, I really can't wait to take her out on her maiden voyage! 
Cheers all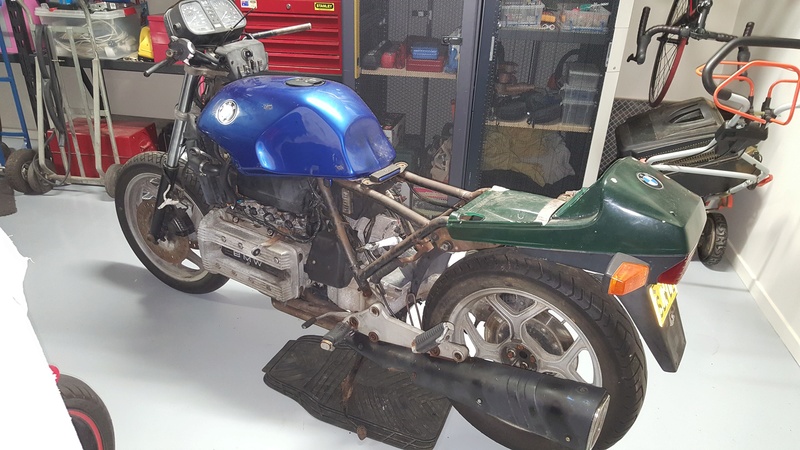 Last edited by nods on Thu Dec 29, 2016 7:48 am; edited 1 time in total (Reason for editing : forgot to add photos!)
__________________________________________________
| | |
| --- | --- |
| Chassis number | 0025951 |
| Vehicle code | 0504 |
| Series | K589 |
| Model | K 100 RT 84 (0504 ( 0505 ) |
| Body type | K 100 RT 84 (0504 |
| Catalog model | ECE |
| Production date | 1985 / 01 |
| Engine | 0514) |
| Transmission | |
| Steering | |
| Catalyzer | NONE |