Born Again Eccentric
Life time member
So, the new year is with us and, whilst still in the midst of winter here in the northern latitudes, the daylight hours are getting longer again...bring on summer, but first it's time to breathe new life into Gretel.
After my little incident back in Nov 16, poor old Gretel has sat looking very sorry for herself at the back of my garage awaiting the insurance company's verdict. A few pictures of how she currently looks: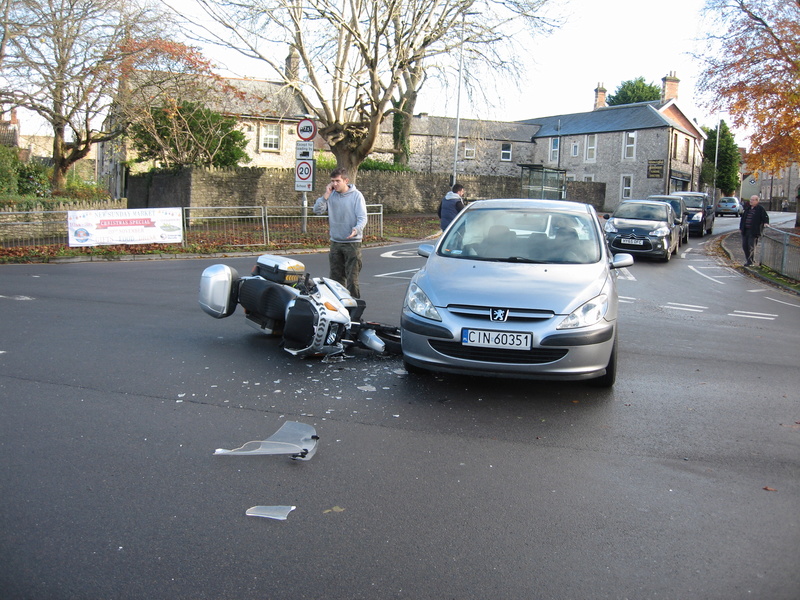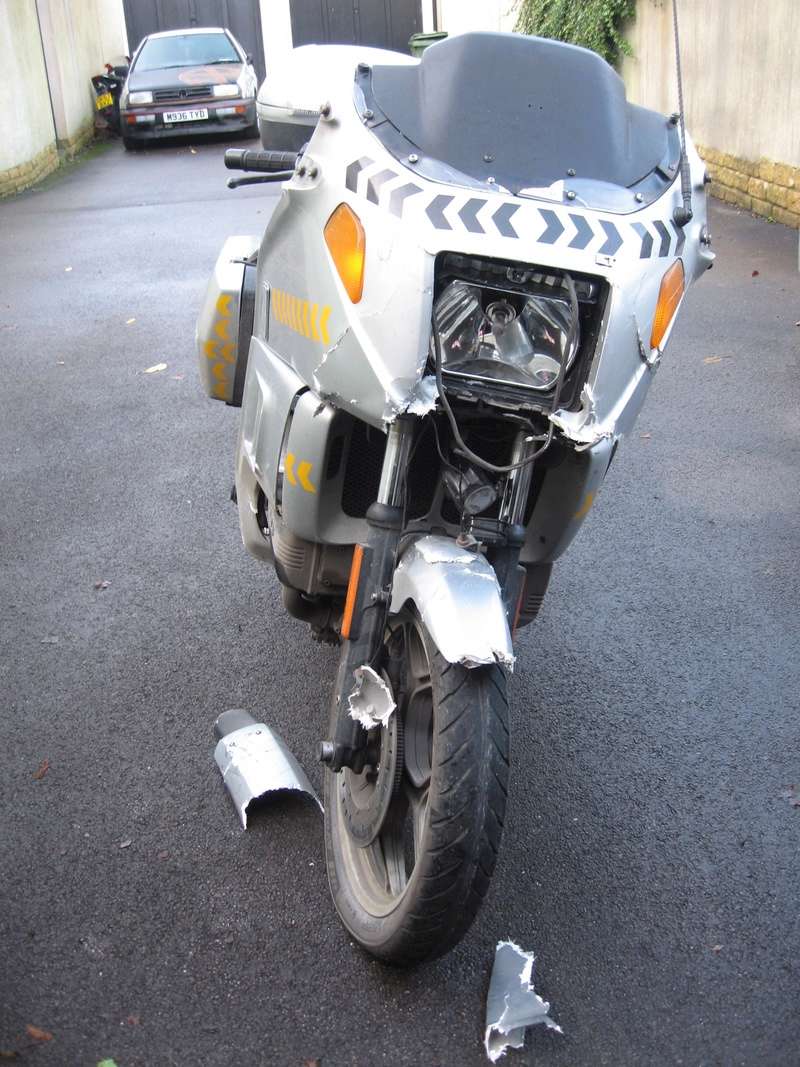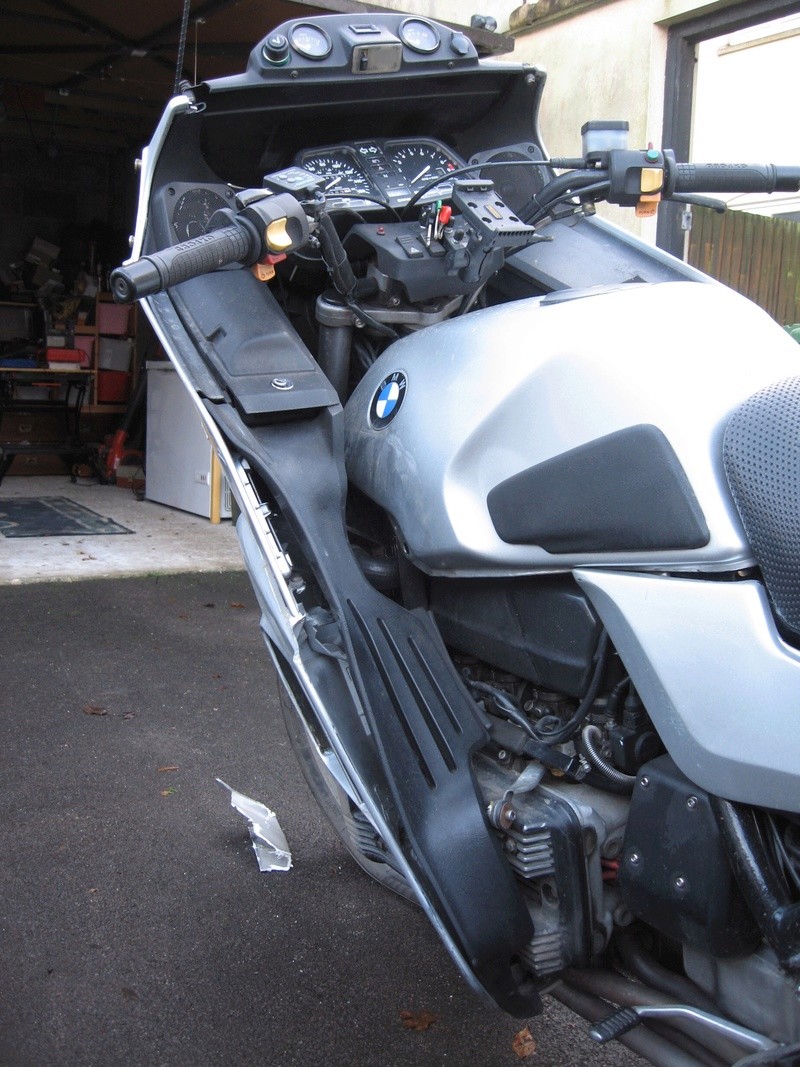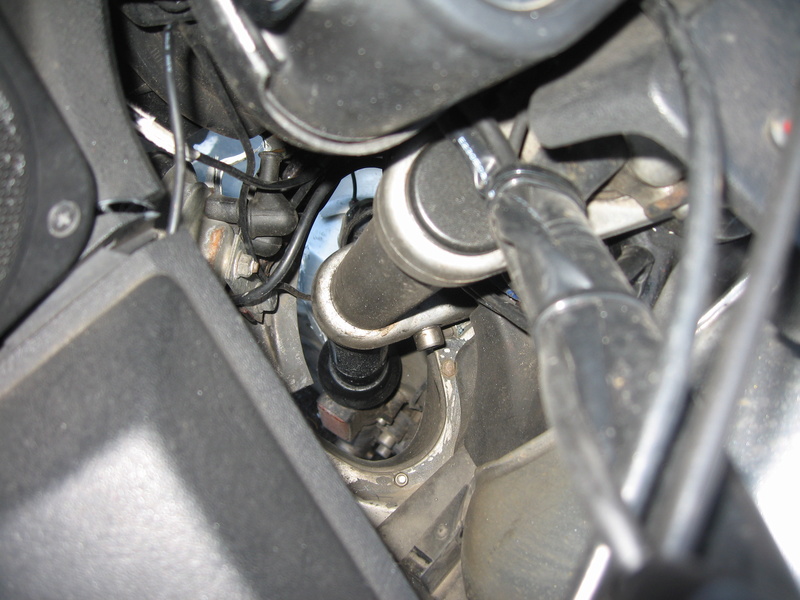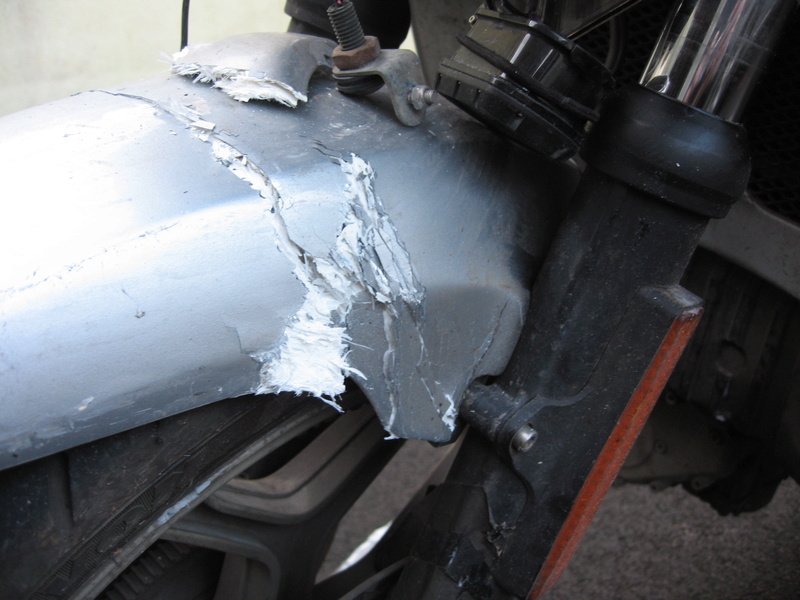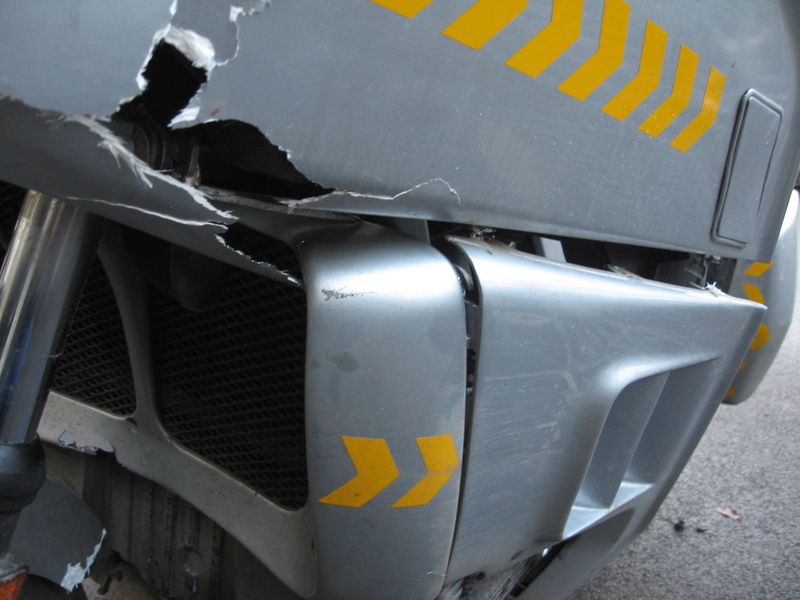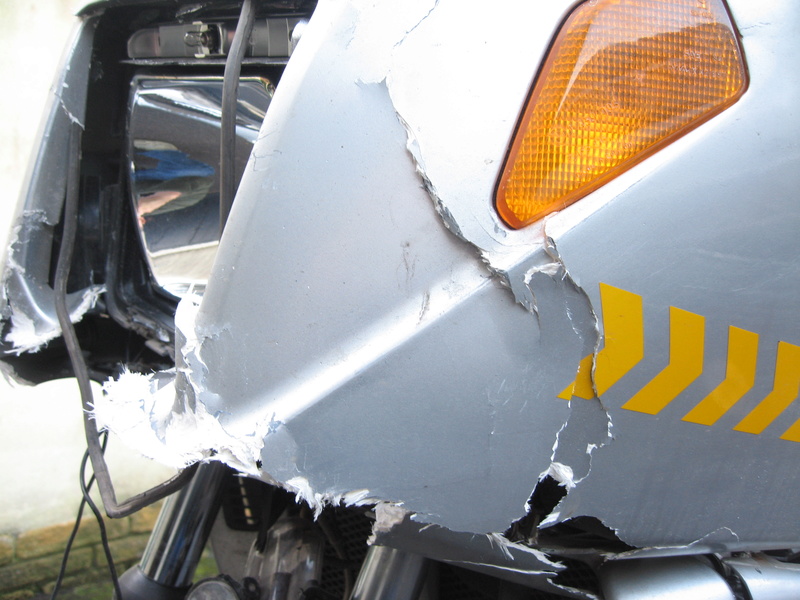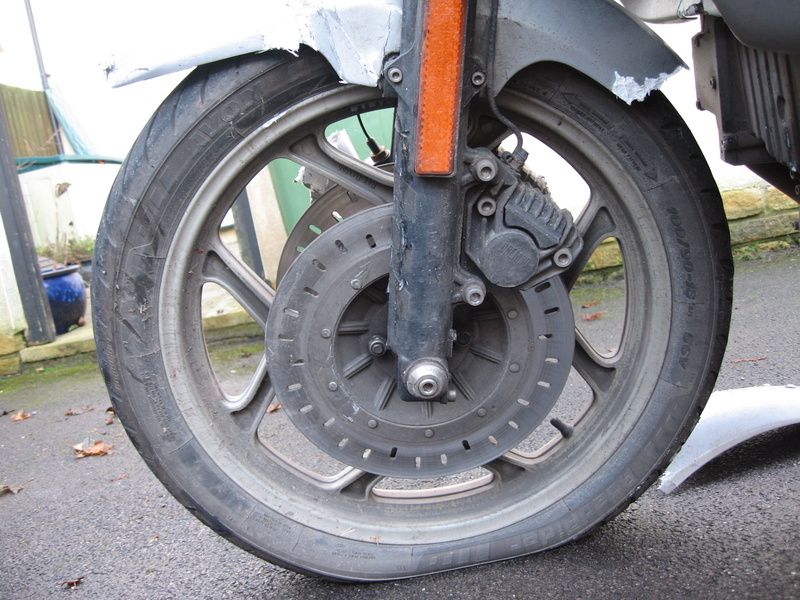 The verdict...Well no surprises at all, the damage assessor has declared her a Cat C write off - in layman terms that means that she is repairable, but the cost of the repairs (by an authorised repairer) is way more that the market value of the bike. I knew that this would be the outcome and it is precisely why I ensured that I got her recovered to my garage, not some wreckers yard - possession is, after all, 9/10ths of the law and gives a much stronger negotiating position. 
In short, I have been "offered" the full insured value of the bike less the salvage value. Having been insured Third Party, Fire and Theft only, this all assumes that my legal team will win my case and I will get the insured value back as part of the loss settlement (along with the injuries claim and other incidental losses and costs). Got to stay positive - whilst the third party insurer is disputing the claim, the simple fact remains I had priority on the roundabout and was travelling within the speed limit (phew) and he failed to give way and pulled out in front of me. Of course, I have video and photographic evidence to support my claim too, which will hopefully help. My insurers have already rejected the third parties claim against me based on that evidence. However, I suspect that, along with the injuries claim, it will take at least the next 6 months to resolve.
I can't wait 6 months or more before starting the restoration of Gretel though - we all know that these bikes don't like to stand, unused, for long periods of time and having suffered quite severe trauma, Gretel will like it even less. So, having been offered a settlement price, I reckon the time is right to start setting about bringing the old girl back to life. I guess, if the insurers settle in my favour, I will get a wedge of cash along with a bill for £60 (the estimated salvage value!). If they lose the case then (no win, no fee), then the wreck remains my property as an uninsured loss and I won't have to pay £60 but I won't get any payment for the bike either. I hope they win!
Whilst I haven't started the dismantling yet, to be able to fully assess the extent of the damage, given the spare parts I already have and the parts available on Ebay etc., I think that I can bring her back for a reasonably modest outlay (less than the cost of a similar age/mileage bike). The engine still runs and the back end (apart from the right hand pannier) is undamaged. Known damage:


Upper fairing (not repairable)

Upper fairing mount (suspect that this will be bent)

Headlight (needs replacement)

Both Mirrors (glass intact and plastic cases deemed repairable)

Radiator fairing (repairable)

Left & Right lower side fairings (not easily repairable)

Front Forks (bent - see 5th photo above)

Screen (needs replacement)

Front wheel buckled

Front fender (mudguard) (not repairable)

There is an oil leak, but I have yet to determine where it is coming from

Right Pannier distortion (repairable)

All in all, hopefully, this will be mostly a plastics repair/replacement exercise but as I said though, there could be more damage, that will only become evident once I start the strip down and restoration. While, I'm at it, I will probably also replace the fuel tank with the one from my donor bike - Gretel's fuel tank always had a squashed look about it (as noticed by Sidecar Paul) and this was enough to reduce fuel range by nearly 10 miles.
Yesterday, I drove to London to pick up some replacement plastics that I bought on Ebay, namely the upper fairing (which came complete with headlight, indicators, mounting bracket, horns and both mirrors); left & right lower fairings and; front fender. The seller had stripped a low mileage bike to build a cafe racer and offered the parts for a reasonable price. I also bought the front forks from him - I was going to use the ones off my donor bike, but these were in pretty good condition, so I grabbed them too. All the plastics were in good condition but are coloured Stratos Grey (same as Heidi) rather than silver (like Gretel).
So, to my first dilemma - what colour do I paint Gretel? 
If I go by the paint code under her seat, she should be "Toscana Green" (with gold pin stripe). I would quite like her in that colour and it would sit better with a proper restoration project, but that would require a full respray of every painted part (most expensive option). Since I have known her, she has been wearing "BMW Artic Silver" (as fully detailed in the maintenance and repair log kept by SGMayhew, the previous owner). BMW Artic Silver, to the purists is not a K100LT colour - it is only used on the BMW tin boxes, but I could easily spray the newly acquired parts and donor bike fuel tank in Arctic Silver to match (cheapest option). Then again, because the paint work on the newly acquired upper and side fairings is in such good condition, I could of course, change her to "Stratos Grey" and have both Gretel and Heidi in exactly the same colour scheme. This option would minimise the amount of painting required to just the tank, radiator fairing, duck tail, small side panels, panniers and top box. I guess the other factor worth considering is that the Toscana Green and Status Grey paints cost in the order of £38.75/litre (in 400ml rattle cans from RS paints - very good suppliers) whereas the Arctic Silver is widely available from a local car accessory dealer (Halfords) at just £23.30/litre (in 300ml rattle cans). Perhaps it is time to invest in a proper spray gun and compressor and get away from aerosol cans altogether? I know for a fact that a 400ml rattle can does not give as much paint coverage as the same volume of paint in a spray gun. I would interested to hear your views on that issue.
So, as I start this project, any suggestions on colour or the benefits of a spray gun over rattle cans?
__________________________________________________

                              Paul  
"Heidi" K100LT 1991 (Grey) (VIN 0190172 Engine No. 104EB 2590 2213) - 5th owner. January 2014 (34,000 - 61,000 miles and counting....)
"Gretel" K100LT 1989 (
Silver
Grey) (VIN 0177324 Engine No. 104EA 2789 2211) - 4th+ owner. September 2015 (58,500miles and counting....). Cat C Insurance write-off rebuild Feb 17
"Donor" K100LT 1990 (Red)  (VIN 0178091 Engine No. 4489 2024) - 6th & final owner (crash write-off now donor bike).   June 2012 (73,000 miles) to November 2013 (89,500 miles)