92KK 84WW Olaf
Life time member
I went on holiday to France on 2nd September on the very trusty K100RT. It got new BT45 tyres the day before as well as brake bleed and some new pads. Took me 450 miles from Roscoff to St Leon in the one day.
Not long after I went Will aka 88 here, who was supposed to come along too, sent me a message that Fintan, aka Corkboy here, was selling his K1100LT.
Bugger, I thought, that's a nice one and shame I am away.
Not to worry, a message to Fintan was met with the response that he would hold onto it until I got back.
It took us a whole week after that to link up, we met the following Sunday which was 1st October and the deal was done.
Tuesday evening, 3rd October, my son dropped me over to pick up the new purchase with 58,645 miles on it and all the spare bits and pieces that came with it, Clymer manual, spare brake pads, spare wheel, tyre, tool kit and even a fleece. Well actually it took me 2 weeks to find the fleece.
In between.....its has a change of fluids, new brake pads and brake fluid change, new tyres on it, cracked a header as they do.
Sunday went out for breakfast with a few others, we meet twice a month for breakfast at The Viaduct Inn. No matter where you park a BMW someone always parks along side it...so this other one came alongside as if to say 'me too'. Actually a very nice guy whose wife also rides a bike.....
https://i.servimg.com/u/f62/17/59/71/68/olafs_13.jpg
The RT in the same place last year......
https://i.servimg.com/u/f62/17/59/71/68/k100rt10.jpg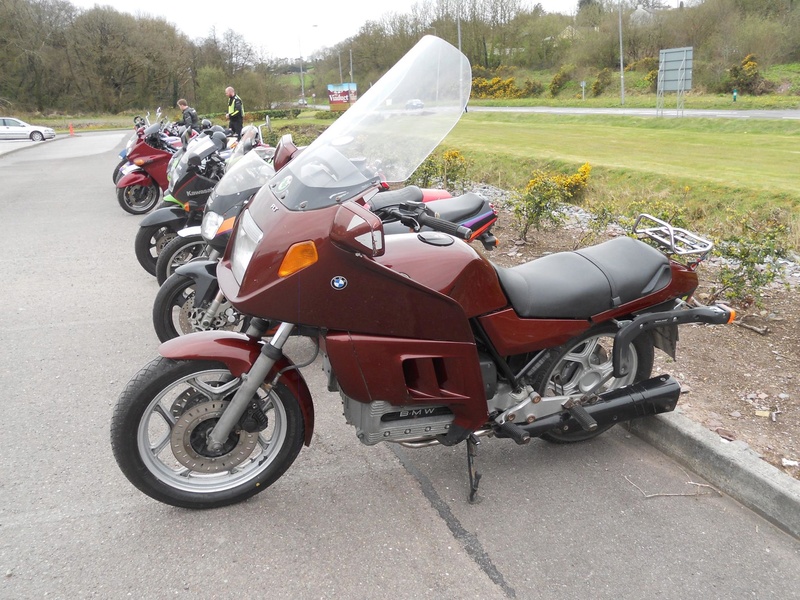 Last edited by 92KK 84WW Olaf on Tue Nov 21, 2017 4:52 am; edited 4 times in total (Reason for editing : Finally got it to upload the photos.)

__________________________________________________
1992 K100LT 0193214 Bertha Alaska Blue 101,000 miles
1984 K100RT 0022575 Brutus Baja Red bought 36,000 now 89,150 miles
1997 K1100LT 0188024 Wotan Mystic Red 58,645 now 96,650 miles
1983 K100RS 0011175 Fricka 29,495 miles Damn K Pox Its a Bat outta Hell