Born Again Eccentric
Life time member
I already have white eagle eye lights fitted the front of my bikes to give me extra see-ability (essentially daylight running lamps - always on when the side light/head light is on) , but after reading Ducks post:
http://www.k100-forum.com/t13050-my-latest-and-greatest-led-brake-and-tail-lighting-simple-and-dirt-cheap-to-boot#154306
I ordered 2 pairs of the eagle eye red lights to fit to my bikes for use as rear fog lights. Having order them in early Nov 17 (via Amazon from China) they eventually arrived on 17 Feb 18. Communication with the vendor was actually very good, but it took the third try to result in them actually getting to me (Perhaps the first 2 sets are still floating around the worlds oceans in a lost container?). The vendor actually put an extra 2 pairs of lights in the final package as way of compensation (nice gesture)
https://www.amazon.co.uk/dp/B00E0FR7QG/ref=pe_3187911_185740111_TE_item
Anyway, today, I fitted the first set to Heidi (Gretel will get hers tomorrow) and am very pleased with the results.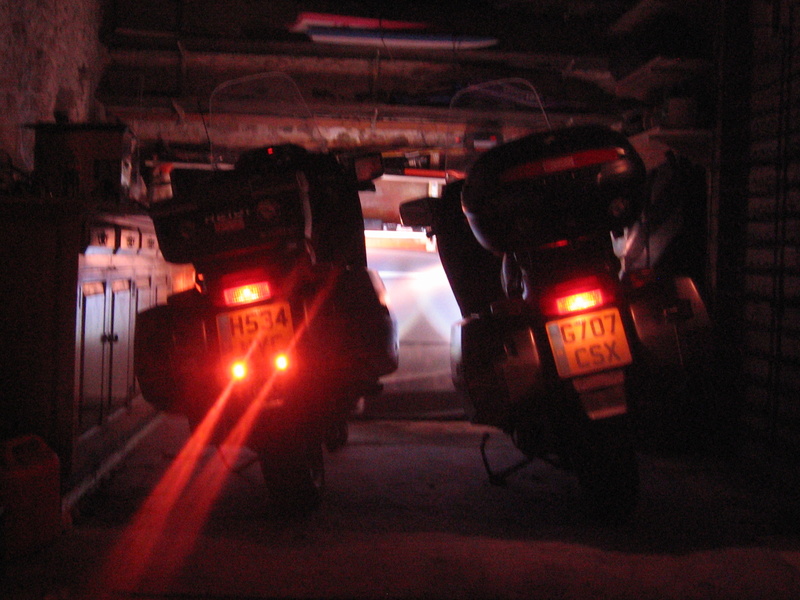 I mounted my lights at the top of the rear fender/mudflap (drilled 10.2mm holes just below the registration plate) and, running a wire up along the left hand frame (black tie wraps of course) connected them via an ignition switched power supply to a switch (also from Amazon - China) mounted as high as possible on the right side of the handle bars. 
https://www.amazon.co.uk/dp/B01EYDPVKW/ref=pe_3187911_185740111_TE_item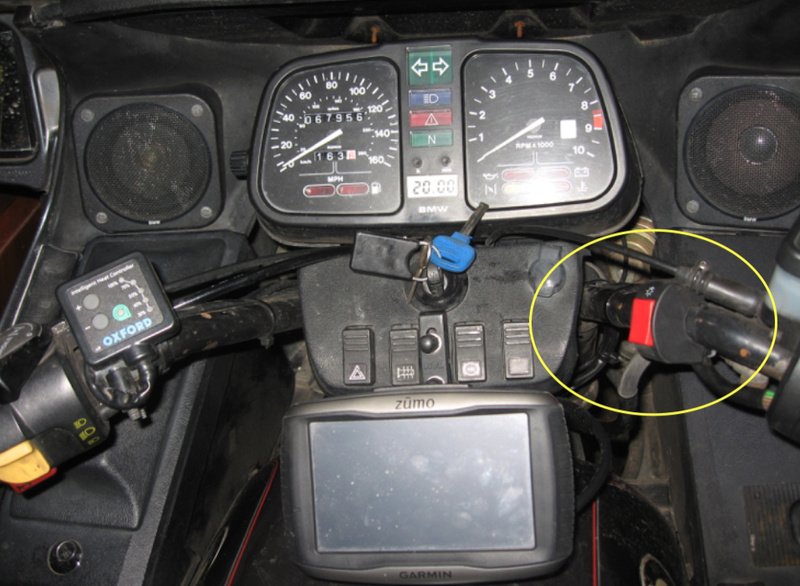 (It's starting to get busy up front!)
I went for an ignition  switched power supply to protect my battery from fiddling fingers while the bike is parked up) - I also fitted an in-line fuse (just in case).
I didn't go for the flashing option as per Ducks post, but now have a manually switchable, high intensity, rear fog light which definitely will make by back end more visible during those seasonable fog patches. Total cost £4.74/bike (and two spare pairs of eagle eye lights as a bonus). Ideally, I would have a LED indication to warn me that the fog lights are on...but I like to think that I'm not a stoopid as the rest of the road users out there and am in control of what I'm doing.
Both bikes now done...so much quicker doing the second one. Another bitterly cold day with bright sunshine and blue sky and not a hint of fog in the forecast this week!!
A view from the back...
...and the view from the front (these led lights are always on with the head lights)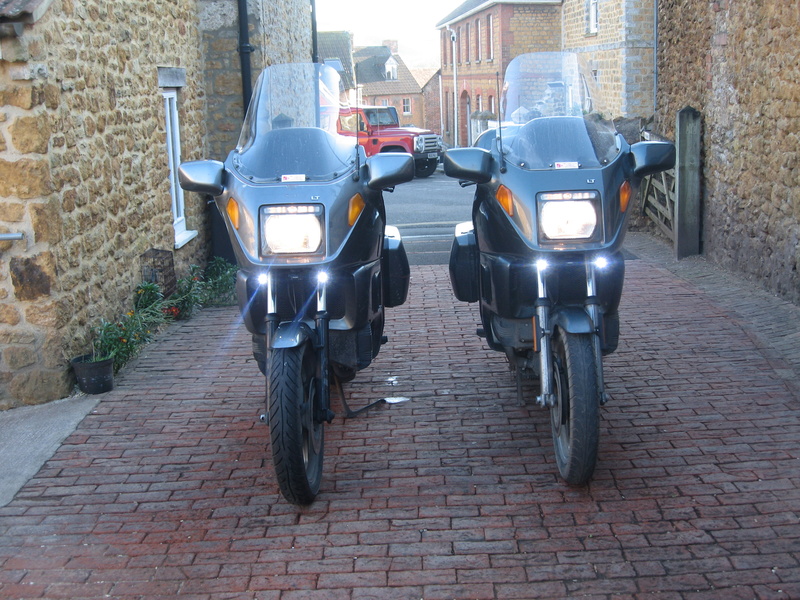 Fog off...
...Fog on!
(Doh - must rub out that pencil line!)
By the way - anybody heard from Duck lately? - last post was Oct 17 and there are no details of the date of his last forum visit. Hope you're OK mate and just hunkered down for the winter. It'll soon be spring!!


Last edited by Born Again Eccentric on Sun Feb 25, 2018 1:01 pm; edited 2 times in total (Reason for editing : added a few more pics after completing install on both bikes.)
__________________________________________________

                              Paul  
"Heidi" K100LT 1991 (Grey) (VIN 0190172 Engine No. 104EB 2590 2213) - 5th owner. January 2014 (34,000 - 61,000 miles and counting....)
"Gretel" K100LT 1989 (
Silver
Grey) (VIN 0177324 Engine No. 104EA 2789 2211) - 4th+ owner. September 2015 (58,500miles and counting....). Cat C Insurance write-off rebuild Feb 17
"Donor" K100LT 1990 (Red)  (VIN 0178091 Engine No. 4489 2024) - 6th & final owner (crash write-off now donor bike).   June 2012 (73,000 miles) to November 2013 (89,500 miles)