robmack
Life time member
Solved
Took Ned's advice below and used a thin layer of grease (plumber's grease so as not to attack the nitrile) to lubricate the thermostat housing walls. The BS134 O-ring fit onto the cap and I seated it to the base of the caged flange (see picture).
I replaced the cap and gave it a slight, 90 degree twist as I pushed it home, aligning the screw holes in one go. The unit felt "seated" with this operation, unlike before. I think the previous try might have warped or kinked the o-ring. The grease made the o-ring slide and not bind. I secured the cap screws and tested. No leaks. Thanks for the tip about the grease. As interest, the o-ring seats against a lip on the inside of the thermostat housing (see picture).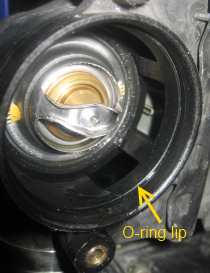 The dimension of the ring ensures exactly the right amount of pressure against the thermostat gasket and exactly the right deformation of the o-ring to seal the assembly.
Original problem
As part of diagnosing my earlier cooling problems, I cracked open the thermostat housing on my K100RT to replace the thermostat. I substituted the original for a new one but discovered that there was nothing wrong with the old thermostat. I started to have coolant leaks from the thermostat cover. So, I reopened the housing, replaced the new thermostat for the original (thought it might be due to the non-BMW thermostat I used)
and
replaced the O-ring on the cover. I used an aftermarket BS134 o-ring, not an original BMW part. I am still getting leaking from the cover. Refering to the image below:
The o-ring I fitted seats between the thermostat housing and the cap (3) on the inside edge, indicated with the RED arrow. Should it be seated on the outside edge? What can I do to stop this problem? My novice mechanical abilities certainly show up here. This should be a no brainer.


Last edited by robmack on Mon Sep 06, 2010 2:58 am; edited 4 times in total (Reason for editing : Added image; added solution description)
__________________________________________________
Robert
1987 K75 @k75retro.blogspot.ca