caferacer62
Life time member
Well i got stuck in after work on saturday and stripped the old girl of her fairing and associated brackets.
Then on sunday i decided to paint the wheels,fork legs,front calipers and bottom of engine. Then while the paint was drying(gotta love quick dry paint) i got stuck in to mounting the new headlight,indicators,mirrors and bar risers.
The headlight brackets are just cheapy universal ones from MCS. The headlight is GSX 1400and the indicators are from a GS500.Mirrors are also universal type from MCS. After tidying up a bit of wiring all mounted up pretty easy. I was lucky with the mirrors as they both had r/h thread 10mm. So as luck would have it the holes in the levers are actually about tapping size for a 10mm tap,easy as mirrors mounted.
The bar risers were easy too just had to make some extension bits for the pad the ignition goes into. After a bit of fiddling with the horns i managed to mount them on the lower clamp of the forks. Then put all the nicely painted bits back together and voila one naked K100.
I rang Discount Wreckers in Melbourne about the radiator shroud and side covers off a K100 that they are wrecking,but at $400 they are a bit pricey for me at the moment. Might sell my fairing complete yet,i like the way the bike looks so much and its so nice and cool to ride.
Anyway here is a pic of the finished project,i was so flat out doing it all so i could ride to work today that i forgot to take pics along the way. I will post some more close up pics of the conversion soon.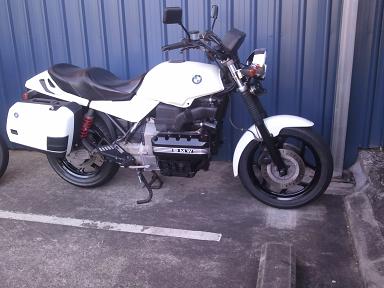 __________________________________________________
Bert 2.0
Don't give in to the Black Dog!
"A Zorst, a zorst my kingdom for a Zorst"