Two Wheels Better
Moderator
Back last October, on the 25th, we had 103 members online all at once. It happened at about 11.22 PM Aussie east coast time, and back then we didn't have nearly NINETEEN HUNDRED members, maybe a bit more than half that number! That was a pretty cool achievement but I can't remember whether I was online myself at that time, contributing to the number....and it was a fair measure more than the previous record, which was about half that.
Well, it's been a fair while since we've had a massive presence like that, made all the more remarkable that it happened quite naturally. Without meaning to be prescient, and just for some fun, I suggest we make a concerted effort to smash that record.
Who wants to give it a go?

__________________________________________________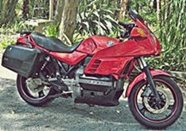 '87 K100RS, '93 K1100RS frame with '02 K1200RS motor, brakes & wheels, aka the 
Big Block
.
"We are buried beneath the weight of information, which is being confused with knowledge;
quantity is being confused with abundance and wealth with happiness.
We are monkeys with money and guns."
~Tom Waits