Two Wheels Better
Moderator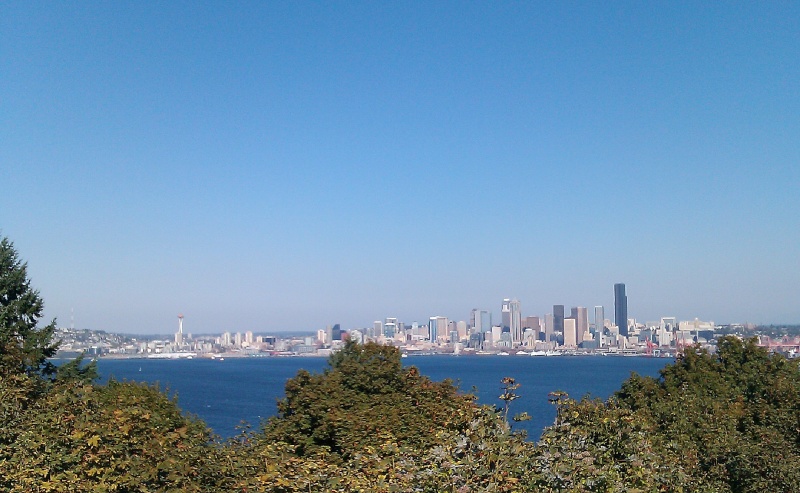 Seattle, Washington's skyline from across Elliot Bay.
This is a mainly pictorial review of the long-awaited "Ride 'cross 'Merkuh" as it's happened so far. Departure day was coolish, about 8c and rising to nearly 20, but the ride up and over the Cascade mountains was bright and clear. The RT delivered an averaqe 48 (US) mpg and easily rolled over any obstacle (slow cars, mountain passes) thrown before it. The day ended in a clean little flophouse motel in eastern Washington in the rolling wheat hills near Lewiston, an easy 400 miles of mountain pass, open range, wine country, farmland and along the Columbia River's edge.
'Stonehenge in Cement'
Near Maryhill, Washington looking West along the Mighty Columbia River. Sam Hill, an eccentric railroad magnate, built a 'replica' lifesize Stonehenge high above the river banks after seeing the original in the Salisbury Plain during WWI. He also attempted to woo the Queen of Romania to come and live with him but except for her furniture, she never arrived. The mansion is now a dusty but interesting museum.
The ever-present wind lends itself well to the ever-present wind turbine farms that dot the landscape across Eastern Oregon and Washington. The RT ate these roads and has used nary a drop of 15W50 synthetic oil in 800 miles so far.
The second day saw Idaho's Lolo Pass over the Bitterroot Mtns into Missoula, Montana in heavy smoke from the lingering forest fires of this dry-as-a-bone Summer. Day three, the Sawtooth Range, thenYellowstone Park in Wyoming, and further on, Mount Rushmore and the Devil's Tower in South Dakota.
Pics to follow.


Last edited by Two Wheels Better on Mon Dec 03, 2012 7:46 pm; edited 19 times in total
__________________________________________________
1987 K100RS, '89 K100 w/K1100RS engine, '93 Framed K11/K12 engine 'Big Block', '09 K1300GT, '07 K1200R, '95 R100 Mystic & '77 R75/7.