Two Wheels Better
Moderator
At the end of the day's work on Saturday the sales manager was talking about the need to "get some miles" on the remaining demonstrator fleet of 2013 BMWs before the year ends. I enquired about which models he was referring to. His answer was, an F800GS (I have ridden them a fair bit), an S1000RR (have ridden them a heap too).
With cooler but sunny weather on for the remainder of the weekend, and the desire to take a fair-haired passenger along, I enquired further. "I need to get a K16GTL run in, I've got a dealer plate for it and all I have to do is press the button to register it with BMWNA," he said. "I'm your man," said I in response. He was happy, as he said, to let me break it in since you never know how a customer is going to treat a brand new bike that they've no real vested interest in. Most are good to a machine, but some unfortunately adhere to the now-common adage, 'ride it like you stole it.'
At closing time, in the dark, I sat in the lot astride a humming 2013 K1600GTL six cylinder with all of 6 miles showing on the odometre, fiddling with the myriad of settings. First I set the ESA suspension to 'sport' with one helmet showing. Next I twisted the dial to heat up the hand grips and the rider's portion of the seat. Mirrors and windscreen set to my height and preference: check. Then I turned off the stereo (country AND western ain't my rhythm). GPS on towards home, I released the clutch and felt the fluid-like six pull me away.
Traffic was the usual stop 'n' go Seattle mess. It took me a half an hour to go five miles in to the heart of the city and off and away down the HOV lane. Bikes (taxis and buses) are allowed on the exclusive strip of bitumen but cars and light trucks have to have two or more occupants. I easily peeled away the rush and settled into a steady 75 mph swirl through the darkness, the air coming over the top of the tall windscreen just at helmet top vent level, creating a bit of a rushing noise. I raised it electrically and all fell silent around me. The cat's eyes headlight punched a hole through the dark of night, as well as having the ability to turn in as you lean into a corner. The seat warmed my derriere, the grips enclosed my hands in a liquidy warmth, and the steady but muted rumble of the silky smooth six transformed me to a time warp kind of place.
If a car entered my lane ahead and slowed me down I simply looked to either side, indicated my intention to change lanes, thought about where ahead of it - and other traffic - I wanted to be, and with just an ever so slight squeeze of the right hand grip I was transported to any place ahead I wanted to be. Overtaking is elementary. 160 maximum bhp does its job and the torque curve is linear. Freight train is one way to describe it. Any gear. Take yer pick.
This arvo I waddled out in my layers of gear and threw a leg over, with passenger, and we took a 100 km ride out some fine, damp back roads through the hills of Western Washington. All senses were aware and heightened. I looked for dramas, listened for rattles, felt for vibrations, searched for things that would irritate or annoy over the road. I found none. My passenger was smiling. This particular beast would set a person back over US$28,000 (AU$39000 in OZ). I like my old K which is long ago paid for, and my 2004 R1150RT which cost me $3000 secondhand 18 months ago. I wouldn't want the monthly payment or insurance bill for this machine, fine, and refined, as it is. But, gahd, it wuz fun!
This motorbike is the evolution (and revolution) of our venerable K. It is related by design, 'blood' and by history. It is a technological tour de force, like it or not. Do I need the level of bells and whistles aboard? Not one bit. Could I ride this 350-plus kilogram behemoth every day as my daily ride? Nuh, too rangy and long, and too heavy. But with a passenger behind and a full tank between my legs, the long-legged gearing, Duolever front suspension, and comfort amenities galore, the big girl can surely dance over the long road, and make an easy meal out of the twisties, too...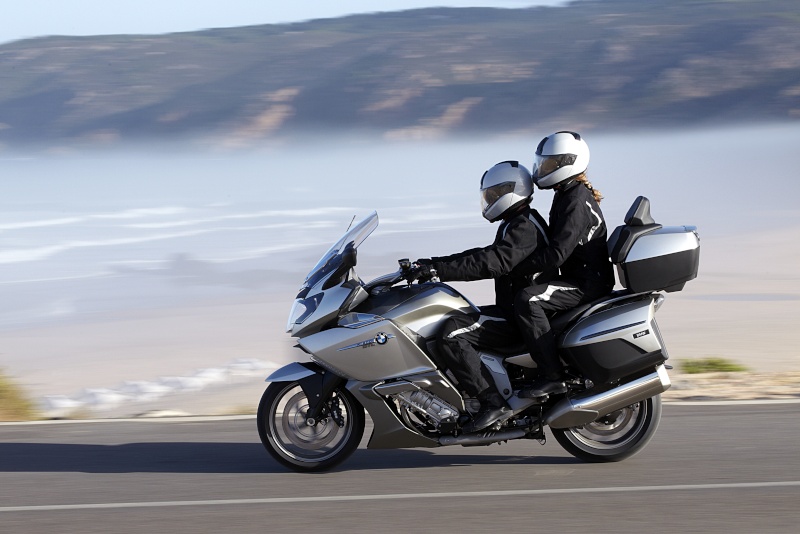 __________________________________________________
1987 K100RS, '89 K100 w/K1100RS engine, '93 Framed K11/K12 engine 'Big Block', '96 K1100RS, '09 K1300GT, '07 K1200R, '95 R100 Mystic & '77 R75/7.