floyd
Life time member
Ok, still havnt got rego....but ive got time, and its raining, and The Beast shall never be 'finished'
Im back at my old stomping ground - in the shed at Mum's place; with all Dads tools (minus some the brothers have LOST!!); with the benches me and Dad made when I was 12; on the bike stand my Grandpa made before I was born

Throughly cleaned the beast and stripped it right down (tank, fairing, seat, ducktail all off) in preparation for a few days work.
Got the back end completely off in a couple of hours.
There was a fair bit of clutch dust
(is that normal?)
But no signs of oil form the rear main seal - which is to be expected as I replaced it a-year-and-a-bit ago (30,000kms) but still nice

There was a little bit of moly-lube slung out from the clutch splines so I added a bit less this time - a new tube arrived in the post last night to replace the one I lost in all my moves.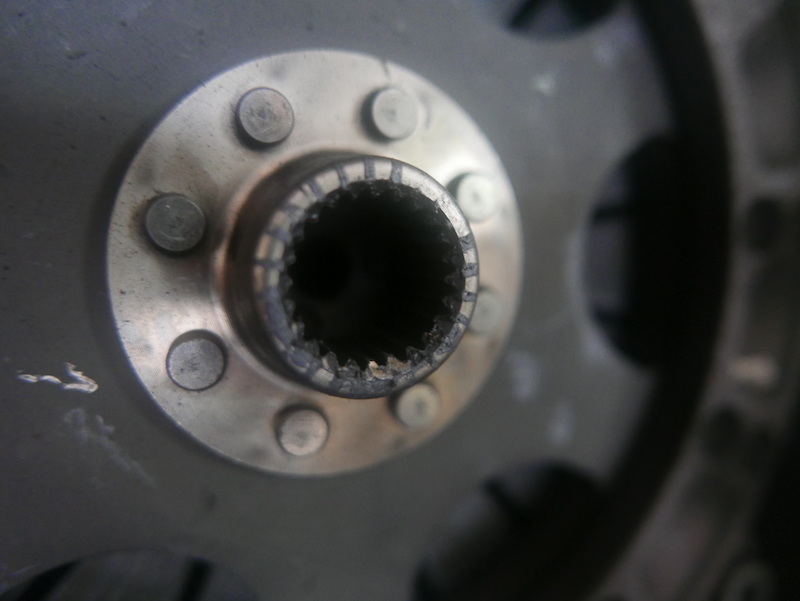 I didnt remove the clutch as I was a bit unsure of whether of not Id have to replace the bolts - and I didnt have any. And I figured the main output splines would be fine for now.
All the other splines in the drive line showed no signs of wear since I put the beast together more than 30,000kms ago - at least to  my eye/memory - so thats nice. 
So with all splines lubed, all parts cleaned - the back end goes back on and its now time for the front....
Once the forks were out, I could feel pretty massive notching in the steering head bearings (the mechanic that did my rego check was right. I myself couldn't feel any notching when the front end was on). How many kms should they last I wonder? I got 30,000 but never adjusted them throughout that time. I think maybe they were to loose and wore excessively. 
Now I've realised my front discs are .5mm under spec min-thickness.....so my options are 
- to fit a new tire (to pass rego) to an 18" front wheel Im not going to use for much longer (as i plan on eventually fitting the 19" GS wheel I have); 
- OR by used K1100 rotors and use the K1100 18"er for another year (with new tyre for rego); 
- OR buy new rotors for the 19" GS wheel and get an axle modified and dive straight into that.....
hmmmm....funds are tight so I might buy used K1100 rotors and stick with that for another year (or until I wear out the front tire)....
Anyways....loving my time delving back into the world of K!