RicK G
VIP

This is your chance of a life time to buy a hand built camper trailer.
Folds out to a double bed with a mattress made from high quality high density 4" foam.
High quality canvas, I used the best but lightest canvas I could find.
It has an all steel frame and isn't the lightest camper going but is stable and tows beautifully. I got 6.6l/100km going to Far Cairn Rally last year on my K1100LT fully loaded.
Comes with a load sharing anti sway hitch that does exactly that, every trailer should be made to have one (I own patent and sell them 

).
It has 13in wheels with 155x55x13 tyres that can be run flat if needed but not on those wheels pictured, but still on mags. LED tail and side lights plus an led light for inside when it gets dark and the bogey man comes out (plugs into the bikes socket).
All up ready to tow it weighs in at 189kg on my bathroom scales.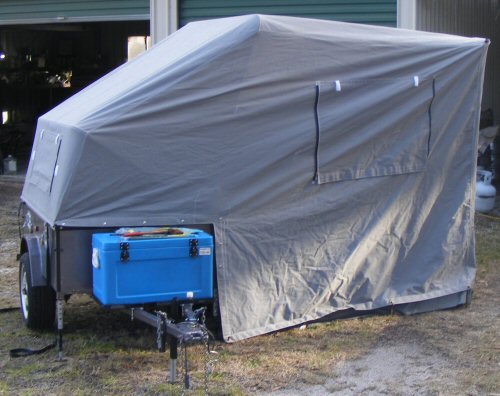 If you want more pics PM me and I will email them.
Now for the price you know the bit where I get as much as I can screw you for and you beat me down with a whopping big stick till I agree to a totally unrealistic price and we are both as happy as a pig in a mud wallow.
It cost me in material alone and labor to make the canvas bit about $3500, now if I got that much I would be as happy as the afore mentioned pig but will begrudgingly accept offers below that 

 .
So PM me quickly to beat the rush.
Delivery can be arranged anywhere in Oz but depending on distance and price a charge for fuel would be applicable.

__________________________________________________
"Man sacrifices his health in order to make money.
Then he sacrifices money to recuperate his health.
And then he is so anxious about the future that he does not enjoy the present; the result being that he does not live in the present or the future; he lives as if he is never going to die, and then dies having never really lived."   Dalai Lama


Bikes 1993 K1100 LT, 1998 K1100 LT, 1993 K75 RT, 1996 K75RT, 1986 K75 GS, 1979 Z1300 Kawasaki X 2 for now