KafeRacer
Silver member

I thought I would post some pics of my Kafe Racer build.  There are alot of other cool projects on this site so thought I should share some of my own.
Here is the before pic.  It was such a nice donner bike I had a hard time chopping it up.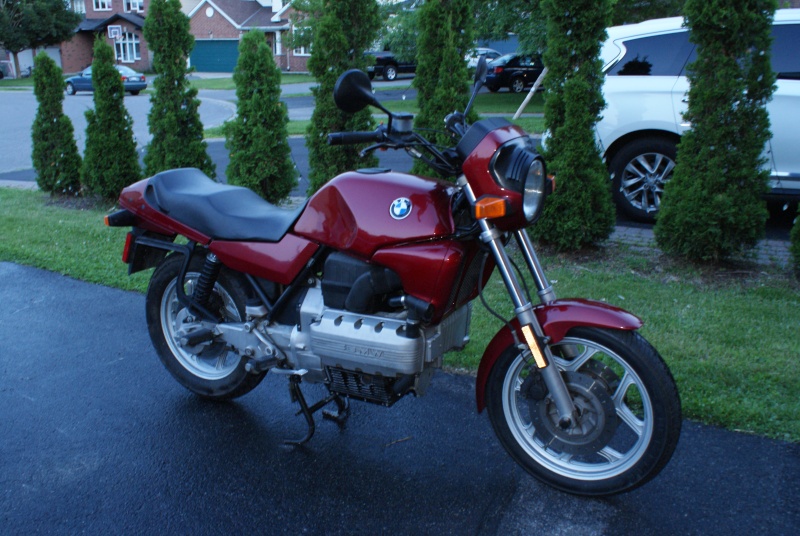 Here is the after:
I bought a ducati 916 tail section and a corbin seat off of ebay, I have always loved the look of the 916's so thought I would incorporate that into the build.
The frame needed some modification to build the structure to support the seat.  Also the front of the corbin seat needed to be truncated to fit the shape of the K100 tank.  I may try to stitch the German flag where the Italian flag is on the seat as a final finishing touch.  Mind you since these types of projects are never really finished, who knows when I will get to that.
I bought a smashed K100RS with the 16 valve engine, front end, and exhaust, unfortunately the transmission back was gone, so I had to source the transmission, paralever, final drive and tri-spoke rear wheel from ebay.  I havent got all of the parts yet but this will be a 16v, paralever bike when it is done. New mirrors are on route.  I also plan to go to a Dakota Digital 7400 Instrument Cluster.


Last edited by KafeRacer on Fri Apr 24, 2015 9:46 pm; edited 1 time in total

__________________________________________________
Dave Evans
'Kafe Racer'
kaferacer.wordpress.com

1990 K75RT
1985 K100 Kafe Racer