Two Wheels Better
Moderator
This past weekend the local Seattle area club known as the VME held their annual Vashon Island classic meet. It's a friendly little gathering of like-minded motorbike enthusiasts with Saturday night camping at the local Eagle's club hall, a all-island road rally with a poker hand and prizes, a best-in-show judging and general moto tragic mayhem. I'd arranged to meet up with a coupla mates at Tacoma's Point Defiance ferry which carries bikes, cars and trucks across the 1.8 mile narrow to Tahlequah on Vashon Island, located in the Puget Sound.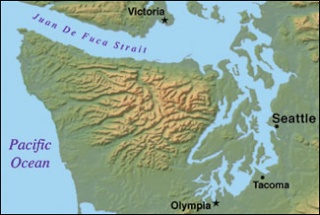 The island(s) in question, Vashon and Maury, are located directly above Tacoma on this map.
Picture if you will a massive almost-inland saltwater sea from Vancouver Island, Canada, through the Strait of Juan De Fuca, past the San Juan Islands, Seattle, Tacoma and down into the interior of Western Washington state near the state capital of Olympia and beyond.
The typical marine layer of cloud was low-hanging and heavy as we rolled up to the ferry queue on the Mighty K at about 8.00AM. It would remain true to its Summer routine and burn off quickly. We were requested to head straight to the front because the ferry crew want the bikes on, off and away first! Biker's privilege has its benefits at these times. Already nearly a hundred bikes of all makes and models, ages and states of repair and disrepair, had assembled, and that wasn't the first ferry crossing of the morning, nor was it the only ferry to make the journey to the Island. Another comes in from the north at Fauntleroy in West Seattle.
We chatted and caught up. I'd not seen some of these riders for two years or more. The tall gent in the red 'Stich at the back is none other than Clement Salvadori from Rider magazine. He'd ridden up from California in a test of the new GS Adventure pictured here. He said he was worried about the back tyre having worn so quickly at only 3,500 miles as he had an approximately 1500 mile return ride home. I suggested he'd better be concerned about the rear brake pads since they seem to be lasting only about 6-9,000 miles on the new
wasserboxers
. In minutes we were told to roll onboard. Some of the oldies coughed and spluttered as the heady scent of unspent fuel (as well as the blue haze of oil) filled the nostrils, reminding some of us why fuel injection is eons away from out of adjustment Amal carbs on a '50s Trumpy and a damp morning.
The Puget Sound ferry system is the largest in North America. Here, the 83 metre-long (274'), 6000 horsepower of the dual diesel-engined ferry
Chetzemoka
accepts a coupla hundred bikes and dozens of (up to 64) cars and trucks.
At the other end of the crossing we are off and away, heading up the Old Vashon highway through forests dense with pine, oak and madrone (mu-drona) trees (reminiscent of a gum tree in how it sheds its, albeit red, bark).
Bikes away into the distance.
Tide's out as we round the bay and approach the village of Burton, which sits mid-island.
A real Aussie gum tree, unusual this far north on the US west coast, sits thriving and healthy, square in the middle of the town park of Vashon where the weekly farmer's market is held. The scent, and the gum nuts scattered round the footpath, made me feel a wee bit homesick.
Vashon's main street comes alive with sound of old British singles and twins from, amongst others, Triumph, BSA, Vincent & Velocette. As well as thundering Harleys, an old Singer, Morgan three-wheelers, ancient sidecars, open-piped, clubman-barred Japanese bikes - some with more muffler wrap than any exhaust pipe
needs
- and a smattering of well-cared for BMW boxer twins, some sporting massive Hoske and Heinrich tanks. I spotted a few K bikes here and there but
the love
isn't shown quite yet for our beloved Bricks in the Seattle vintage and classic scene. That may be a good thing!
True to form the morning clouds had burnt off revealing a sunny blue sky with temps reaching 79F degrees (26C), perfect weather to highlight your tan and yet still comfortable enough for wearing your protective gear whilst riding. The many colourful characters were out, some in scarves and jodhpurs with knee-high leather riding boots, sidecars with passengers and riders sporting puddle bowl (basin) helmets, goggles and ragged leathers from a bygone era.
We parked, wandered round admiring the bikes for a bit then found an all-American diner for a quick brekky and a cuppa. The tea wasn't bad. The breakfast burrito was killer. The extra wait was expected for a town so full of moto-riding guests. The place is called Zombie's. I recommend it.
Here's my mate Peter and his most loverly wife Jennie passing by us on their home-built, Suzuki Cavalcade-powered, Ural-chaired, cammo-painted, beast known as 'Ratacade'.
And now for some of the bikes, local colour and scenery...
Go anywhere.
Lone wolf K.
Ducati's better days?
A very clean FJ.
High bar'd Trumpy. Triumph's better days? I think not.
Elvis could have ridden this!
Rear shock adjustment copied by Larry R on the drum braked K1200 as interviwed by Jay Leno recently.
Made to tour.
Hardtail...we've got a sprung seat.
Arrest me red.
A 'real' Injun.
Head turner.
Americana.
What's a hotrod without a pretty girl posing next to it? I couldn't get her to drape herself over the bonnet and pout...
We rode round the island and onto the smaller Maury Island for a look-see at the old lighthouse and the view across the narrows to Burien, a suburb just south of Seattle. The blackberries are ripe and so we plucked and ate until our fingers and lips were blue, the few sharp thorns no worries due to the sweet taste of the fruit.
With a few minutes to wait 'til the ferry returned from across Commencement Bay, we queued up and chatted with new mates and old. The Old Town section of Tacoma has our favourite pub known as The Spar, so on the way home we stopped for a pint or two of Guinness and a nibble just as a local five-piece rhythm and blues band set up for their Sunday evening's sesh in the crowded bar. The day ended late, sunburnt, and with smiles all round.


Last edited by Two Wheels Better on Tue Aug 26, 2014 1:30 am; edited 1 time in total
__________________________________________________
1987 K100RS, '89 K100 w/K1100RS engine, '93 Framed K11/K12 engine 'Big Block', '09 K1300GT, '07 K1200R, '95 R100 Mystic & '77 R75/7.