theApehouse
active member

First off, I'm a believer in choice. It's hard for me not to pick freedom over most everything else. But lets face it gear saves lives. It's a smart choice.
Case in point:
 My buddy Nick and I rode from Albuquerque, New Mexico to Pagosa Springs, Colorado the last weekend in October to celebrate my birthday. Awesome little town just over the border that has a river running right through the middle of downtown and incredible hot springs. Plus, it's a really fun town with great food. 
 The ride itself is amazing. Through Santa Fe, then up through 'Georgia O'Keefe' country in New Mexico (super red cliffs, amazing colors), then up through quaint northern NM farm land country, and into gorgeous Colorado. 4 hours total. (Or 5 hours, if you include the mandatory green chile burger at the local bar in Chama, NM (which still has an old steam engine train in town, 
from the cowboy days,
 that takes tourists on a stretch of beautiful country))
 Anyways, 
 We packed up to head back early Sunday morning to beat the heavy winds that were coming in. We were about 30 minutes into the 4 hour journey, on a straight stretch of open road going 65 MPH when a deer ran out of nowhere, directly in front of my buddy Nick and he hit it head on.. Boom. Didn't even have a chance to let off the throttle.
 Luckily he was wearing full gear. And he just stood right up. Actually way too quick. I tried to get him to stop. Told him you're suppose to count to ten. But he was truly ok. The road ate through his gloves a little, so he had a tiny bit of road rash on 2 fingers (as well as a few significant bruises and aches), but totally fine. 
 What's more bizarre, is that I was filming the ride and captured the whole thing. Footage is not crystal clear, as the sun was shining directly in the lens. And the camera itself was a super cheap one. So cheap in fact that it didn't work the whole ride up, or while we were there. But right before we left, it started working. And then the battery died 10 minutes after the accident. Weird..
with his permission, I offer you the footage:
It was crazy. I just remember blue plastic fiberglass shooting everywhere, bouncing all over me and my fairing, and trying to gauge how far the deer was gonna roll back out into the road.
 His bike hit down so hard it tore into the road and ripped a chunk out. Which, luckily for Nick, sent the bike shooting off to the right, into the ditch. It's Nick that is the rolling cloud of dirt, and obviously the deer that's rolling back out into the street. 
Here's our bikes the morning before we left (complete with frost):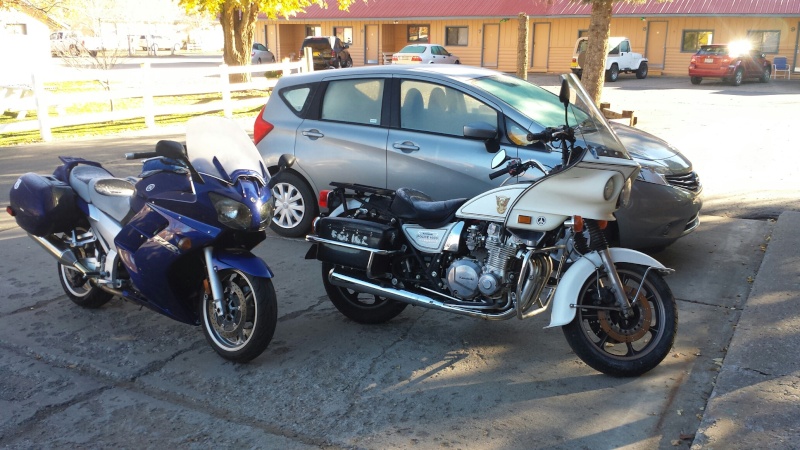 He's on the frj 1300 and I'm riding the old Albuquerque Police motorcycle. I rescued it out of a field up in Pecos, NM where it had sat for 9+ years. Had a dead cylinder. Rebuilt pretty much everything except the transmission. Left it looking old and ratty though. 'Blues Brothers' style..
Aftermath: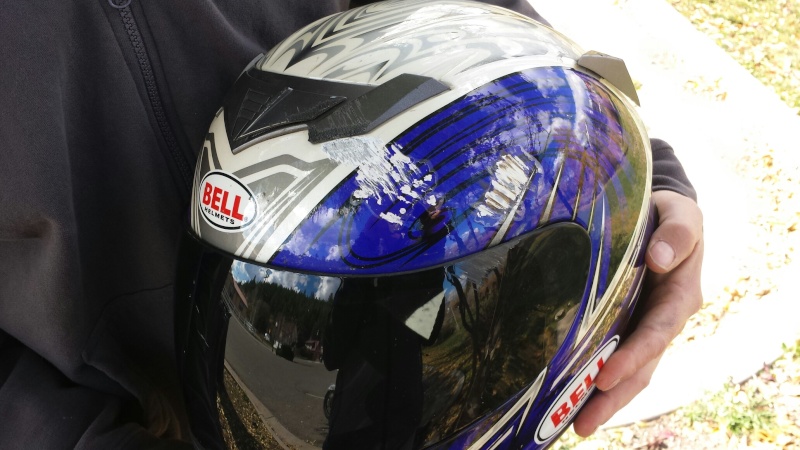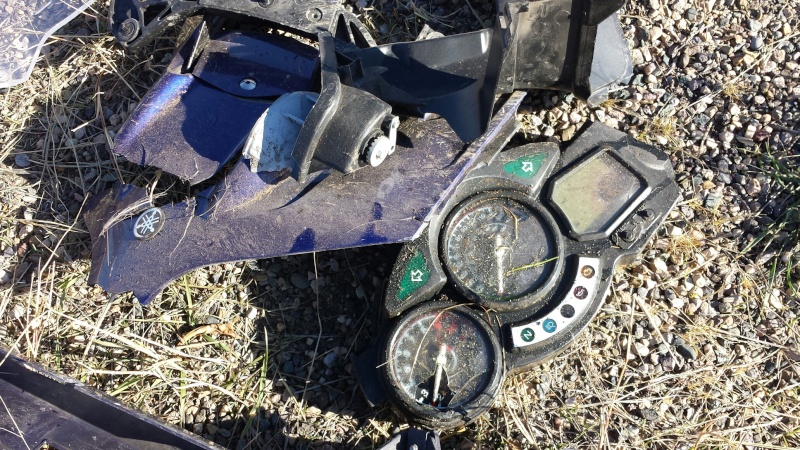 If you watch closely, that first hit he takes to the ground is tremendous.
still kinda hard to believe..