Crazy Frog
admin
Tonight, I just started the 2014 picture contest.
As a result of Floyd posting about the 
Amplirider Headphone Amp,
I contacted electric-avenues and the owner of the company is graciously offering a free unit as a prize for the contest.
If you know any other companies willing to sponsor prizes for the contest, please let me know.
In exchange of the prize(s), I am willing to advertise their name (and eventually links to member's reviews) on the portal page.
CF
__________________________________________________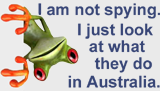 1986 k75, 1985 K100rt, 1985 K100rt/EML sidecar.