Crazy Frog
admin
After using exclusively Microsoft operating systems for 35 years (I started with PC Dos 2.0

), I finally got off the closet and start to use an Apple computer (Macbook pro).
Knowing absolutely nothing about Mac, my first task was to create a dual boot (Boot Camp) and install Windows. At least I can continue to work with what I know.
Now, it's time to learn Mac but where do I start?
The answer is online learning and I found a site with excellent videos for Mac and Windows users:
Free computer classes online
They have videos about OS (Windows/Mac) as well as applications (Microsoft office, facebook, skype, Google Chrome)....
If you are a newbie or a very basic computer user, I recommend that you browse the 13 pages of videos and you will certainly learn a lot.
Happy learning
CF
__________________________________________________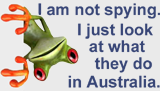 1986 k75, 1985 K100rt, 1985 K100rt/EML sidecar.