Two Wheels Better
Moderator
Have you recently priced a new hall sensor assembly for your K75, K100 or etc? The earlier version can be had new from the dealer for over US$597! Euro Moto Electric sell one for $396.
Here's an option for those with a penchant for fiddling a bit. I have been informed that they arrive with the correct connector and instructions for adapting the connectors to an R1150 Oilhead version but adaptable for your particular three or four cylinder machine.
eBay Germany
Currently US$124, AU$163 and ₤84 Sterling, plus postage.
To quote Techmotorradtechnik:
"Hello, you have to change the harness-side-connector on your bike to the included (and shown) 1150 connector. K-connectors are not available."


Last edited by Two Wheels Better on Fri Apr 03, 2015 2:19 pm; edited 1 time in total (Reason for editing : Updated info)
__________________________________________________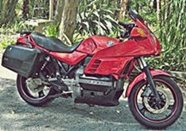 '87 K100RS, '93 K1100RS frame with '02 K1200RS motor, brakes & wheels, aka the 
Big Block
.
Only the one who isn't rowing has time to rock the boat.
~Jean Paul Sartre