Crazy Frog
admin
Once you have seen this, you will be heading out to your car to see if it works. . . .
 This is well done. A useful piece of knowledge, tempered with humor.
Might come in useful if you're being chased.......
That will be interesting to everyone especially we seniors, who forget where we parked our cars, if your car can be opened and locked with an electronic key.
 The wave length of the electronic key is limited to a certain distance.
 If you want to expand it, learn the trick by watching this video. You won't forget it.


__________________________________________________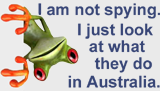 1986 k75, 1985 K100rt, 1985 K100rt/EML sidecar.