Crazy Frog
admin
Today,I finally started to work on the bikes.
The snow is almost gone 

but I am not on the rush to get them on the street.
Why? If I did, I would certainly bend a wheel or even worst crash the bike. With the sidecar and the 15" wheels, I would be afraid to scrap the bottom of the engine.
Born again eccentric was here this week and he saw only the beginning of the season. Steel wheels and snow tires will stay on the car for another couple of weeks.
Here is what we have to deal with....
and more photos
__________________________________________________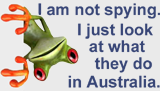 1986 k75, 1985 K100rt, 1985 K100rt/EML sidecar.