Two Wheels Better
Moderator
With the front calipers locking up after the key is switched on and the master cylinder refusing to move after a few strokes, I did a quick bleed of both the calipers and then disconnected the master cylinder to check its action. Confirming the fault lay in the ABS module I tore into the bowels of the bike to get at it.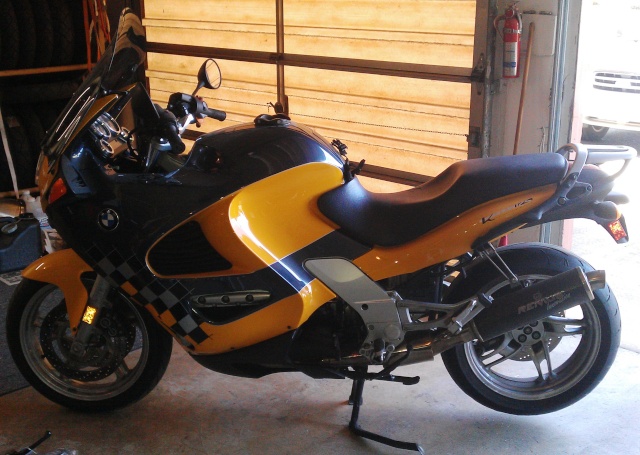 On the earlier K1200RS with ABS II (non-servo) you must remove the rear wheel (no caliper removal required), the seat, plastic pannier mounts, both sidecovers, the battery & its stainless steel tray, the left hand passenger footpeg arrangement, the charcoal canister (if equipped - now where DID that thing get to when it's time to put it back on!?), and the forward inner part of the rear fender. It's all fairly straightforward - if not time-consuming - involving several different types of fasteners and BMW seem to have thought about access.
Once the pump is unscrewed, unplugged from the bike's loom, then lowered out the back and towards the ground, removing the plastic cover that says FTE (the manufacturer, it's not FAG or Bosch) to access the wiring to the module is a simple affair. Just tap gently and slide the cover up and off, exposing the 7 & 8mm nuts which hold the earth and power harness to the pump's electronic control.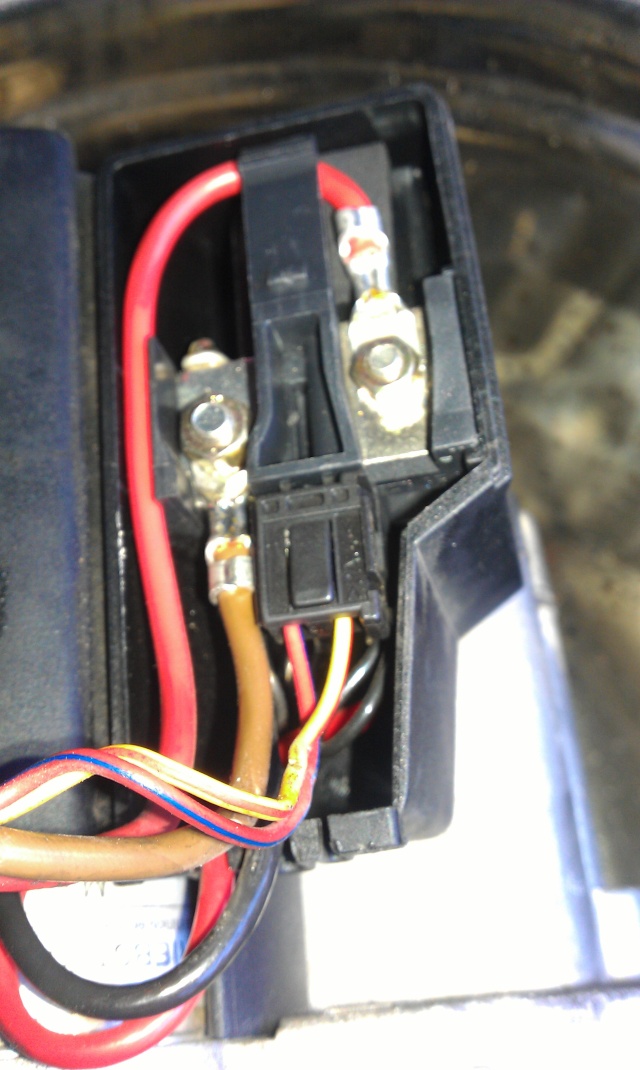 One quick connect plug contains the rest of the wires, unscrew the two 11 & two 12mm hydraulic lines, catch the escaping brake fluid and you're free.
Module Master
<(link) is where I'm sending it tomorrow. They've done a dozen or more for the two shops I've been affiliated with in Seattle and in Tacoma and they've not had one come back. They guarantee them for five years. With a new pump currently costing nearly US$2600 it's a good value for a refurb at $350. These modules also fit '94 through '98 K1100RS & K1100LT.
Edit: At the calipers were little spirals of rubber-like material in the brake fluid which came out when the banjo bolts were removed. The entire hydraulic system will be flushed, calipers, master cylinder, metal lines, and a Spiegler braided brake hose kit will replace the rubber bits.
Spiegler Brake hose kit


Last edited by Two Wheels Better on Mon Jun 22, 2015 9:50 pm; edited 3 times in total (Reason for editing : Added Spiegler info)
__________________________________________________
1970 R60/5, OZ '77 R75/7-R100, '85 K100, '87 K75C, OZ '87 K100RS, '93 K11-K12 Big Block, '93 K1100RS, '95 R100-Mystic, '96 K1100RS, '98 K1200RS, '00 K1200RS, '02 K1200RS, '03 K1200GT, '04 R1150R, '04 R1150RT, '05 K1200S, '06 K1200R, '07 K1200R, '09 K1300GT & 2013 R1200RT-P  - Beemers owned still or sold.
~We all believe what we want to believe in - Rob Dickinson