Ned
Life time member
Hi all,
Back home and in a need of a bike fix, so I decided to rebuild the rear brake.
I've learned a few things:


it is easier to remove the calliper and service it than to stuff around trying to get into restricted
space even to change pads etc.,

prior to removal, crack all the bolts and nuts you intend to remove … it is easier that way,

loosen the wheel nuts so that you can push the wheel out of the way and remove the calliper. No need to remove it completely.

No need for a whole kit because many things are not required (bolts). in my case just ring seals and small o-rings.

So, pulled the calliper out just o find dirty and "wet" pads, evidence of brake fluid leaks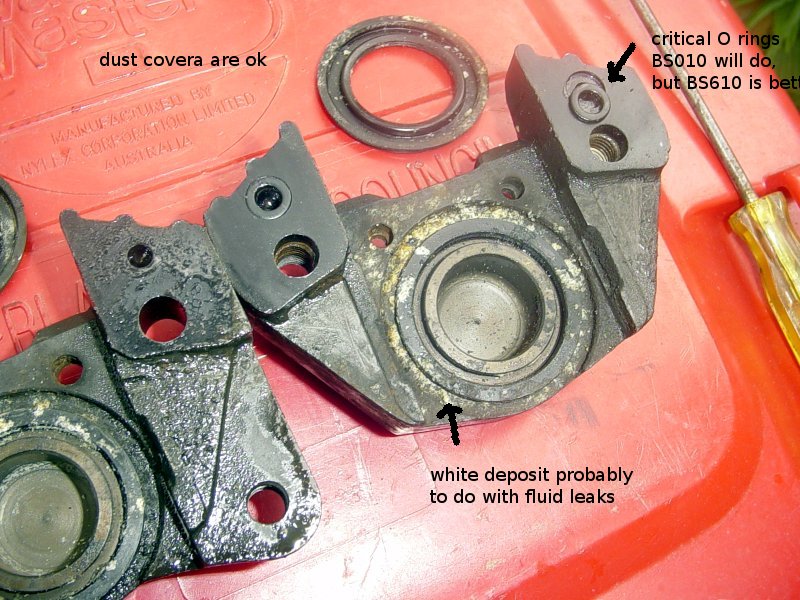 Clearly it all had to come apart. In reality this will not take more than an hour.
The trick is to clean everything. Careful with calliper pistons because they are teflon coated (I
think). The kit comes with all the seals and o rings and 2 replacement bolts. In my case one o-ring was missing. I think that they sent me a wrong kit.
A hunt for an O-ring revealed that it is an imperial size, BS010, BS 610 or BS 803. They are odd sizes and you will need to go to a supplier to get them. The critical dimension is the thickness which is 1/16" or 1.78mm. Maybe a 2mm x 6mm (ID) will work but it may not squeeze.
The o-ring is a seal used for fluid passage between two halves. It is a static compression application so
the thickness is critical. This is a second time I've found that Euro manufacturers use imperial o-rings... I wonder why?
A thorough clean, reassemble complete with new parts did the trick.
Critical tools are long sockets (cheap set is great), torque wrench and anti-seize compound (moly grease).
I now have good brakes.