floyd
Life time member
Well....Ive gone and done it...
Added another steed to my growing shed/work shop (iBikewise: [Kawasaki KH100, CT110 Super ADV, ZZR250, K100] and equipment [tools, bike lift, PHYSICAL SPACE, benches, storage etc]). 
I've gone and done my back again about 2 weeks ago (muscular spasm - painful but healing) so have been alternating between geeking out on my Linux systems, mucking around with my custom 'audiophile' hi-fi set up, departing reality on Valium voids, and perusing Gumtree for local bargains.
I simply dont have the coin for another project, or the need. But hey, Gumtree, motorcycles and a lack of self restraint do not align with that contraint....
And 12 hours later Id borrowed Mum's husbands brand new Pajero Sport, hired a Bunnings trailer, drove to Caboulture and paid $100 more than I was planning to on a fairly rough K1100.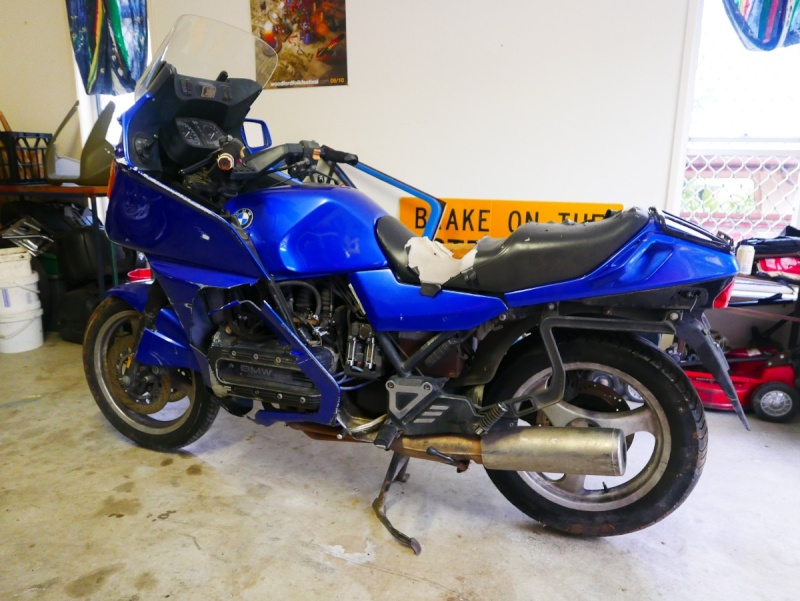 Its a 1994/7 K1100LT in fairly stock form, got about 110,000 kms on it - been owned by a dude for about 6 years who rode it to Brisbane once a week. He slid down the road on it in July (7-8 months ago) and its sat ever since. 
Lower and side fairings are rubbish, tank may be reasonanable, paralever rear seems ok at a glance, forks are ok, rotors are shite, (he reckons he got the front and rear brake m/c sleeved in stainless recently) New battery, good duck tail, seat foam and pan is good (cover is rooted) guages look nice (dunno if odo works) exhaust has been welded up well, all matching locks, city panniers (need refurb) electric screen looks fine etc etc. 
Biggest drama is that when he slid it down the road, it mounted a gutter and punched a hole in the head cover, timing cover and took a small chuck out of the head casting where those two covers meet in the lower corner. 
Got it home, returned the traler (4 hours for $25...bargain), returned the Pajero, neglegted to change into my 'workshop' clothes, and got stuck in....removed all the body work, seat, tank etc etc...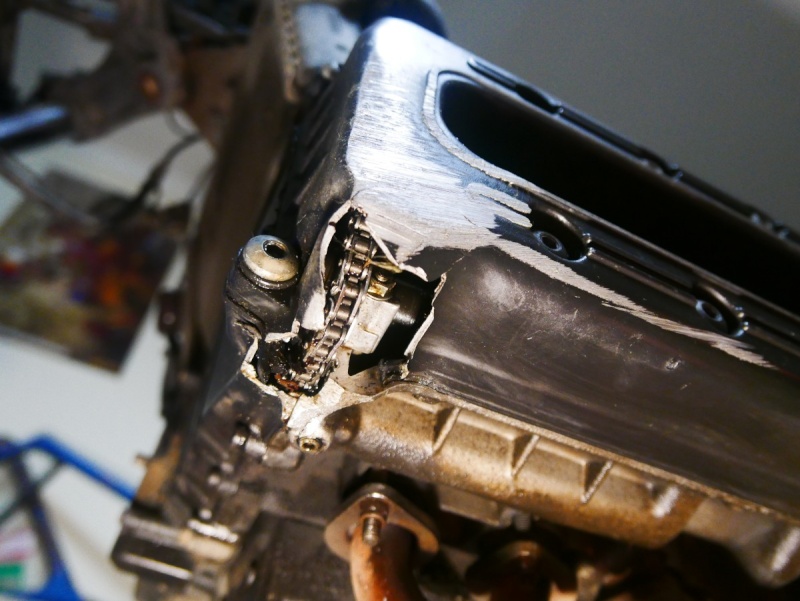 Pulled engine covers to inspect damage....beside the cases being stuffed and a small chunk out o the head casting....the timing chain was also snapped and the exhaust cam gear is cracked....The cam shaft itself seems fine and rotates very smoothly. 
I guess in my Valium/Endone/Condine haze I thought it would be fune to fit a paralever and motronic 2.2 to my K100/K1100 hybrid. Cheap parts, fun hobby, arguable upgrade etc etc....
Maybe ill do that, maybe ill make an entire new bike, maybe ill part it out....who freakin knows?!?! But im pretty stoked. Good cheap fun (cheap until I need to buy NEW parts that is....)

__________________________________________________
K100 with lots of K1100 bits - mongrel of a thing...