sidecar paul
Life time member
About 3 years ago, I bought a city case just to carry a 5 litre petrol can on the outfit. It's proved very useful, as it means that I don't have to slow down when the red fuel light comes on, knowing that I have a supply if I don't reach a filling station in time. 
However, 2 years ago, returning from a camping weekend run out, I found that the case had jumped off the 'Z' rail and was hanging from the front latch but prevented from falling off completely by the sidecar. At the time I thought it was just a rare happening so I put it back properly and ignored the problem.
BUT, three weeks ago, the case jumped off the 'Z' rail again,this time wedging itself between the sidecar and the exhaust, melting a big hole in the back of the case.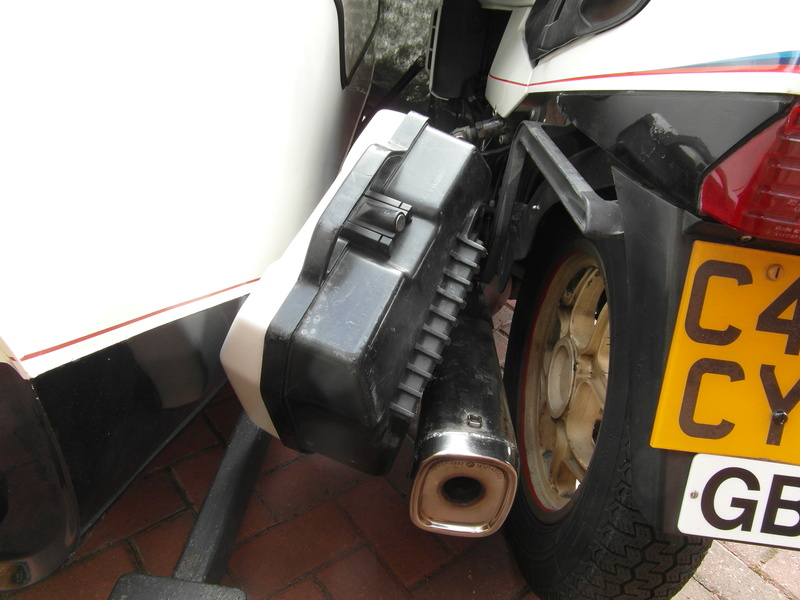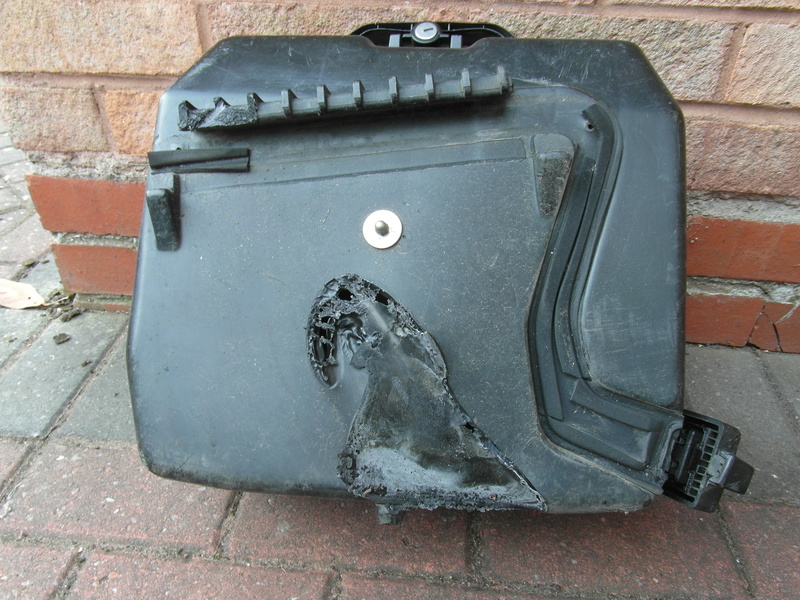 This time I had to think of a way to prevent this occurring  again. I didn't want to use bungees or a strap around the case and I didn't want to fix the case to the 'Z' rail permanently as it's necessary to take the pannier off every now and again. So I had the idea to use a toggle latch to keep the case in position.
After a false start (I couldn't get the pannier on the rail
), I had to make a longer strap for the latch and re-position the toggle latch body. As the city case is narrower than the 'fullsize' cases, I also needed to machine a suitable block to get the geometry of the latch to work properly. (Stainless steel sheet covered the melted bit)
 Although I've never ever had a problem with my 'fullsize' panniers coming off the rails, I thought it would be a good idea to add some toggle latches to them as well, and I found these long latches on e-bay from China.
http://www.ebay.co.uk/itm/301851487623?_trksid=p2060353.m1438.l2649&ssPageName=STRK%3AMEBIDX%3AIT
They are not stainless steel as advertised, but they are cheap and do the job perfectly.
The picture shows also the shape of the catch bracket that needs to be made to complete the job. I fitted the catches in the first notch on the 'Z' bracket lip of my panniers, but I had to cut away some of the internal plastic to give space for the fixing bolts. Fitting the catch to the second notch, would give clear space inside the pannier for the fixing should anyone wish to use this idea.
So there it is, it makes an extra operation when removing the panniers, but surely that's better than losing a case all together.
Paul.

__________________________________________________
'84 K100RS (0014643) (owned since '85), 86 K100RS (0018891) with Martello sidecar (built as an outfit in '88),
'51 Vincent (since '67),'72 Montesa Cota (from new), '87 Honda RS125R NF4 (bought 2015) 
....No CARS never ever!