Kando
Silver member

I didn't fancy sawing steel and welding parts on the suspension parts 
today, and I really want to get some progress with the rear wheel adaptor, so did a bit of machining instead. Although it has ample power to do the work, the brake drum is 12mm too big to clear the bedways of my small lathe so had a think about doing on the mill. First raided my bar-ends bin and found a slab of alloy to turn up a spacer to fit the register face on the inside of the brake drum, drill some holes in it, and thread them for the wheel bolts, then clamped the assembly down onto the mill table.
My mill is only a hobby size machine it's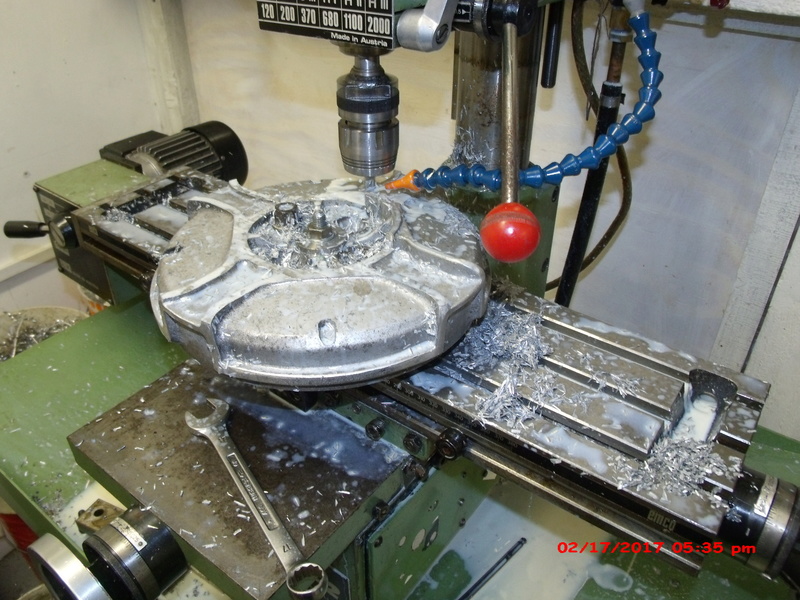 an old manual Emco FB2, so it was a
lot
of handwheel winding to carve off the unwanted ribs across the drum. The limited cross travel necessitated slackening the hold-down bolts and rotating the drum 180 degrees. picture shows almost finishing the last segment.
 A friend has offered the loan of his small rotary table tomorrow, so I'll take a ride up to Norwich and collect it for the weekend. I can mount the drum on it and put on a rotational finishing cut to clean up and also trim the cut-off spoke ends.  
The second weekend activity will be to get all the holes drilled in the adaptor while I've got the table, I can always finish the turning later to get the wheel mounting face down to the correct thickness.