sidecar paul
Life time member
Whilst searching for a supplier of small quantities of 'bronze filled PTFE', I came across a supplier of (new to me) 'glass filled PTFE'.
As this is likely to be a tougher version of plain PTFE, I just had to buy some.
And then, of course, I had to find a use for it, so I thought it would be a good replacement for those needle roller bearings in the clutch operating arm. Some years ago I bored out the clutch arm on the outfit and fitted a long PTFE bush, but the solo still has the needle rollers, so the spare arm to which I fitted these bushes will eventually find it's way on the solo.
A few minutes on the lathe, the material machines beautifully by the way, and I had a pair of bushes to press into the arm.
The bushes are nominally 12 mm OD x 8 mm ID x 10 mm long.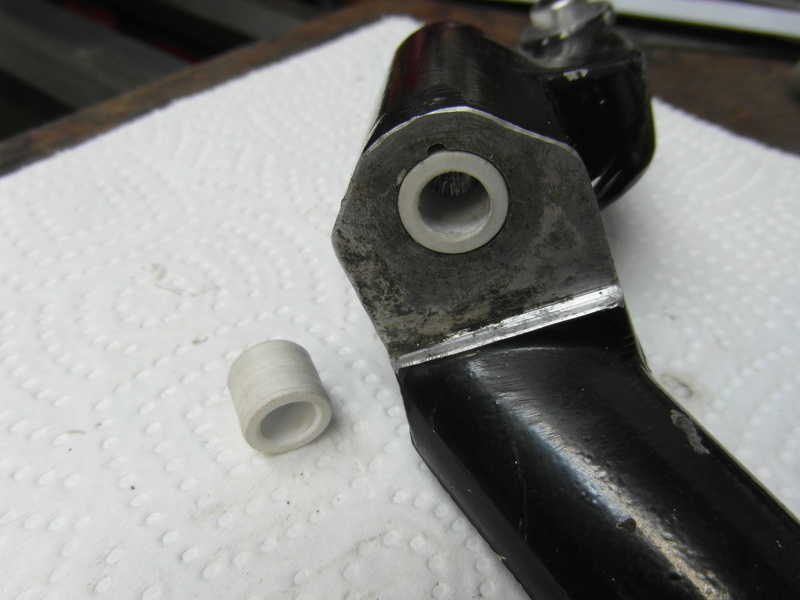 If you don't have any facilities for making such bushes, I've just searched for 'Oilite bronze bushes' and there is a standard size of
 12 mm OD x 8 mm ID x 8 mm long which should be a straight replacement those horrible needle rollers.
Paul.

__________________________________________________
'84 K100RS (0014643) (owned since '85), 86 K100RS (0018891) with Martello sidecar (built as an outfit in '88),
'51 Vincent (since '67),'72 Montesa Cota (from new), '87 Honda RS125R NF4 (bought 2015) 
....No CARS never ever!