Ed
Life time member
Knowing how much the Krew enjoy their sKones and Koffee ( even Loffee) , and a good ride , 
thought I'd share this social event with a few of the latte sippers here.
The Cancer Council promotes their annual fundraiser " the Biggest Morning Tea " during May each year, the official date is 26th May, but is flexible.
I have been in cohorts with the owner of the Grey Gum Cafe on the infamous Putty Rd to help co host such an event , which provides for an enjoyable ride to the cafe, no matter which direction you come from . Born Again will attest I'm sure , maybe pop on over for a quick cuppa Paul.
Given that our mate RossKKo was in favour of a day in May for any social ride, and was fond of a latte or two during a ride,
we have chosen to host the " Bikers Biggest Morning Tea " on
28th May 2017
. between 9am -12noon.
The cafe offers a great homecooked menu .Free camping onsite , BYO drinks , amenities including showers ,
 and if you get in quick enough ,they have a cabin suitable for 2-3 people. 
The fundraiser
login page
 is now active , so I can at least share this for the moment .
 Just a matter of turning up and sharing in a cuppa and plenty of bike chat.
Facebook link ; 
Bikers Biggest Morning Tea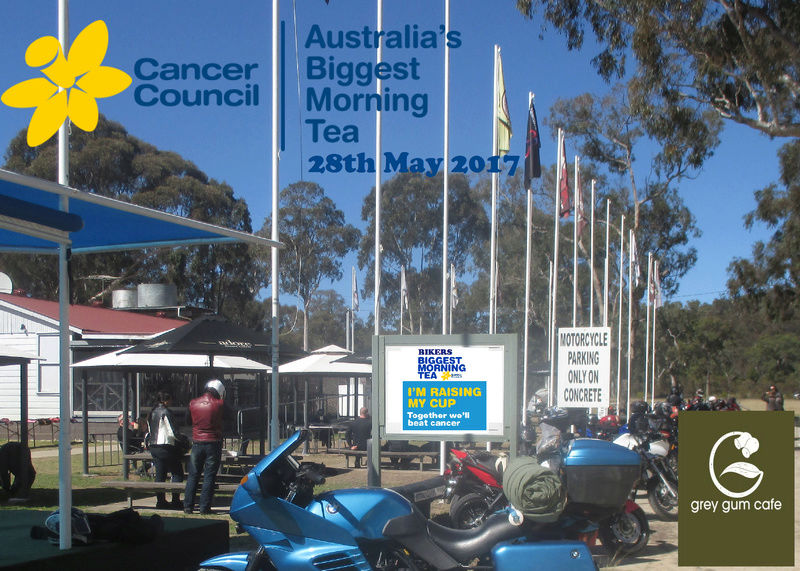 Cheers Ed.


Last edited by Ed on Sat Feb 11 2017, 20:04; edited 1 time in total
__________________________________________________
1993 K1100RS  0194321         Colour #690 Silk Blue  aka " Smurfette"
2018 Kart upgrade.