TIV
Silver member

My K 75RT is back on the road after some overhaul and major service.
New single seat, side panels and rear cowling/fairing in place of the rather ugly Police radio box and the old battery panels that go with it.
Oil/water pump overhaul.
New rear master brake cylinder
New main seal.
Clutch and Spline lube. Staburags.
Clutch actuation, center- and side stand bushings renewed/cleaned and grease nipples fitted.
New rubber boots for clutch actuation and front of swingarm.
All fluids and filters new. Including coolant and brake fluids front and rear.
New clutch cable and throttle cable.
New Bridgestone Battlax tires.
New dry Battery. 30Ah and has 430 A cranking power. Size 166x126x175.
Wheels painted.
Swingarm, gearbox, sidestand and centerstand painted satin black.
Advanced timing 4 degrees. 3mm TDC (clockwise). See picture, (a little bit out of focus). Very noticeable and pleasing increase in bottom end torque. The (hot) idle speed went up from 900 rpm to 1100. Took it down to 900 again.
I  bought  Actron vacuum pump on eBay to make changing brake fluid easier. Changing brake fluid is now a walk in the park! Very easy. I recommend buying Actron, not the cheap Chinese no name replicas.
I had a very pleasant surprise when I started riding again! Since I got this bike I have had this annoying pulsing motion when using the front brake, I´ll bet many of you no what I am talking about. The strange thing is, that after bleeding the front brakes with the vacuum pump, the pulsing was gone! I was very surprised and really hope it will stay this way. My guess is that this pulsing might be because small amount of air remains in the system when you bleed it "the usual way", Anyway, it´s a very pleasing bonus!
The bike is a pure joy to ride, feels like new......... A real Flying Brick!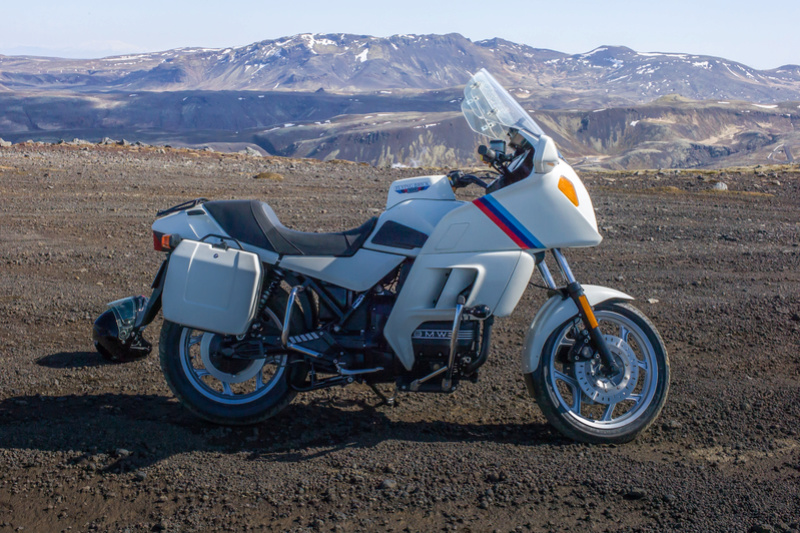 __________________________________________________
1936 Harley Davidsson 750 (sold), 1964 BMW R69S (sold), 1973 Suzuki RM400 (sold), 1972 Triumph Bonneville (sold), 1971 BSA Thunderbolt (sold), 1972 BSA Lightning (sold), 1977 Yamaha XS650 (sold), 1971, BMW R75/5 (sold), 1973 BMW R75/6 (sold), 1984 BMW R100RT 1992 Yamaha FJ1200 ABS (sold), 1990 Harley Davidson Electra Glide (sold)
1990 BMW K75RT Ex-Police (owned now)
2004 BMW R1150RT iABS (owned now)

Cheers TIV