1 On the Move Sat Sep 09, 2017 10:05 pm
Be made
Life time member
Hi there folks
Some of you older members may remember me and may or may not remember the K100LT conversion I did. You can see the final version of that effort here if you wish.
https://www.k100-forum.com/t5107p250-89-k100lt-k100-custom-conversion#103497
Anyway, why I am here today is to let you all know I have finally finished a similarly styled conversion on the bike I purchased to replace the K100 with, a '98 K1200rs
A lot of the folks over at that other forum didn't appreciate what I did and could not understand my need for a cruiser position as opposed to a sports position while riding. Fact is, now, I am more comfortable riding what I got now that I have ever been in my life
I have retained the incredibly beautiful K100 engine design, lost the handlebar vibes which made me (reluctantly) part with the k100 I had just finished in the first place and gained an extra 35BHP and unreal performance right up to 250kph
in the process.
The one regret I have is the trade off in the carrying capacity of the panniers. The K100's were huge by comparison to the K1200RS (Now my K1200c). The extra 50kgs in the weight of the bike worried a lot of people but I can honestly say that with the new handlebars setup the way I have done it this is no problemo at all. The upright riding position gives the rider ample ability to manouver the 285kgs around at both a standstill and at low speed in traffic whereas I found the stock setup lethal at low (below 40kph) speeds and even scarier standing still.
Also, sadly, it appears the reports are true, the final drive on the K1200RS does give up the ghost early in life. Mine did so at 62,000k's, requiring $650.00 for the parts and $350.00 for the labour. but lets see how long the new recond drive lasts. It may have been an issue arising from waterblasting and then leaving it sit and then waterblasting and leaving it sit again. The front seal on mine was shot and the front bearing was rusted out hence the failure. Since it is such a vital component the decision was made for a full recond
Aside from this zero issues (as yet) although reports tell me the final drive seal in the engine will die, probably at around 80 - 100 k, causing oil to flow into the clutch. Lets wait and see.
Aside from all of this we have just completed our first 20,000k's on the bike since riding it back to Hamilton from Christchurch 23 months ago and all is well. Anyway . . here's a pic of the bike prior to fettling: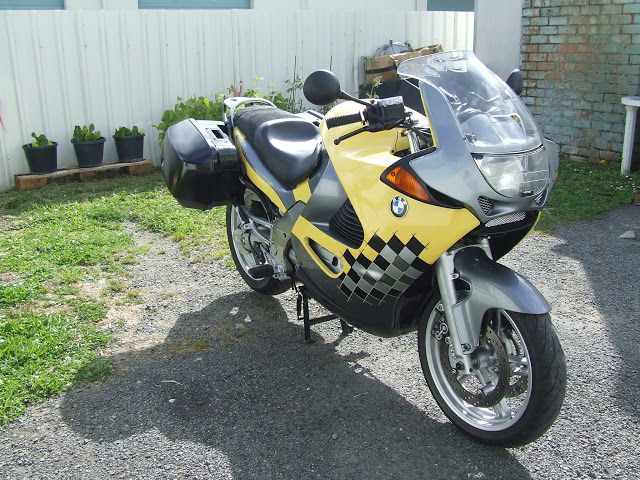 And now:
After having taken in what everyone else has had to say about it nothing surprises me anymore. Some people hate it some people love it but I have to ride and see it every day. And this is the most comfortable bike. I can sit on it all day and still feel like riding more at the end of 800k's. I have never been able to do that with any other bike in close to 40 years in the saddle. As they say .  . beauty is in the eye of the beholder
Looking forward to the comments
Cheers until next time