indian036
Life time member
I wrote earlier at some length about battery capacity requirements for K bikes.
This can be briefly summarised as:


The battery is only used briefly to start the engine, thereafter sitting quietly being charged and then doing nothing.

If all is going well, quite a small Ah (Amp hour) rating is all that is needed for that brief task.

Extra capacity can be useful if you have a starting or other issue that means you need to use the starter a lot more than normal, or if you need to run electrical devices while the engine isn't running. Extreme cold will also increase requirements.

The starting current requirement, usually described as the CCA (Cold Cranking Amps), isn't specified anywhere that we know of, but Rick G infers that the 75A rating of the starter relay gives a clue.

Hence the title of this thread - my original K, henceforth known as Big Red, had a battery that decided to no longer carry out its function. (Dead cell, I think. Attempts to charge made no difference, regardless of the charger.)
Being the cheapskate that I sometimes am, I bought a battery that is somewhat smaller than standard or recommended.
It is only 12Ah, about half the standard rating, with a CCA value of 200 Amps.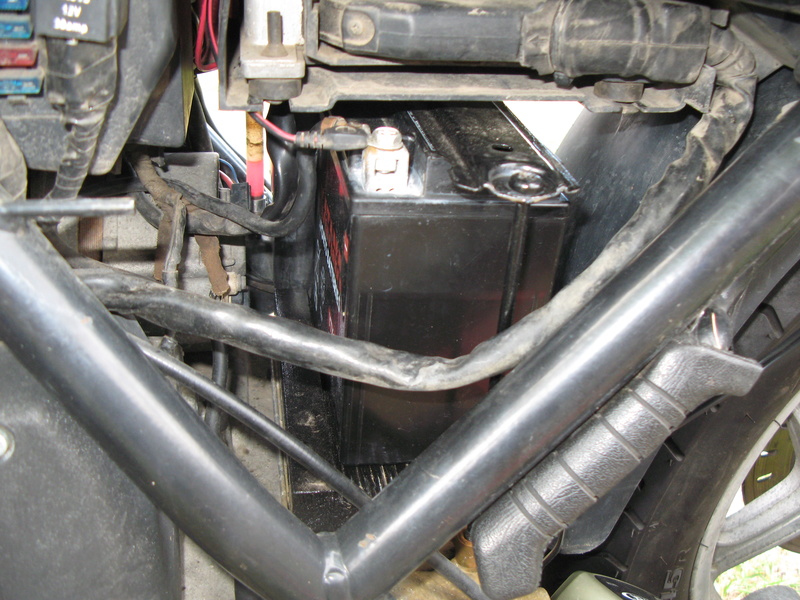 I had to insert a spacer so that the battery clamp would do its job, but otherwise, all good.
As it hadn't been run for a while, I gave it a few brief touches of the starter button to run the fuel pump and pressurise the fuel system, gave it the first stage of 'choke' and pressed start.
Result, instant fire up.
So far, a half capacity battery has done all that is required. We'll see if my faith is justified or misplaced. 
Bill
__________________________________________________
1985 K100RT  VIN 0028991  My original
  (Historic rego)
1985 K100RT  VIN 0029036  BOB the Blue Old Bike  (Historic rego)

1990 K100LT  VIN 0190452  Work in progress
1984 K100RT  VIN 0023022  Work needing lots of progress
1986 K100RT  VIN 0090542  Work needing lots and lots of progress
1993 K1100LT  VIN 0183046  Work in progress
1993 K75S  VIN 0213045  Newest toy, slightly non-original