Ed
Life time member
Following up after last years Biggest Morning Tea and the logistics required , I find myself in the need to fit Smurfette with a towbar to help get gear to the venues I am attending .
I recently fabricated a steel rod template for the towbar ,and have passed this on to a local welder fabricator near my work .
Should hopefully see his finished work in the next few weeks. 
Found myself an old trailer chassis with leaf spring suspension . The only difference with this trailer to our previous one is it has a fixed hitch , as opposed to the swivel type on the Ali-lite.
I also found a cargo roof pod (800mm x 1400mm) for $30 at my local Re-use/recycle centre , with the key snapped off in the cylinder. 
Local locksmith was able to remove the broken key and recut two new keys , all for $15. Cheering .
so the new kart will resemble much the same as below when finished . 
I'll be retracing my postings for the wiring harness on Smurfette.
The trailer will make it a lot easier for making the 350km return trips to set up .
this is the frame I have ready to go .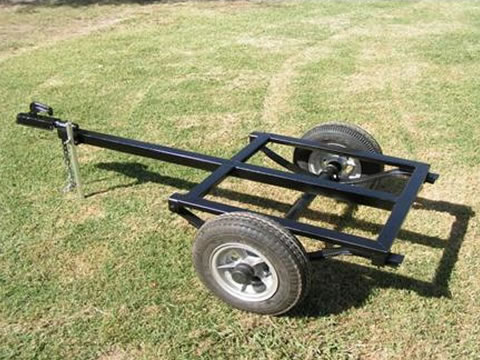 and will finish up looking like this ....


Last edited by Ed on Mon Apr 02, 2018 5:37 pm; edited 1 time in total
__________________________________________________
1993 K1100RS  0194321         Colour #690 Silk Blue  aka " Smurfette"
2018 Kart upgrade.