Two Wheels Better
Moderator
I hate to part with any motorbike, but especially one with such character like my Velvet Hammer. I have seven bikes in the shed here and need the room, plus a coupla them are redundant in that they're too like the others. The bike has a Canadian customs tag as the original owner (I'm number two) lived in British Columbia (as well as Alaska) so North American market acceptable.
So, for sale is my trusty 2003 K1200GT, 43K miles, heated seat & grips, factory cruise, powered ZTechnik taller/wider 'screen (plus original), full Two Bros exhaust system (non-cat but w/O2 sensor), Booster Plug (mild enrichener), BMC reusable air cleaner, one key fits all factory lockable rack duffel w/raincover & factory pannier liners, 75% Metzeler M7RR tyres, heavy duty Eibach rear spring on refreshed shockie, recently flushed servo ABS, 75% front & rear brake pads, non-colour matched pannier lids (but I have the scratched original body-coloured lids), Dowco cover, side stand enlarger, Scorpion Li battery. Right hand fairing scratches (just forward of the side vents and near RH bar end) from previous owner's parking lot drop are pictured.
It's ready to ride cross-country and I'm asking US$3300. The VIN is WB10558A53ZK01448.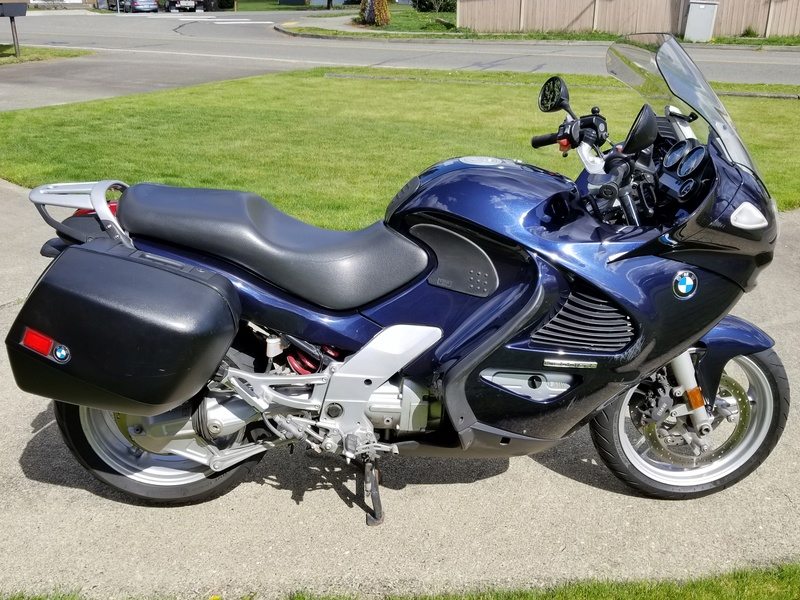 Thanks for looking.


Last edited by Two Wheels Better on Wed Apr 18, 2018 12:24 am; edited 1 time in total
__________________________________________________
Sometimes I lie awake at night, and I ask, "What can I do to keep my life from going by so fast?" Then a voice comes to me that says, "Try slowing down at the corners." 
~Charlie Brown

1970 R60/5, '77 R75/7-R100, '85 K100, '87 K75C, '87 K100RS, '93 K11-K12 Big Block, '93 K1100RS, '95 R100-Mystic, '96 K1100RS, '98 K1200RS, '00 K1200RS, '02 K1200RS, '03 K1200GT, '04 R1150R, '04 R1150RT, '05 K1200S, '06 K1200R, '07 K1200R, '09 K1300GT & 2013 R1200RT-Polizei  - Beemers owned still or sold.