StandardK
Gold member

Hi all, 
She started out as a 1983 K100RS in a pretty sorry state, after coming home in Nov last year it's now come full circle and is back on the road, now in K100 Basic spec. 
From what I can remember the following items were attended to during the refurb:
Master Cyl's rebuilt
All callipers rebuilt
New pads all round
All brake lines & both reservoirs replaced 
New front bearings
Spline lube from clutch to final drives
Oil changes throughout
New fork seals + oil
Rear shock rebuilt
New headset bearings
New fuel pump damper & filter
New fuel lines internal & external
Injectors cleaned & new seals fitted
Water/oil pump rebuilt (twice 
)
New Z hose
New tyres
Basic K radiator shrouds & headlight sourced
Radiator flushed, hoses cleaned/replaced 
Wiring repaired where req
Starter button replaced, all switches cleaned
Starter motor overhauled
Alternator overhauled
Isolation switch & charge lead/battery added
All painted bits repainted
Numerous other missing bits sourced & replaced, other stuff I can't remember
Now it's done there's just a few little jobs to keep me going.
A few pics - 
The day she came home....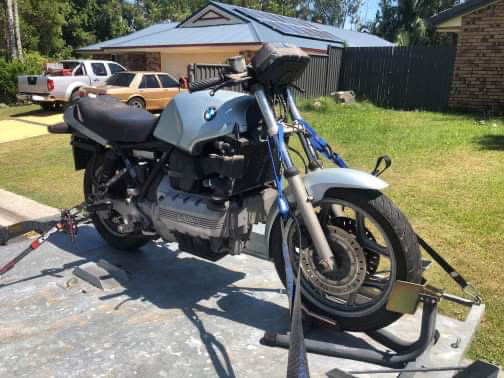 The strip down phase.