Two Wheels Better
Moderator
It's gonna be a hot one, like seven inches from the mid-day sun...
Don the mesh jacket, even if it is 18 years old, it'll keep one cool along with a faded pair of armoured riding jeans and mesh-back gloves. Pack a coupla bottles of water, a sweet red apple and some roasted almonds for the nibbling. I've no desire to stop in any roadside coffee shop or cafe - most open to some degree with outside seating or space between indoors. I'll create my own space. A tank full of premium - it'll only be about 250 miles in total. A day free from being stuck at home, no one needs me today. The roads are familiar but one never tires of them. The red K1300GT needs a good run after a fresh service, its tyres seem to know the way, so off we go.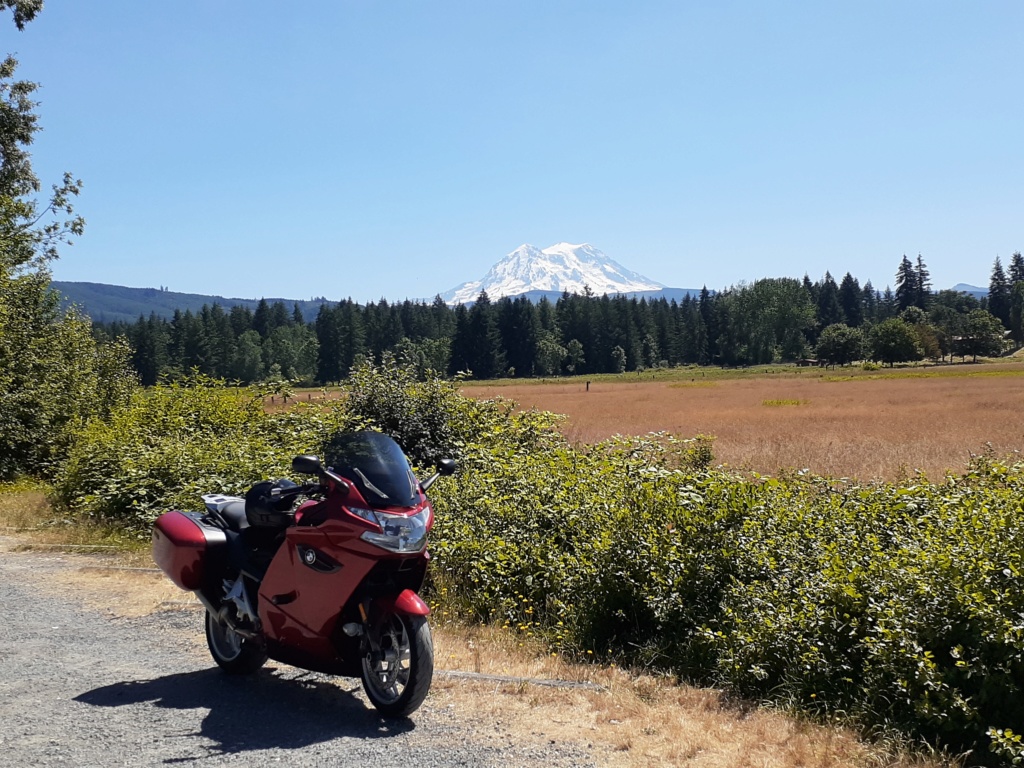 Near Eatonville, WA. A view from the west of Talol/Tacoma/Mt Rainier.
Near Glenoma, WA. A slim view of Pahto/Klickitat/Mt Adams between the distant hills. For those who know or have riden NF-25 from the gas-stop town of Randle, the road is the usual craters full of potholes, dips and whoop-de-doos as in years past. It never seems to get repaired except when a land slide has taken a stretch out. It's hell n the suspension, even if its the excellent Duolever. I hit one at speed under the shade of the continuous canopy of trees that swallowed the entire length of the bike and left my kidneys in my chest for a few minutes. Did I slow down? Not much. The road darts and dives up, over and into the deep forest for twenty five or so miles and practically begs to be ridden fast - you just have to keep an eye or three open and dodge 'em as best you can.
On fast, remote, excellent and twisty, tho' somewhat bumpy with occasional gravel strewn about in the blind corners to keep it even more interesting, National Forest road 99. The first view of Loowit/St Helens from the east.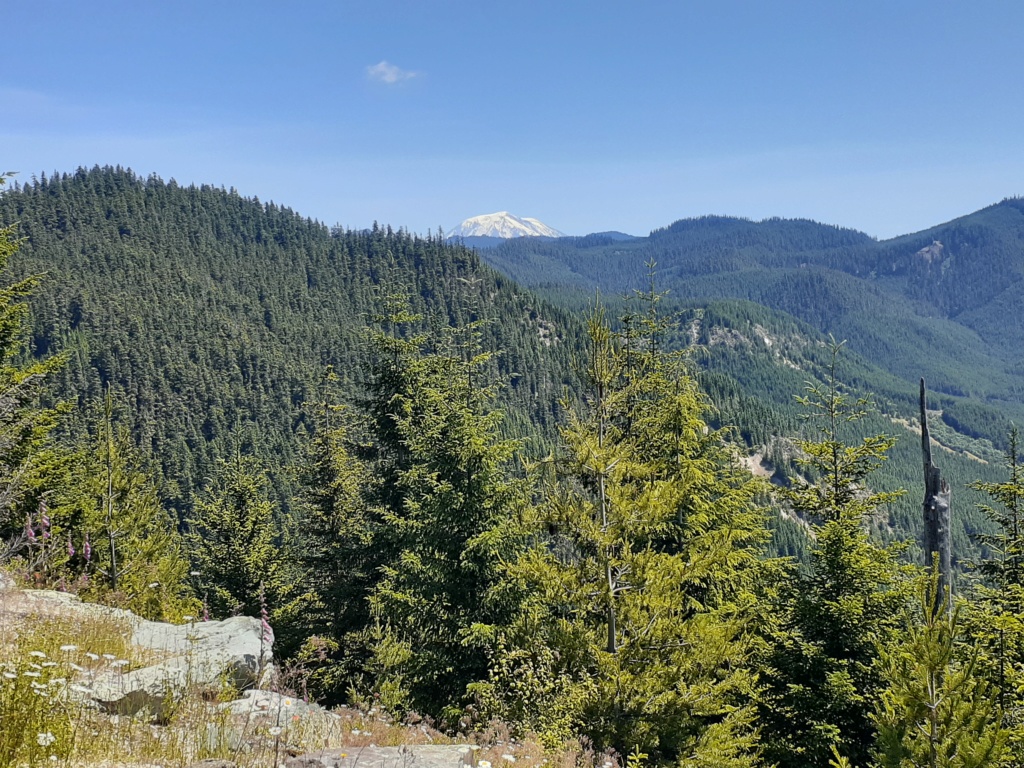 A look back at Mt Adams from the west on NF-99.
A long look south down the Smith Creek valley towards the Columbia River Basin, the state of Oregon and Wy'east/Mt Hood somewhere out there.
We round another bend on NF-99 to see St Helens hoving into view. Still nearly ten miles to go.
The road wends its way about mid-point up the hillside in most places, smooth and narrow, but with surprisingly little traffic to interfere with a motorcyclist's leaning-into-it pleasure. Unscientifically, there seemed more Texas, Utah and Oregon number plates than Washington state.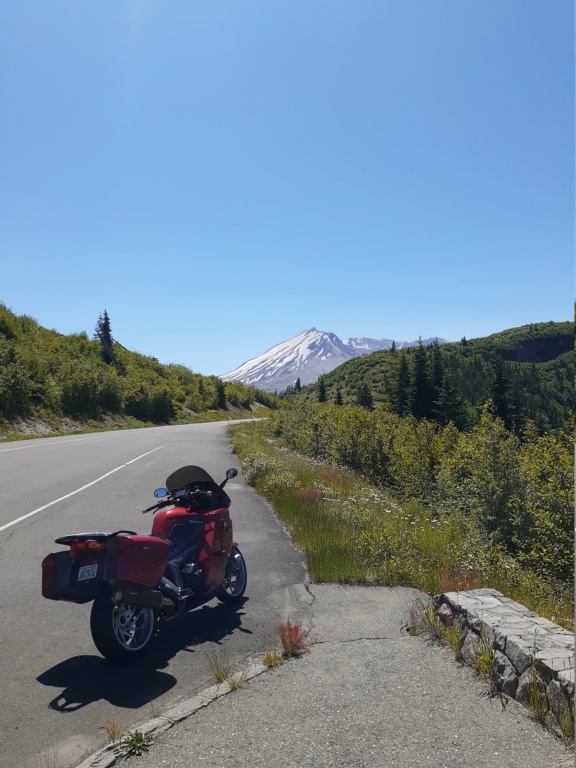 Thar she blows!
The camera says panorama but this view compresses the horizon to horizon view to a single frame, somewhat reducing the intensity of Spirit Lake, which sits 200' higher since the May, 1980 blow. Those are 40 year old giant, dead pine trees still floating in clusters like corks on the tide. The engineers hurriedly bored a 1.6 mile tunnel at the base of the adjoining hills to reduce the pressure of the water, slurry and logs so it wouldn't burst, potentially sending a second catastrophic wall of debris down the valley towards a dozen little bucolic burgs of civilisation.
A coupla more bends in the road before we are upon Mt St Helens.
But first, a distant glimpse of Oregon's Mt Hood.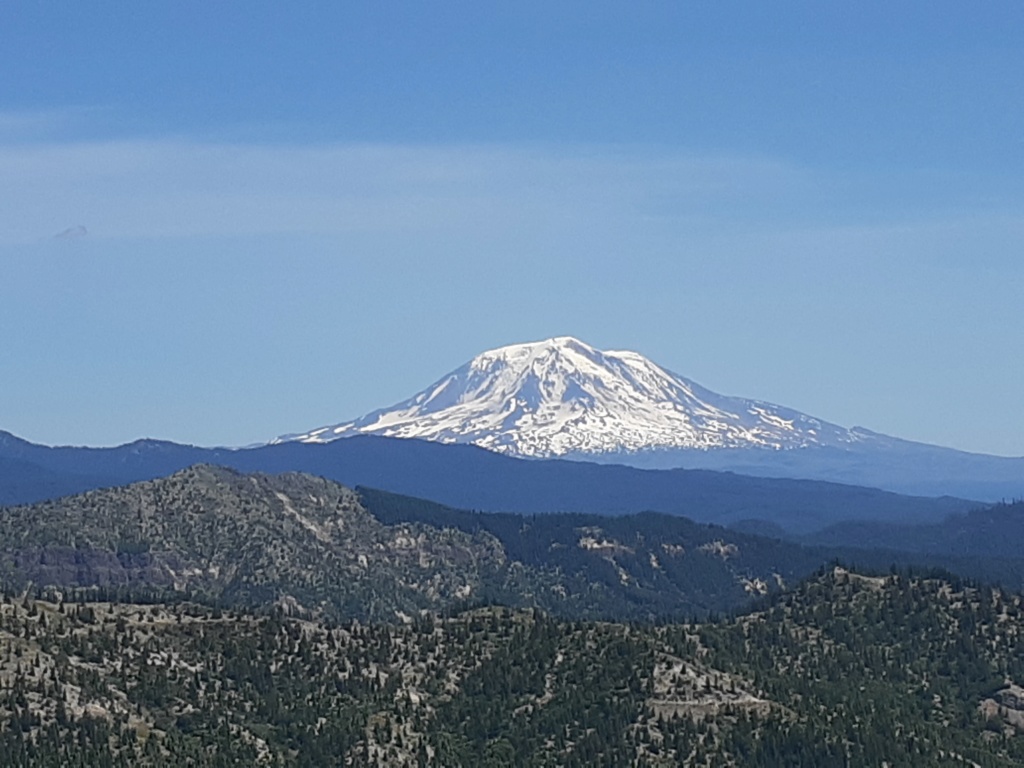 And a fresh look back at Mt Adams.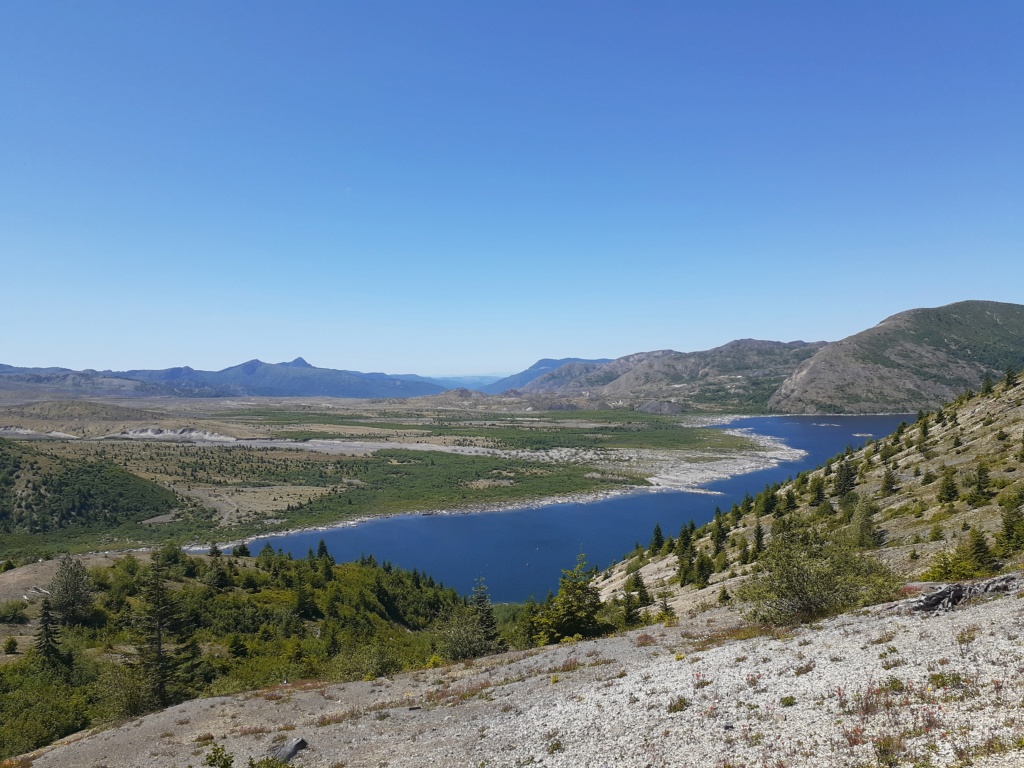 The blast front on down to Spirit Lake at the base of the mountain, looking west from Windy Ridge.
A view into the gob of the beast. The dome continues to rise inside the crater or caldera. It's above 900' feet and still smouldering, ready for the next exciting action at an indeterminate time in the future.
One last obligatory bike as the actual scene when pretending to be casually just in the frame of the intended.
One more can't hurt...
The view from my picnic spot. Ha, no, I didn't fall down the hill.
I spoke to no one and didn't miss the companionship. Plenty of riders waved or nodded along the way. It was a good day to be solo.
__________________________________________________
Sometimes I lie awake at night, and I ask, "What can I do to keep my life from going by so fast?" Then a voice comes to me that says, "Try slowing down at the corners." 
~Charlie Brown

1970 R60/5, '77 R75/7-R100, '85 K100, '87 K75C, '87 K100RS, '93 K11-K12 Big Block, '93 K1100RS, '95 R100-Mystic, '96 K1100RS, '98 K1200RS, '00 K1200RS, '02 K1200RS, '03 K1200GT, '04 R1150R, '04 R1150RT, '05 K1200S, '06 K1200R, '07 K1200R, '09 K1300GT & 2013 R1200RT-Polizei  - Beemers owned still or sold.