Bruce Petterson
Silver member

After a brief phone call from Martin we decided to get our 30 year old rims powder coated as there were showing their age and a bit weathered so to speak.
Martin located a powder coated just north of North Lakes that would strip the paint off them, sand blast, powder coat, and clear coat all for $110.00 per rim.
We decided to go ahead with this - a week later . . . WOW what appeared to be brand new rims.  They did and awesome job.  Still in the silver that was very close to the original colour.
We replace the front wheel bearings, $48.00 for the pair.
Tyres were removed and Dave Oliver from Dave Oliver Motorcycle Tyres at Clontarf said to fix him up when we return to get them refitted.  Dropped the newly painted rims into Dave, left them will him for 4 hours and returned to pick up all 4, tyres fitted, balanced for $25.00 for each rim.
Martin and I then proceeded to refit to the bikes.  Mine went together reasonably quickly ... by late afternoon we were both a bit tired.   We had an issue with the front on Martins bike which through 45 minutes of trial and error found out the the collar or spacer on the front only goes on one way.   Large collar/spacer on the left, smaller or thinner one to the right.  As martin said a " Rookie Mistake "
Total exercise $320 for each bike. Both bikes back together and looking fabulous with the new rims.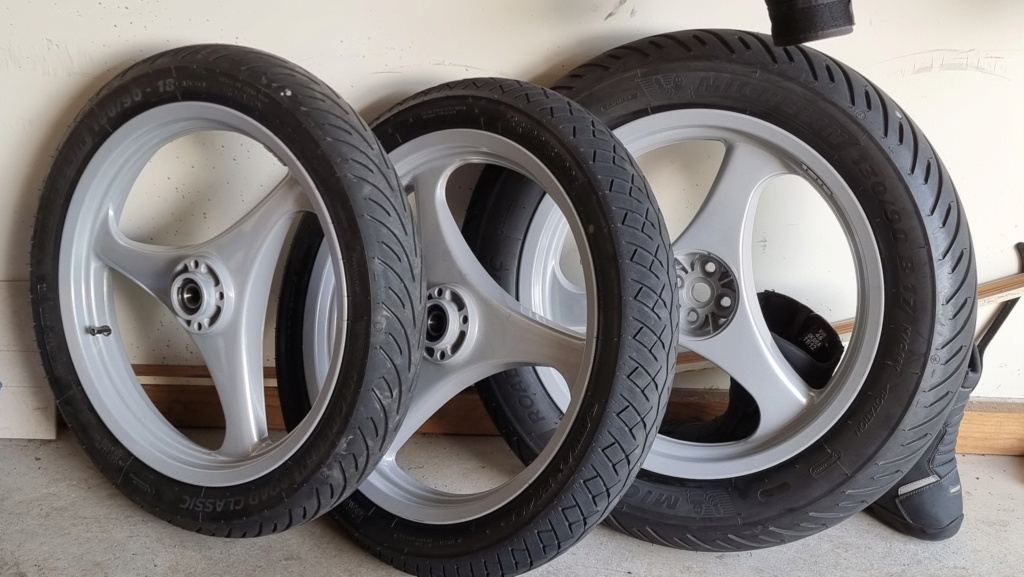 Big thanks to Martin for his guidance and assistance.  
regards Bruce