TacKler
Life time member
Well Saxon and I caught up the other weekend after planning a catch up for a while.  Although it has been quite a while Wells Crossing has been visited by members of the forum previously, I had not been there before.  This was my first moto trip since my crash back in May so I needed a good run just to get my confidence back.  
Heading down from Brisbane there was the threat of rain still hanging around from the previous weeks flooding that hit northern NSW and southern Qld.  Apart from a couple of sprinkles, there was none to speak of although the water was still evident.  Heading west from Warwick I turned off towards Lake Coolmunda before Inglewood and headed into Texas to refuel.  From here I ventured south of the Border into
Mexico
and Ashford where Sean had his chair parked up at the servo.  He had a previous commitment which from his version either did not match up to expectations or if you lower the bar was what I would have expected.  
Wells Xing is about 8km south east and a public area with tables and a shelter.  A public toilet was located back in town.  At this time of year the daytime temperature is pleasant but a bit chilly at night.  When we arrived there was a couple in a caravan heading back to South Oz but the rest was ours to choose a place.  The recent rain and lots of sunshine had left the grass quite high.  That being the case best keep an eye out for the odd snake.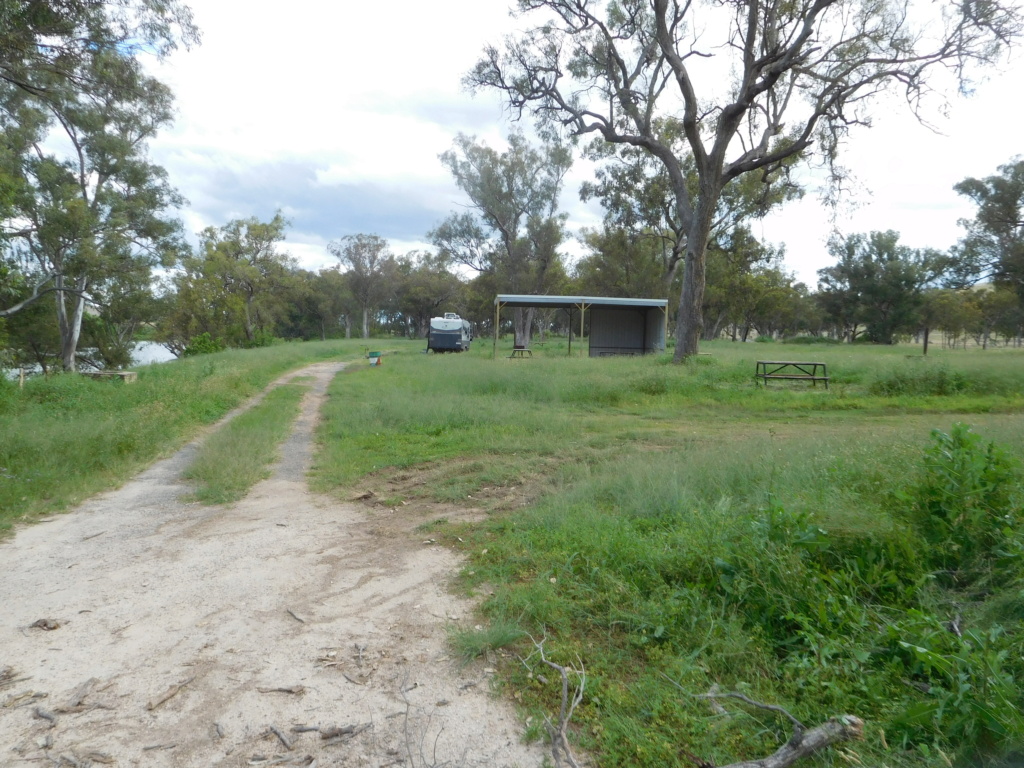 We settled down towards the bridge just to keep our distance from the others.  They had first dibs on the best firewood but there was still enough around for us to have a half decent campfire.  Just had to go for a walk.  
Once set up it was time to drag out the fishing gear and try our luck.  With all the recent rain the river was still flowing strongly and the level although receding was still in flood.  Not a lot of dead water to target the local species and the colour of the water didn't help either.  Sean cast a few lures and I had a hand line. So after a while not even a nibble so time to get the fire going.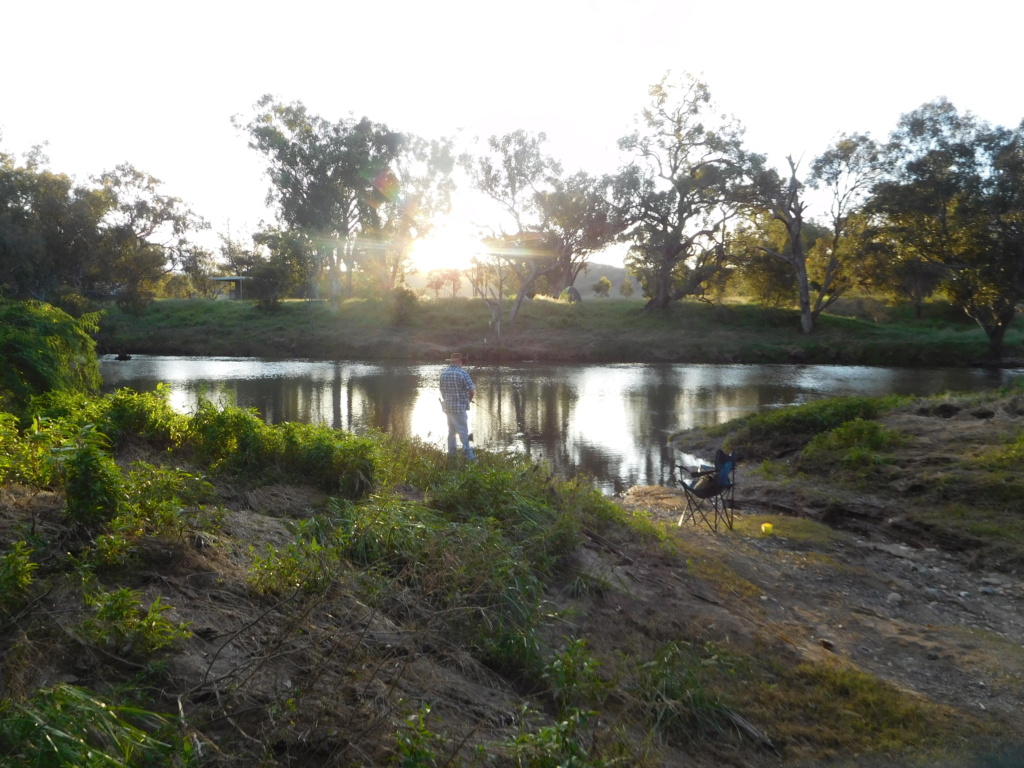 I had a new tent I wished to try and for the first time I had one with a decent annex.  Luxury, and as an added bonus it had a black interior.  It took a while to set up and throwing the instructions in was indeed a good idea.  
We had stoves for cooking and the fire was just something to sit around and talk.  With all the greenery around there was no chance of a grass fire.  A few grogs and conversation and the night was over.  It was chilly and went below double figures, so extra clothes made the difference.  
The next day was sunny and my clock was still on Qld time.  Oops, have to get up an hour earlier as the black tent interior really did its job.  
After breakfast Sean was off and I dawdled and headed off an hour later.  Not having travelled through this part of the country for many a year, I decided on the scenic route back.  I decided to follow the Bruxner Hwy along the river turning north at Mingoola in the direction of Lake Glenlyon.  What a crappy road from the turn north.  As I was very close to the border, I guess funding just did not reach this little bit of the state all that often.  I decided not to visit the lake and continued on till the turn off to Gore at Pikedale.  
These back roads that I had decided on were a delight to ride.  The weather was close to perfect with only a few clouds and too many undulations and twists and turns to count.  There were however many, many floodways and every second one had a couple of inches of water pass through.  A good idea to slow down, not just to enjoy the scenery but to check there were no obstructions in the water.  A couple came up a bit too quick as the numerous crests hid them well.  The deepest one at Macintyre Brook had six inches of water but was clear.  All a reminder of the recent flooding.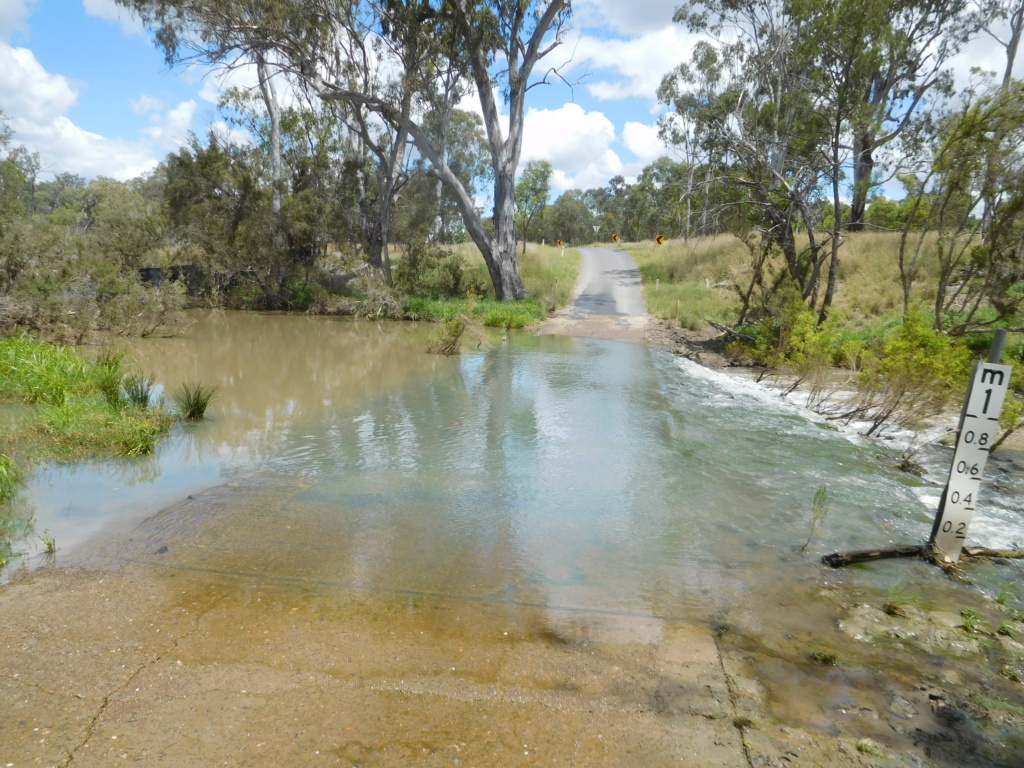 When I turned off the road here onto the road to Gore, I found my first cattle grid and a small gravelly road.  As the sign said, Cattle Ahead.  And goats, and more goats, and then some goats.  There were also cattle, kangaroos, an emu (dead, thankfully), a snake out for a suntan and others as well.  I slowed a few times just to ensure I didn't have a confused one jink in front of me.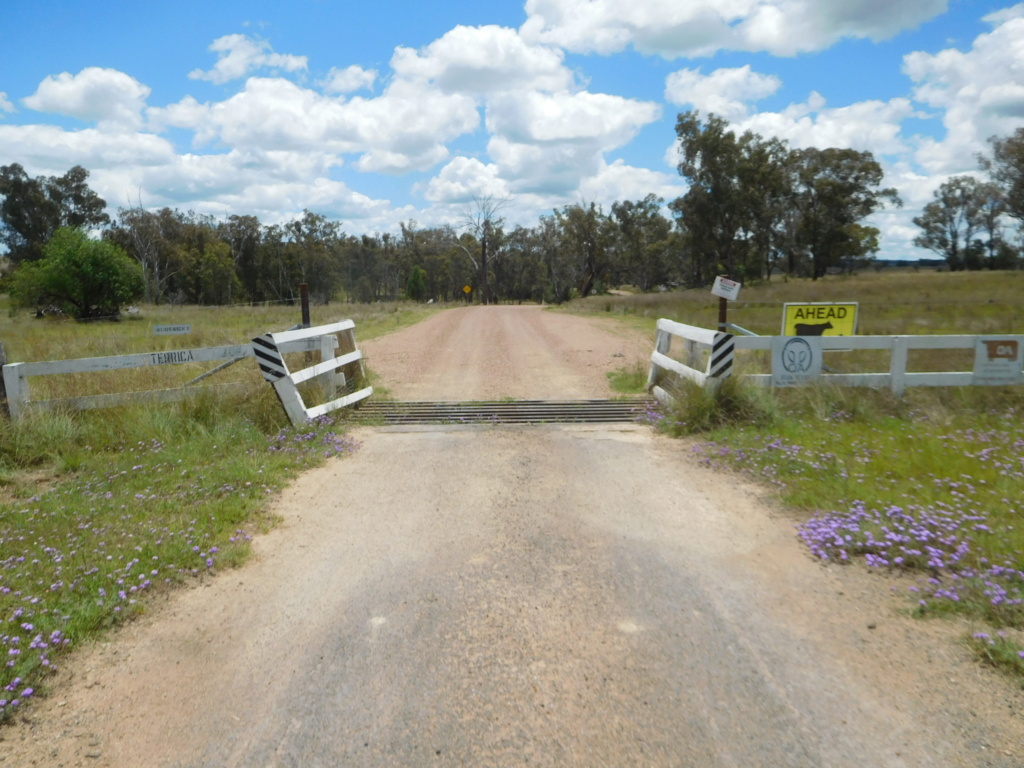 Now I have a thing about goats.  They are, apart from emus the most unpredictable animal I have ever encountered on a road.  Whist driving in Botswana I learnt just how unpredictable they are.  Travelling around the 140km/hr mark in the middle of nowhere, they were always in the vicinity of a village and in packs of 20 to 30 animals.  There is always one leading the group and the rest of the dumb f**kers just keep ... following.  Now they always appeared to be walking near the road and then .... zoooom.  They have decided to cross the road in front of you just as you arrive.  So the safe thing was to decelerate rapidly and avoid any damage to your ego or the vehicle.  And breathe.  
Fortunately this was just a road through someones property and I soon hit the bitumen again.  A little south of Gore I stopped to stretch the legs at a community hall.  When I hit the highway I stopped for a bite and to refuel.  Nothing beats a Chiko roll and a milkshake.  It always amazes me that the price of fuel remains constantly cheaper in rural areas and the city prices jump up and down !
Turning off the highway again I headed into Leyburn and onto the mighty Condamine River.  I anticipated with all the recent rain it would be a splendid sight indeed, or so I thought.  Either the sign was missing, it has moved or the creek that I crossed was the disappointment I was searching for.  Hey, ho, on we go.  Took the back road into Warwick and the rest of the ride home was uneventful.  
It was good to be back in the saddle after a long break and apart from a couple of niggles the 75S worked as advertised.

__________________________________________________
Red 1991 K75S