phil_mars

Life time member
I have a Givi topbox on my bike and I believe Bert has one on his K75. The previous owner had the box come off on a rough section of road which ended up damaging the lower rear seat cowl.
I was not happy with the standard mounting as it just screws (with rubber mounts) to the top part of the seat cowl the same as the standard rack. It is rated at 5kg's which for a 45 litre box is not too flash. I found a couple of pictures of other K bikes which illustrate the original mounting and a far more substantial one made by Reynolds who unfortunately are no longer in business as far as I am aware.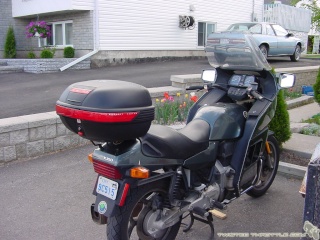 This is the standard mount.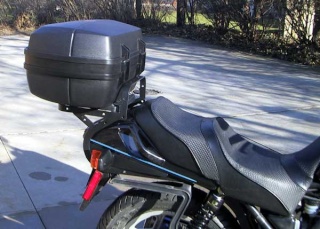 This is the same top box as mine but on a far more substantial mount. I created a combination of the two which essentially reinforces the original but is nowhere near as attractive as the Reynolds rack. Function over form etc. The ideal solution might be to strengthen the standard mounting but from inside the seat cowl and to the nice strong sub-frame. A bit beyond my meagre talents I am afraid but perhaps an interesting challenge for those of you whose bikes are laid up for the winter
Regards,
Phil