rosskko
VIP
So for the naked look I bought some fork mounted indicators from the wreckers.
This is the globe that was in them. 12v 21/5W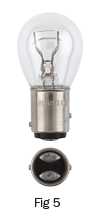 Trouble is it is the lower watt globe that lights up with the indicator and so the bike thinks the globe is broken.
Can I re-wire the light to accept the higher wattage part of the globe?
I cannot find a single element globe with off-set pins and the twin blobs on the base
rossco


Last edited by rossco on Mon Sep 17, 2012 12:57 am; edited 1 time in total

__________________________________________________
1986 K100RT VIN 0093801K100RT with summer fairing for a northern visitor

Basic/2 6308802K100CJ  05/1988

K1100RS 0194321