charlie99
VIP
wow ...what a weekend ...!
little did we realise that the weather even some ways north ,,,ex tropical cyclone ,,,would work its way down the coast ,,,and have such a devastating effect.
my goal was to help ably out and recover "THE TUG" for the sidecar project .
all seemed good as i struck out about 6.00am ...yeah a bit of rain around but no biggie ..
i arrived at Kingaroy a few hours later ...with pretty similar weather and no big dramas on the horizons ...yeah it was wet ...and i was soaked through , but a change of cloths and i was good to go . riding gear stowed in the back of the ute .
so we headed off to warwick area ..(some 180 k s away ) to pick up ....(or more accuratly, find) the TUG as it turned out .... giggle .
hmm a few problems getting the old girl actually running ,,,seems the fuel pump decided to pop a couple of fuses (possibly from sitting around with a bunch of low grade fuel in the tank ,,,lucky we knew this stuff ) ...and soon had the old girl beating a fine pulse of an idle ,,,down the country diveway ready for the road ...smoke eminating from the exhaust ,,of corse ...(been on the sidestand too long i figure )
with the old toyota ute running rough and not pulling well i decided to follow our mate, alby northwards back to the home of peanuts and all good country things ... wet ...did i say it was wet yet ?
a fuel fill at a spot north of toowoomba got some good stuff ( 98) in the tank and ready for the next leg home through the country ...little streams were starting to fill but of no concern at this time ...
we acheived home and all was well ...
a bit late to leave for the day ( wish i did , but after events cant be concidered ...you gotta do what you gotta do ) besides dinner at albys was offered ...yum !
anyhow after a really wet night ,,,and tons of water falling over night ,,,we got got an sms alerting us to the near flood events around town ....
wow !! there was a torrent of a stream heading down the roads ..past albys workplace ,,,and some goon in 4 wheel drive travelling the same route ...(was hoping to see him disapear into a ditch actually ,,,grin ) almost over the wheels .
time to head out ..after a quick bite ....(thanks guys appreciete it )
crikey ...even leaving town was an issue ..."road closed " sign on the southeast exit .
i found a few back "high" roads and acheived a leave event .
surprised when i crossed a couple of flood plains, of the intensity of the flow ...on the road to nanago ...about 25 ks off
once at nanango ...opps traffic block in all directions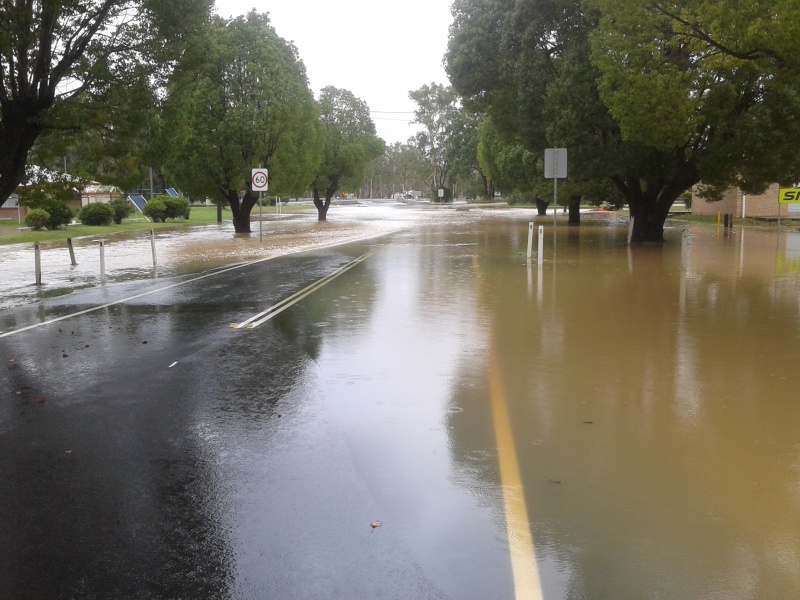 all roads out were signed and guarded ....i kinda snuck past the ploitiary ...shhhh !...and road old gerty through the swamp like swiftly flowing creek ....over the bridge was another 600 meters of low lying area more than ankle deep ....it was fun and wet ...boots now full .
cool .
the road south was dramaticaly vacant of road going vehicles ....i think i past a couple of local country folks heading to town, in ether direction ...and that was about it ....
i soon found out why
after yarraman .( with a sign up saying the road was blocked back towards toowoomba ).....and blackbutt ..."top of the range"
taking the right hand turn down the brisbane valley highway proved (normal route for heading home ) fruitless
about 7 k south of " Harlin" ... i had no hope on this one
that road advice (white sign ) is before the dip ...and the sign had probably 1.5 meters of water up its leg ...crikey !
i had been surprised by the volume and ferocity of water on the creek out of harlin ....now 5 to 6 meters higher than normal and with waves of about a meter in height on top of the flow ,,,
i headed back up the highway ...and turned right towards Kilcoy ....knowing now that possibly the road would be blocked to some degree ....little did i realise the extent of the blockage
yes that is a car floating in the high section or the public amenities stop
a bit further on is the raging flood ...over the bridge ...not quite visible under the rubish that has accumilated
a bit of the view feeding the bridge area to kilcoy ...just one of the flows feeding the dams area to the south of the town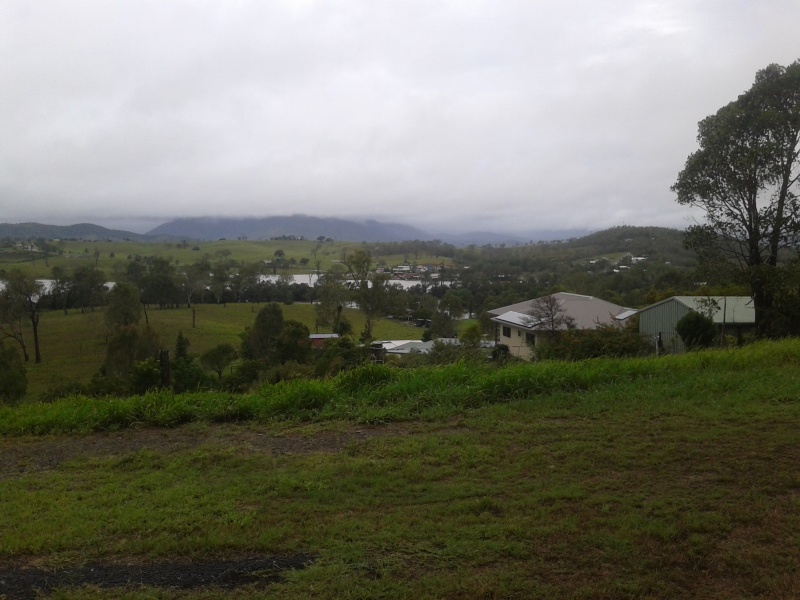 ahah ....!
a brilliant thought, i headed south to try and traverse the high country along the famous ridges of "mount Glorious" . and "mount Nebo" .... through the dam area of "Somerset" and further south
i had surveyed all the rostered "closed roads " at the local servo heading out of town and a few didnt apear on the list ...including my "brilliant idea "
abotu 60 k s down the road after traversing the wonderfull twists aproaching "sommerset dam " another block about 30 ks out of the little community surrounding the dam wall
hmm a rethink had me heading back to "sommerset" community hall for a nights rest ...convinced that i could no longer "make " the meet with rossco and rickg ....bugga !
after a night of ,light rain ...(thankfully ) and ferocious winds, i left at sparrow fart ..with verry little sleep and headed for the township of esk ...where i was informed that all roads south were still closed ...with about 2 meters of water over the "big bridge " leading to fernvale (brisbane river feed from the huge "Wivenhoe dam "system )
did i mention there were huge crosswinds .......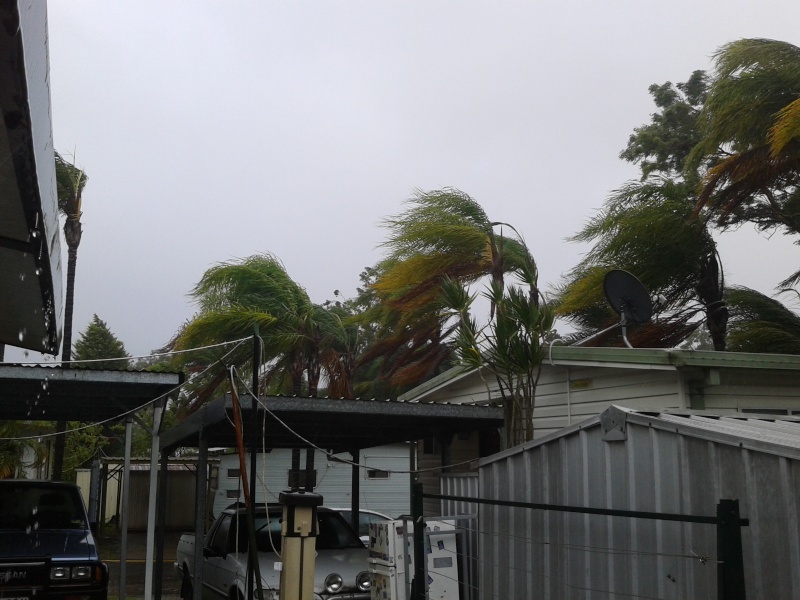 but old gerty traversed them all
sorry i missed the guys .......i tryied


Last edited by charlie99 on Tue Jan 29, 2013 5:13 am; edited 3 times in total
__________________________________________________
cheezy grin whilst riding, kinda bloke ....oh the joy !!!! ...... ( brick aviator )
'86 K100 RT..#0090401 ..."Gerty" ( Gertrude Von Clickandshift ) --------O%O

'86 k100 rs.. #######..  "Fred " (f(rame) red ) ( Fredrick leichtundschnell ) - -
bits and pieces from many kind friends across the k100 world ...with many thanks ..