ChrisJF
active member

The bike has now arrived and has been hooked up to an Optimate charger for a couple of days. All seems OK - the Optimate is reporting that the battery is very healthy, while the bike starts immediately. So far, so good. The screen is scratched to blazes ( a taller replacement is on its way
) so as it was going to be removed anyway I thought I'd do something constructive in regard to mounting a GPS.
Although the RAM mount people do a range of handlebar /master cylinder mounts, being an LT, the bike has the auxiliary instrument console fitted. This places everything nicely in the rider's line of sight so it would seem logical to mount a GPS up there as well. To my way of thinking the area housing the maplight was ideal. For once looking before I leaped, I consulted my BMW guru who advised that although the console was made of tough plastic, and the maplight area had the additional bracing, any RAM mount would probably need re-inforcing.
Over the years I have accumalated all sorts of RAM mounts - and this one :

fondly known as RAM-B-367 seemed the best. Being M8-threaded it was comparitively easy to locate this :
an M8 threaded 40*40mm block aluminium spacer pad on eBay. Add some washers and an M8 locknut, you end up with
Remove the windscreen and then the console. Mine was held in place by 4 self-tappers. The maplight was removed ( its easier to push it through rather than to pry it out - don't ask me how I know ) and a hole was -carefully!- drilled in the console. Once everything was all bolted in place and the console was refitted, it looks quite neat and tidy even if I say so myself :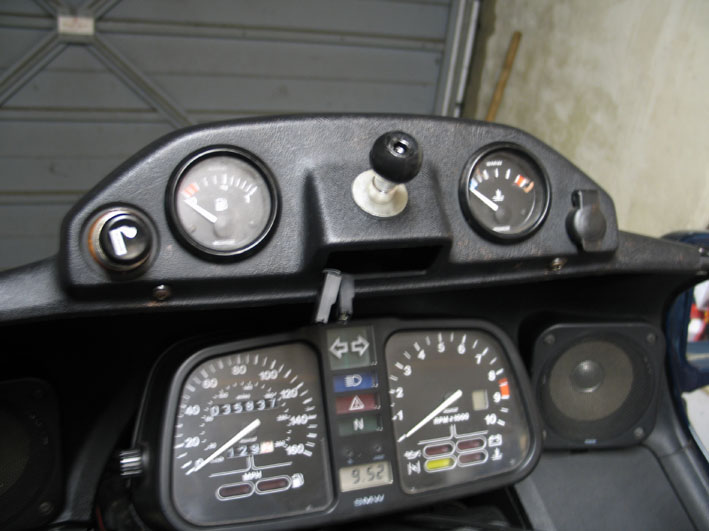 The threaded spacer block and the washers spread the mounting load, the M8 locknut secures it in place and when the new windscreen is refitted the console is/will be firmly back in place as well. Although the maplight can't be refitted as the threaded spacer block is in the way, the maplight wiring can be used to power the GPS or tidied out of the way "as and when". If I hook up the GPS to an Autocom then the maplight aperture can be used to feed all the cables through. Just a thought...
My first tech.project post. Hope you find it helpful/useful/interesting !