sidecar paul
Life time member
I've never been over impressed with the (early 8V) brake light switches, although they are far more reliable now than they used to be in the early days.
About 25 years ago, I replaced the front ones with hydraulic switches from Ultimate Source, does anybody remember them?
Consequently I've never had a problem with the front switches.
A few weeks ago the outfit's rear switch started playing up again but I revived it by dribbling DeoxIT past the plunger and waggling it about a bit.
Now these switches are a simple wiping contact, switching 1¾ amps, but with two stop lights on the outfit, this figure leaps up to 3½ amps. So I thought it would be a good idea to interpose a relay in the system with a snap action contact rated at 10 amps.
(I'm well aware that LEDs would reduce the current consumption quite dramatically, but IMO the viewing angle of LEDs are too narrow when fitted to rear lights)
This is how I've fitted the relay.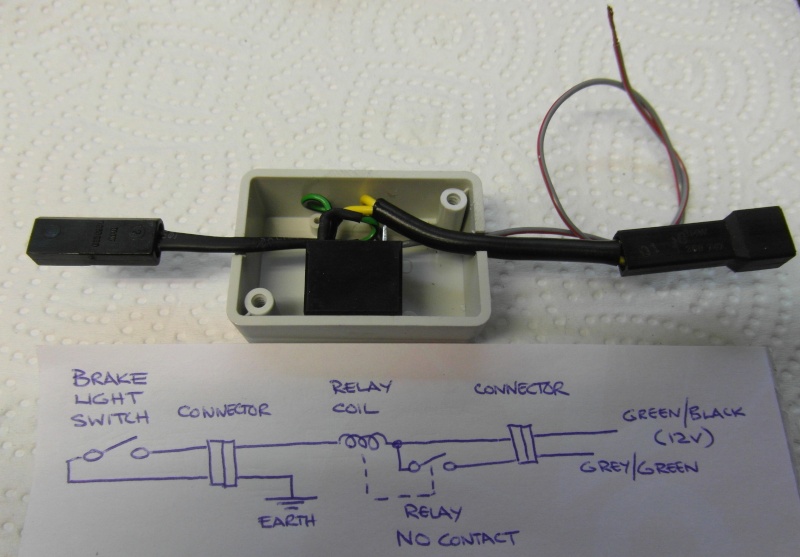 BTW 'no contact' means normally open contact.
As you can see it's not quite 'plug and play', it does need that extra earth feed, but it does give a good reassuring 'click' when the relay opperates.
Don't worry, the camping season starts in a fortnight, so that'll curtail activity on these (daft?) ideas.
Cheers,
Paul.

__________________________________________________
'84 K100RS (0014643) (owned since '85), 86 K100RS (0018891) with Martello sidecar (built as an outfit in '88),
'51 Vincent (since '67),'72 Montesa Cota (from new), '87 Honda RS125R NF4 (bought 2015) 
....No CARS never ever!