K-BIKE

Life time member
Hi Electrical Beginners,
This first instalment is written for the novice that each one of us starts out as, (nobody springs from the womb clutching a test meter and circuit diagram manual armed with the knowledge for diagnostics on K bikes).
I am still learning and I try to learn something new every day, I had the huge benefit of working alongside and for intellectual titans like Eric White, Dennis Gabor, Ernst Chain, Eric Laithwaite who by personal example taught me to ask questions like why, how, what, if I - then what?. I have been lucky to stand on the shoulders of giants as John of Salisbury recorded Bernard of Chartres saying in the 12th century.
The experts amongst us who already know this stuff below please ignore this column it is not written for you.
Many of our bikes are over 20 years old and have been in harsh environments all their life and it is not a surprise that they may/will have a few electrical problems, do BMW bikes have more problems than other similar vintage bikes - not in my experience, as my dad used to say "getting old is a bugger" and that also applies to bikes as well as their riders.
Test multi-meters are available nowadays for very reasonable cost and one can even buy really cheap digital meters that can be carried in the tail compartment of the bike as a troubleshooting tool on the road.
On that subject - tools on the road- some people say there is no point carrying tools as they would not know how to use them in a breakdown. Well two things stand out in that statement, first learn how to use them, calling for help may not work, there may be no traffic, no cellphone coverage and no houses in sight and second don't forget someone may stop by to help you, who does know how to use them even better than you do. If they stop, get their name and address, please write them a nice "thank you" note please also send them a Christmas card and if they use their supplies on your bike, e.g. their puncture kit or anything else - send them replacements,
that is a must do
.
As an example of why to personally carry tools, in the USA, the very esteemed Tom Cutter has often stopped to help broken down fellow m/c riders and he has commented that without the bike specific tool for their bike even a guru like Tom cannot help and he could have fixed it in a moment had they have carried the tool. We will cover what should be in a basic K tool kit in another article.
OK back to multi-meters, every bike (and car) owner who wants to do basic troubleshooting needs a multi-meter and a test light. The humble test light is a simple tool that can tell you a lot and with it one can diagnose many problems. They cannot test items like temperature sensors but they sure can test the wires that connect the resistor to the brains of the bike. But the test light with a crocodile clip on one end clipped to a good bike earth and a sharp probe on the other end the light coming on can tell you if there are volts able to flow down a wire or volts present on the wire. For testing injectors they will tell you if enough current is getting to an injector to operate it, a volt meter will not tell you that.
Now a pet hobby horse of mine, the throw parts at the bike, shotgun approach to fixing bike (and car) problems (so often used by so many shoddy car and M/C garages). The good bike shops are run by guys like Tom Cutter and Anton Largiader those guys NEVER throw parts at a problem till it gets better or the customer runs out of money.
What makes Tom and Anton worth every cent of their very reasonable service prices is they use their brains, knowledge and logical deduction before replacing a part, they test, measure, deduce and then fix, once and for all, they do it once, they do it right!
At other shops too many people get huge bills for replacing parts that don't need replacing just because the bozo in the shop either doesn't want to or can't be bothered to diagnose the actual problem. So don't let's any of us turn into one of those throw parts at it guys, think like a pro, learn to think like Tom or Anton.
What multi meter to buy? I have the $10 ones and I make a point to carry one in every one of our vehicles, I also have a very expensive Fluke meter bought 25 plus years ago and it is STILL working perfectly and still in calibration too, one never regrets buying a quality tool, that meter has paid for itself in my professional and private career a hundred times over, I could not speak too highly of Fluke meters. I have two genuine AVO meters too which also have their uses, if you get the opportunity to acquire a genuine UK made AVO meter then grab it quickly, the Model 8 Mark V is the best one, arguably the best general purpose analogue test meter ever made anywhere in the world. Later models went over to printed circuit wiring and resistors/shunts, the Mk V and earlier ones used genuine discrete components and wire and are much more repairable if there is an accident.
If you are willing to spend $100 or so a good quality dedicated automotive digital multimeter is well worth having, they measure high current and have rev counters worked by an inductive probe which can be clipped around a plug lead to diagnose in an instant if high voltage sparks are present in ignition circuits. If you can possibly afford it get a Fluke!
All those who have never connected a meter set to the wrong range to a circuit under test would probably fit into a very small room, we have all done it, so check what the meter is set to and check that you are measuring it right otherwise you may blow up the meter or you may make a totally wrong diagnosis.
Don't do service work and or don't do troubleshooting, when you are tired, angry, drunk or emotional you will not be thinking logically and you could get hurt. As an example a friend - John who was in a bad temper about having a puncture in his car tyre when he was going out and he was late, so he was in a hurry, jacked his car with the bent tin jack supplied with the car rather than using his professional quality trolley jack in his shed, he used no axle stands because he did not have time and he sat on the kerb with his legs under the car so as to easily lift the old wheel off and then lift his spare on. When the jack broke with a loud bang the car fell onto both of his legs snapping both thigh bones over the edge of the kerb, his screams got us out the house next door at a run and we lifted the car off two very badly broken legs whilst my pal's mum called the Ambulance. Because he was - angry, in a hurry, took short cuts, used the jack even he called rubbish - he missed his appointment - he spent months in rehab - he got to suffer lots of pain!
Don't be another John - do the "five by five", step back five feet, take five minutes to think through what you are going to do, what you need to be able to do it and what could go wrong, seriously folks a K bike falling on your chest pinning you on the floor underneath it is so heavy you probably will not be able to draw breath or call out, you could die! Do the five by five.
Let's Get Using The Meter
Simple experimental tests you can do with a meter for practice can be done with a safe source like a new 1 1/2 volt AAA alkaline cell it should read about 1.5 volts or so and should be able when new to pass about 1.5 to 2 amps for an alkaline version when tested for current.
How do you test that? The meter has two leads with a probe on each lead, one a red probe and one a black. The convention is red is positive, black is negative. Now at this point we have to note that whilst many vehicles including our K bikes are negative earth (the battery and alternator negative terminals are both connected to the earth / chassis of the bike) and negative is usually black in most conventions, however on BMW circuit diagrams for their bikes they depict negative as
brown
, that is because the extremely logical German engineers said soil (earth) is brown so electrical earth is brown, so our diagrams and wires will have earth as brown hence negative chassis earth wires on a BMW are brown not black. Set the meter to volts put the red terminal on the AAA cell + and the negative meter terminal on the AAA cell - you will see 1.5 volts or so shown on the meter, you have just measured the voltage of the AAA cell!
To measure current, set the meter to the appropriate range of amps and connect in the same way, note on some meters you may have to move one meter lead to a different terminal which is only used for current measurement, you should see around 1.5 to 2 amps or so, the better the battery the higher the current. (don't forget to shift the lead back to the volts measuring position afterwards - BTDT).
Do not ever test amps flow across a car or bike battery like that, either of them will destroy a multimeter they supply too much current, it is OK with a AAA cell not with a bike or car battery. Current capacity measurement across a bike battery is done with a special meter with a big resistor which shunts most of the current away from the meter, they are expensive and not often used so not worth buying for the home workshop on a limited budget.
Up under the K fuel tank a whole bundle of brown wires come to chassis earth there and they are all - BROWN (that is unless some post production DIY work has been done). Tip - undo these collections of earth wires and buff each side of each terminal and buff the frame terminal all with a clean fibreglass pencil and then treat them with DeoxIt, bad contacts there cause LOTS of problems on K -bikes, I am not a fan of dielectric grease there, it is an insulator.
If one thinks in very simplistic terms of electricity flowing from + (also called positive) to - (also called negative or earth) when you connect up a meter on the volt range to a 1.5 volt cell, electricity could be viewed as flowing from the + on the cell through the meter red probe and wire, through the meter and out the meter black probe back into the cell - or negative. As a result of that electrical flow the meter will read the voltage flowing from the cell which will be 1.5 volts, if you put down another AAA cell and touch the + of one cell to the - tail of the next cell and then measure across the two cells you will have made a battery of two cells and will have a reading of 3 volts (1.5 plus 1.5 = 3 volts).
If one thinks in simplistic terms of electrical voltage as being like water that flows from a high point through a pipe to a low point one can consider the head of water (the height of the water above the low point) which is expressed as pressure as an analogy for electrical voltage, the higher the pressure the more prone to find spots to leak out of and in the same way the higher the voltage the more prone it is to leak out (that's the reason people change plug leads when they have seen sparks round the leads when the engine is running, the high voltage is leaking from the high voltage point down to the low voltage point (earth). So thinking of volts as the electrical pressure may help.
Current is usually expressed in Amps and it is a measure of flow, again thinking of our water analogy if we had a tank up on the roof of our house connected through a small bore pipe the size of a straw the flow of water would be slow even though the pressure is quite high. Now replace the straw with a garden hose although the head or pressure has not changed the flow will be much greater because the
resistance
to the flow is much less in the bigger hose.
Now clip a hose nozzle onto the hose and by adjusting the nozzle we can adjust the flow of water ( a variable resistance to the flow) from maximum down to minimum and even to off, again the head or pressure has not changed but the flow has changed due to the effect of resistance to flow in the hose nozzle.
That in simplistic terms is an example of current (amount of flow) and (resistance) or resistance to flow due to a restriction in the pipe, that is why for electrical connections the lead to a small bulb only needs to be thin wire to permit a small current of electricity to flow down it to light the bulb, a starter motor however draws a huge current, many, many amps and consequently needs a thick wire with low resistance to the flow of current so the starter can turn over. If we used a high resistance wire it would not allow enough current to flow to operate the starter and would probably overheat the wire. That is because when current flows through a wire it heats it up due to the effect of the electrons jostling through the wire causing it to heat, the bigger the wire the lower the current density in a given cross sectional area of the wire so the wire appears to heat less. That is why an electric bar fire glows red, the electricity forcing its way through the wire at high voltage against a resistance causes the wire to heat and glow red. Bike wiring glowing red is a BAD THING!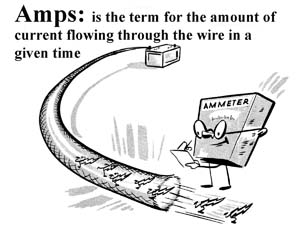 Electrical resistance is usually expressed in Ohms the more ohms the more resistance and as the amount gets above 1000 Ohms it is often called 1K Ohm, K being used to represent a 1000 so 1.5K Ohms is 1,500 Ohms, 2.8K Ohms is 2,800 Ohms and so on until when a million ohms is reached that is called a megohm, so 1.5M Ohms is 1,500,000 Ohms.
The meter measures resistance by having a small battery inside the meter and using that to supply a current to pass through the resistance you wish to test. The meter measures that current and reads out a value in ohms, the bigger the current flow the lower the reading so when you short the two leads of the meter together when it is set to ohms it will read zero or close to zero. When a 1.5K Ohm resistor is tested the value will be around 1,500 ohms plus or minus the tolerance, that is because a resistor for reasons of cost is never guaranteed to be exactly the value, only within a tolerance of 1% or 5% or whatever the tolerance is stated as. It is worth you getting a single 1,500 ohm 1% tolerance resistor and getting a friend or a shop selling Fluke meters to measure it, note the value and use that to check your meter/s periodically.
Well I have banged on enough for today I hope some found it useful and do I hope I did not insult the intelligence of the list gurus who know all of this and a lot more, please also accept whilst the analogies and explanations are scientifically not quite as it really happens, it is intended to be close enough to enable people to understand what is happening.
Next time using the test meter or test light to work on one of Bert's fantastic circuit diagrams on one's own bike, yes there is practical work not just theory. We will learn to think of the bike circuit diagram like a road map.
Your homework is to go and read learn and inwardly digest the article on the link under my name
Regards,
K-BIKE
http://www.fluke.com/application_notes/automotive/circuit.asp?AGID=1&SID=103


Last edited by K-BIKE on Sun Dec 27, 2009 3:25 pm; edited 1 time in total