Two Wheels Better
Moderator
There once was a man called Matt Capri, and he was a speed merchant. From his, and other engineering workshops he contracted with, came mechanical objets d'art for Beemers of both the R & K variety. He made bikes go fast at exotic-sounding places like
El Mirage
in California. His ads, printed out in black & white, in club magazines and posted out to performance hungry Beemerphiles like myself, had me longing, nay, lusting for some of these tasty pieces of speed and performance-enhancing metal. Here are a few images for your perusal, all of them in some small way, now pieces of BMW recent-history.

In 1990 the complete four-into-one exhaust system would set you back the princely sum of US$450
For merely US$905 one could eliminate that "troublesome fuel injection" and change it out for some real, practical horsepower a man with tools could actually work on. (Tongue firmly planted in cheek).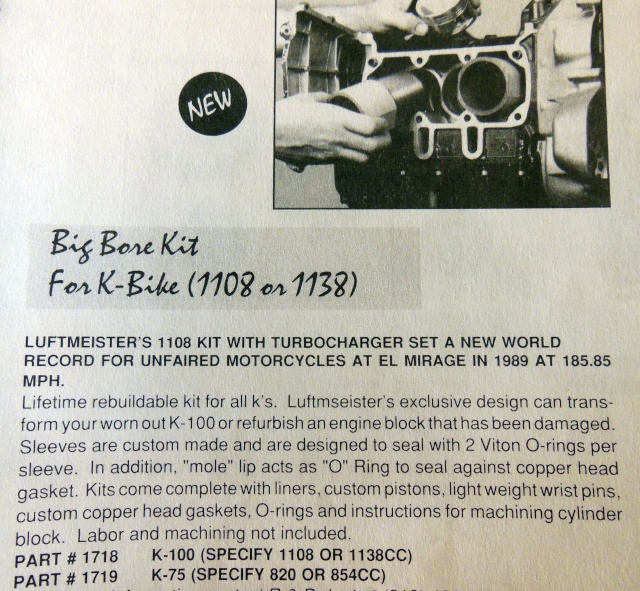 US$1595 got you a 12.5:1 piston, 1138cc piston and sleeve kit.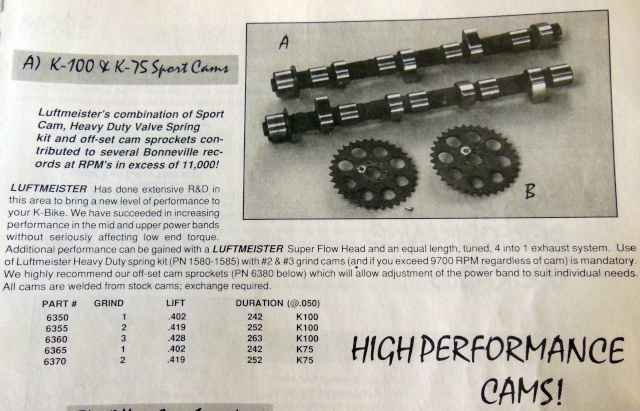 Get cammed for US$695 a pair!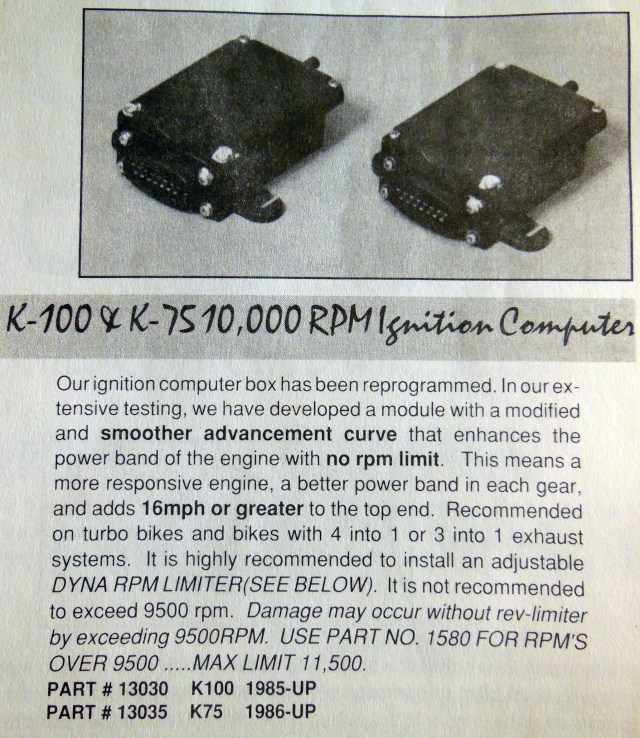 No rev limit, "up to 16 mph higher top speed", US$645...
What good is all of the added power if you reach the limits too soon? US$580 lets you spin it up even higher!
Breathe easier, US$79.95...
I'd like to get my hands on a few of these bits just for some fun. Imagine a warehouse or a closed up shop somewhere with a shelf full of dusty Luftmeister parts...
__________________________________________________
1970 R60/5, '77 R75/7-R100, '85 K100, '87 K75C, '87 K100RS, '93 K11 Big Block, '93 K1100RS, '95 R100-Mystic, '96 K1100RS, 2 x '98 K1200RS, '00 K1200RS, '02 K1200RS, '03 K1200GT, '04 R1150R, '04 R1150RT, '05 K1200S, #1 '06 K1200R, #2 '06 K1200R, '07 K1200R, '09 K1300GT, '13 R1200RT-P & 2022 S1000XR
All of life is a foreign country. - Jack Kerouac, author (1922 - 1969)