Ghost who rides
Life time member
In 2012 my sons and some mates made a weeklong bike trip to the Philip Island Moto GP.
Facebook was abuzz with " One more sleep" and "here we are trackside" etc. letting the world know that they were not home. You guessed it, house and shed burgled by some lowlife/s. younger brothers' Husky 310 gone, older sons' laptop, workphone and other stuff gone, photos on laptop irreplaceable. Cops not very helpful, bye bye possesions!
Fast forward to last Friday older son Tom is at his mates bike shop and recognises Nicks' Husky 310, a fairly rare bike I think you will agree? Nick had a collision with a quad bike out in the bush and the repairs, done by Tom included an aftermarket front rim, brake disc and gouge in the lower triple clamp from hitting the stop as well as other minor identifying features.
Police were called and the bike was seized pending investigation. Nick now has to prove it is his and the above info is not enough apparently! Now 5 days later he has had no joy in trying to claim it. ( engine and frame no's have been removed) Now that alone indicates that it was stolen, surely? and how many Husquvarna 310s have been reported stolen in Tas?
Nick has an ace up his sleeve however, the dealer he bought it new from said No Wuckn' Furries mate, get it here, I'll plug in the diagnostic and Bingo... VIN and everything will be there on the screen! Ain't technology wonderfull?
Now to get the cops to do something, good luck Nick.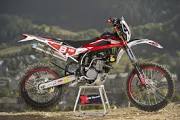 sorry about the pic size ( stolen from net) anyone got a better photo?

__________________________________________________
1986  K 75 C   2nd owner 187,000kms showing .
1987  K100RT  Police repainted, rough and unloved.