1 Radiator cap Wed Jul 23, 2014 4:53 pm
sidecar paul
Life time member
I've had some odd things happening with the water levels in the coolant bottle lately, which I think are caused by the radiator cap playing silly wotsits.
As the cap has been on the bike for 28 years, I thought I'd buy a new one and, to my surprise, the new cap is quite different from the old one. The flat rubber seal is now fitted in a recess so that it can't spread outwards. You'll see from my pic that the old flat washer, no more than 5 years old, has already 'spread', compared to the new washer, by 3mm on the diameter making it a loose fit in the cap.
For reference a new seal is 35mm OD x 24.5mm ID.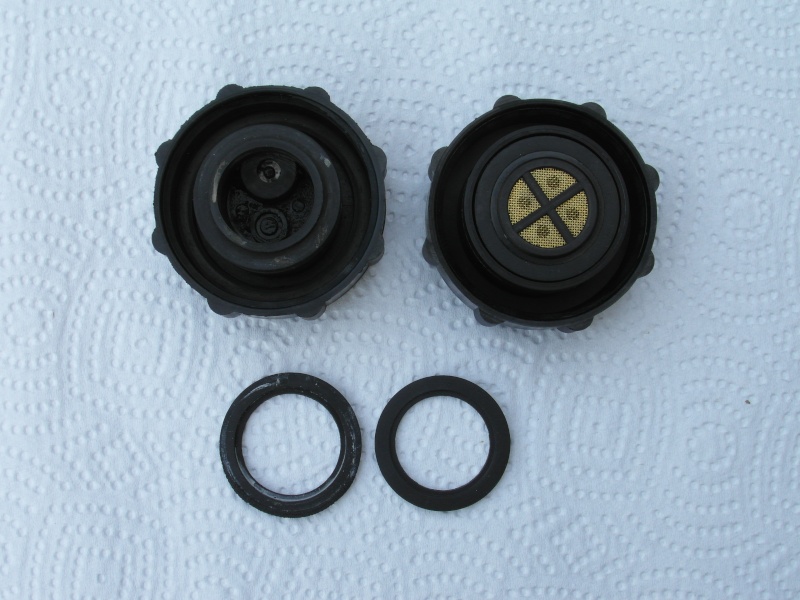 I wonder when the design changed?
Paul.

__________________________________________________
'84 K100RS (0014643) (owned since '85), 86 K100RS (0018891) with Martello sidecar (built as an outfit in '88),
'51 Vincent (since '67),'72 Montesa Cota (from new), '87 Honda RS125R NF4 (bought 2015) 
....No CARS never ever!